Roots Newsletter May 2022: Moving beyond lockdowns and quarantines!
Dear friends,
Welcome to the first Roots of 2022! We are so pleased to be back with you again. The new year has been a busy one, with the world slowly reopening after years of isolation and uncertainty. These months have reaffirmed what we have always known, which is that the heart and joy of our work lies in working alongside communities and people – which means you!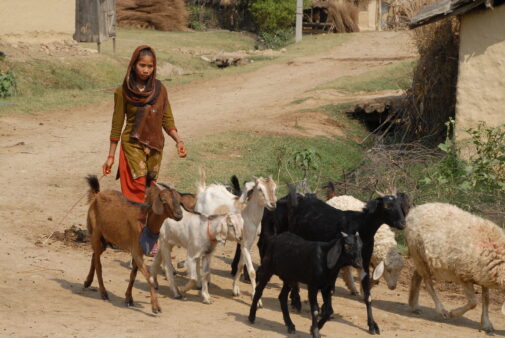 A scene from Nepal, where goats are the most common livestock for small-scale farmers. Photo credit: Pradip Shakya/ILO.
Let us bring you up to speed on what has been happening on our side. We began the year with a webinar to formally launch Forest Cover 66, which provides feminist analyses of policy-making on forests and livestock. This issue was coordinated by our Campaign Against Unsustainable Livestock in coordination with the Gender Justice and Forests campaign. It consists of case studies and articles that explore the implications of policies, to address the impacts of livestock production on forests for women and their communities. We hope that you find it engaging and useful.
In a major win, the Inter-American Development Bank's investment group withdrew a $43 million loan package for Marfrig Global Foods' Brazilian beef operations – and the Divest Factory Farming Campaign was a driving force behind this opposition! The campaign is now targeting similar harmful investments in other big meat producers in South America, where ranching is a huge driver of record deforestation. If your organization is interested in joining these efforts, contact milena.bernal@globalforestcoalition.org 
Our Forests and Climate Change campaign's first publication of the year was a briefing paper that highlights the gendered environmental and social consequences of biodiversity offsets and so-called "net" approaches to biodiversity loss in general. It was presented at a side event by the Women's Major Group at the United Nations Environment Assembly 5.2 in Nairobi and at a side event parallel to the negotiations on the post-2020 Global Biodiversity Framework in March in Geneva. Several GFC team members participated in these negotiations, highlighting the need for gender justice, and strong, ambitious targets on ending all subsidies to harmful sectors like industrial livestock farming, extractive industries and related infrastructure. We also participated in a CSW66 Parallel Event on 'Debunking the Myth of False Solutions, Towards Feminist Climate Justice', which you can watch in English here.
The Forests and Climate campaign has done a lot of work this year on the topic of biomass. In January, we co-published a briefing about the proposed conversion of the Pego power station in Portugal. We then released two case studies about big biomass in March. The first one examined the Ngodwana Mill and biomass plant in South Africa, which is an example of a global trend in which pulp and paper mills are installing biomass boilers to take advantage of incentives for producing electricity from burning wood. This was covered on Sojourner Truth Radio. The second case study examined the Omega Green biofuel refinery that is threatening local livelihoods and ecosystems in Paraguay. This publication had a significant impact in the national news media.
To mark the International Day of Forests, we held a webinar on the role of big biomass and tree plantations in Africa's green energy transition. Around that occasion, several of our team members were interviewed by media outlets; Kwami Kpondzo spoke to Plume D'Afrique on why Togo must restore and preserve its natural forests, and representatives of our member groups and our Executive Director were featured on Women Rising Radio.
Also on the occasion of the International Day of Forests, Jeanette Sequeira was interviewed by Women Engage for a Common Future. She explained that "a sustainable future and environment needs feminist solutions reflecting the lives of people on the ground." Our Gender Justice and Forests campaign was involved in some important events, including the World Forestry Congress in Seoul, with a side-event on gender-responsive reform of perverse incentives for forestry. We also held a regional workshop for our member groups in Latin America and a webinar on 'Gender Justice and the post-2020 Global Biodiversity Framework,'  which you can watch in English here.
Our senior gender expert Juana Vera-Delgado also facilitated training meetings on an Organizational Gender Action Plan in Colombia, as part of our commitment as Gender Technical Partners with the Green Livelihood Alliance (GLA) programme.
We are thrilled to announce that our Extractive Industries, Tourism and Infrastructure (ETI) campaign has a new coordinator: Kwami Kpondzo of FoE-Togo. He took over from Andrey Laletin of FSF-Russia, who coordinated the campaign since its establishment in 2018. He has recently taken up the coordination of a new GFC project on supporting gender-just and community-based forest conservation in Central Asia. We also have a new volunteer on the ETI Team, Jasper Stevens, and you will hear more from him in the coming weeks.
In recent months, three of our staff members have gone on to new opportunities: biomass campaigner and publications coordinator Oli Munnion, gender justice campaign coordinator Jeanette Sequeira, and Sebas Mak of the finance team. Their passion and hard work have had a permanent positive impact on GFC. We thank them for all their support, and wish them the very best!
In sad news, we join our member group Centre for Sustainable Development and Environment (CENESTA) in Iran in mourning the loss of founder and chairperson Khadija Catherine Razavi, We are heartbroken about the sudden loss, and will always remember her incredible dedication to doing her best to create a better world for all.
We currently have two active open calls for those of you who are interested in working with GFC. The first is for the role of campaign coordinator of the Gender Justice and Forests campaign. We are also hiring freelancers for various communications-related roles, including editors, graphic designers, language service providers and video producers. Please share these widely.
Finally, in March of this year, some of the GFC team members met in person in Geneva at our annual Planning, Monitoring and Evaluation Meetings. In a hybrid format, we discussed our past activities and set out a solid and detailed plan for the year ahead, and affirmed our commitment to bringing you more effective skillshares, capacity building, publications and events. 
At the moment, we are inviting member groups to submit case studies on gender and extractive industries for our next issue of Forest Cover, which will come out this summer. Stay tuned for more!
In solidarity,
The GFC team
Publications
On the radio
News
Events
Webinar and Discussion on Gender Justice and the post-2020 Global Biodiversity Framework (19 May 2022)
WFC side-event: Gender-responsive reform of perverse incentives for forestry (4 May 2022)
Plantations, big biomass and forests in Africa (21 Mar 2022)
"Food, Finance, Ecosystems": Side-Event @UNEA5.2 (2 Mar 2022)
Webinar on Gender Justice and Livestock Farming for the Launch of Forest Cover 66 (16 Feb 2022)
Share your news!
We encourage all of our members to send us your news, whether it be an event, a blog, a testimony, a photo essay or your press releases. We can help to share your campaign materials! Contact us: gfc@globalforestcoalition.org