"Food, Finance, Ecosystems": Side-Event @UNEA5.2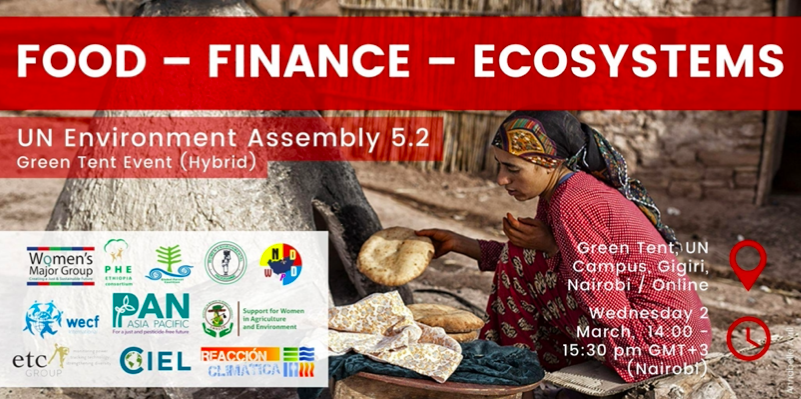 Venue: Green Tent (press room) @UNEA5.2 UN Campus, Gigiri, Nairobi
Online Link to meeting (Zoom): https://us06web.zoom.us/j/81317322422
Meeting ID: 813 1732 2422
Co-organisers: Women's Major Group, Reaccion Climatica, Global Forest Coalition, WECF International, CIEL, PHE Ethiopia, WEP Nigeria, ETC Group, PAN-Asia Pacific, SWAGEN
Aim: Present examples of how to ensure that policies and policy incentives for climate action and food security do support ecosystems integrity and public health in particular of vulnerable groups
Our global goals to protect the climate, biodiversity, food security and environmental health are nearing tipping points of no return. Solutions need to be carried widely by all sectors and this transition needs to be socially just and inclusive of those on the frontlines of environmental change. Solutions should not further delay the needed action by accounting tricks or unproven technology fixes.
Format: The session will look at evidence from the impacts of perverse incentives and harmful investments, including in the livestock sector, on biodiversity and women's livelihoods and food production systems, and why a redirection of these financial flows towards women-led agro-ecological initiatives is fundamental.
Solutions need to be supported by enabling policies and legislation, from local to global level. The session will look at the resolutions under negotiations in cluster 2 and 4 at UNEA, the references to nature, ecosystems, and links to the implementation of the post 2020 biodiversity framework, Paris agreement and SDGs.
Program
Welcome by WMG Co-Chair Ms Frezer Yehesis
Simone Lovera PhD., Global Forest Coalition: Lessons learned from financial incentives for forest conservation and their implications for so-called Nature Based Solutions and "net positive" approaches to biodiversity, and how changing incentives in the food and agricultural sector is at the heart of forest conservation and restoration.
Neth Dano, ETC Group: Lessons and examples from financing mechanisms and their impacts on environment and biodiversity
Respondents: invited Member States and civil society experts. Discussion moderated by Sascha Gabizon
Conclusions and Closing by Carmen Capriles, WMG