Campaigns
The Global Forest Coalition supports and coordinates joint NGO/IPO campaigns for socially just and effective forest policy and the rights of Indigenous and other forest peoples.  We work on the following campaigns: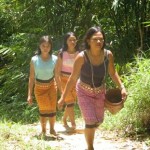 Defending Rights
Forests are home to local communities and Indigenous Peoples.  We take the rights of Indigenous Peoples, local communities and women as a starting point in the fight to protect forests. This is necessary because Indigenous Peoples have often been evicted in the name of forest conservation.

Supporting Community Conservation
Indigenous Peoples and traditional communities have been living with the forest for centuries and guarding it. Their lands and way of life are under threat however as their territories and rights are not recognized. Besides, women's traditional knowledge and stewardship in forest resources goes often unrecognized.

Trade and Other Underlying Causes of Forest Loss
Deforestation and forest degradation can be successfully tackled, and forest conservation and restoration enhanced, by tackling the real underlying causes of forest loss. These include reducing demand for wood and land, and supporting cultural values, Indigenous territories, and community conserved areas. 
The rapid expansion of the agrofuel and bioenergy industry is leading to massive deforestation, depopulation and human rights abuses worldwide.  Expansion of large-scale monocultures for 'energy crops' such as in industrial plantations of soybean, oil palm and eucalyptus, is impacting heavily on both forest ecosystems and Indigenous Peoples.
Unsustainable Livestock Production
The production of meat and the production of fodder for the intensive livestock industry is one of the main causes of deforestation, especially in the continent with the highest deforestation rates on Earth, Latin America. GFC analyses and raises the awareness of decision-makers on the impact of unsustainable livestock production and more sustainable, community-based alternatives.
Forests, Trees and Climate Change
Through case studies and campaigns we raise awareness of the social and environmental impacts of market-based conservation mechanisms, including certification schemes, carbon trading and offsets, gene trading and the sale of environmental services in general. We are particularly concerned about the impacts these schemes are likely to have on women in affected local communities, Indigenous Peoples and the rural poor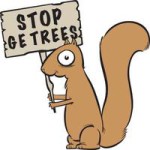 Genetically engineered (also called GM or Transgenic) trees pose a major threat to forest biodiversity and to forest peoples' access to resources. Large monocultures of both GE and non-GE trees are extremely harmful to both ecosystems and biodiversity with negative effects on the survival of forest dependent peoples.