Media
The Global Forest Coalition is keen on working with the media and provide journalists with insightful and credible information. We work globally and have a large network of grassroots organizations, social activists and Indigenous People.
Journalists can contact:
Ashlesha Khadse, Media Officer
Whatsapp, imsg: +91 8600839193, Mexico number: +52 998 4111 965
ashlesha@globalforestcoalition.org
Skype: Ashlesha.khadse
(English, Spanish and Hindi)
See the list of our spokespersons available for interviews here. (Español)
Follow our Social Media for Montreal
See all our latest media releases in the recent media releases page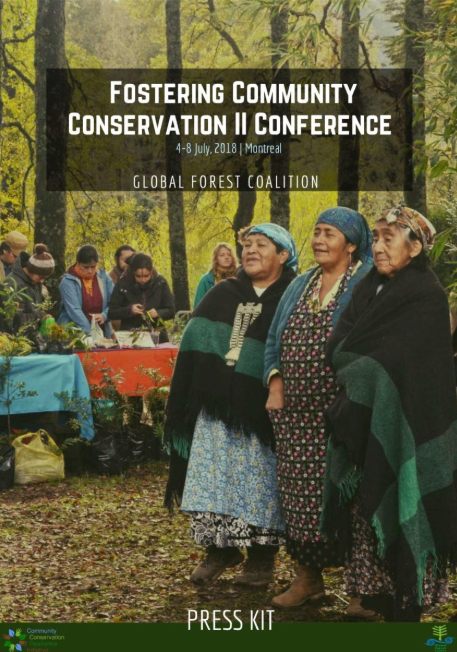 Please download the Press Kit for the Fostering Community Conservation: Second Conference here.
The Press Kit in French is also available here.
Contact info and venue
For live updates, press releases, and information about the event please follow this link: https://globalforestcoalition.org/fccc-2018/
Venue of conference:
Grey Nuns Residence, 1190 Guy St, Concordia University, Montreal QC.
There is a press room at the venue where press are invited to visit for more information or to conduct interviews.
Press Contact in Montreal:
Ashlesha Khadse (Media Officer) speaks English, Spanish
ashlesha@globalforestcoalition.org, (immediate email response) Whatsapp: +91 8600839193
Pierre Yves Serinat (conference organizer in Montreal)- speaks French, English, Spanish: +1-438-396-6284
Phone and in-person Interviews can be arranged at any time- we have provided a spokespersons list, detailed program with moments for photo-opportunities in this kit. All sessions are open to press.
Social media icons with addresses
Website: https://globalforestcoalition.org/media 
Social media
Facebook: bit.ly/gfc123
Instagram: global.forest
Twitter: @gfc123
Smugmug: https://globalforestcoalition.smugmug.com