Archive for the 'Uncategorized' Category
Share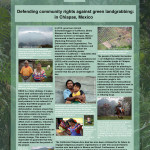 On the occasion of International Forest Day, the Global Forest Coalition [1] in collaboration with Critical Information Collective [2], Global Justice Ecology Project [3], and Langelle Photography [4], launched an exhibition [5] that demonstrates the impacts of so-called 'green land grabbing' on local communities.
Green land grabbing is a relatively new phenomenon facilitated by forest carbon offset projects and other initiatives (forest carbon projects aim to use trees' and plants' ability to absorb carbon dioxide from the atmosphere as a way of compensating for greenhouse gas emissions in industrialized countries).   Read more »
Share
Indigenous peoples organizations, NGOs, citizens of countries on all continents, members of the Global Forest Coalition (Global Forest Coalition, GFC[1]), express our strong support and solidarity with the Colombian peoples convened by the "Popular and Agrarian Strike", especially rural people, workers and local communities suffering the impacts of agricultural and trade policies on their livelihoods and means of production, as well as the violation of their fundamental rights, which have forced them to mobilize massively through the country's farmlands, roads and cities.
The Agricultural Strike and the actual popular mobilizations in Colombia, have given current visibility and relevance to the debate about the unsustainable economic and social model inflicted in that country, not only among the Colombian population, but internationally, just like us, individuals and organizations constantly looking at what happens on that territory. Read more »
Share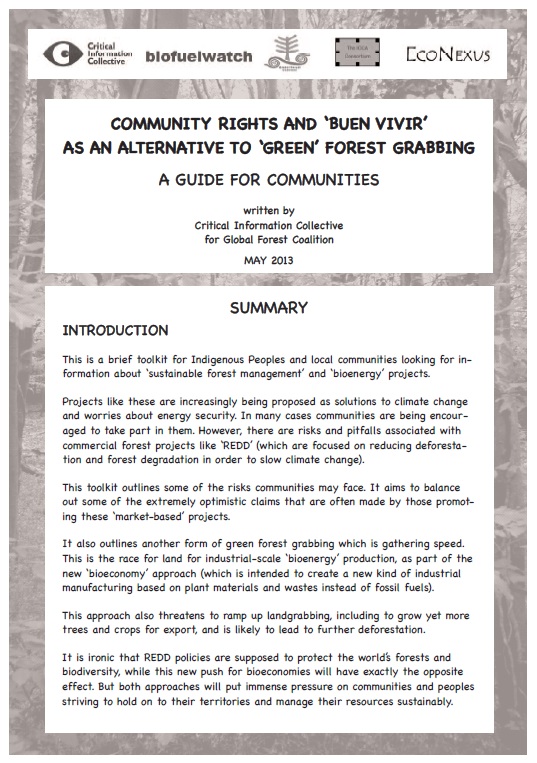 Bonn, Asuncion, 3 June 2013
As another round of climate talks [1] opens today in Bonn, Germany, a coalition of human rights and forest groups have launched a manual for communities on alternatives to REDD+ and other forms of 'green land grabbing' [2].
The manual, which has been produced by the Global Forest Coalition [3], Critical Information Collective [4], Biofuelwatch [5], the ICCA Consortium [6] and Econexus [7] highlights the risks of REDD+ [8] projects and large-scale bioenergy production schemes for communities.  Many of these schemes have been associated with involuntary displacements of communities and other forms of so-called 'green land grabbing'.