Share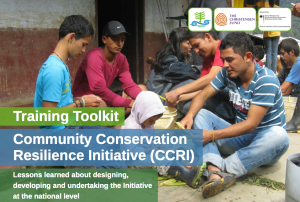 The aim of the Community Conservation Resilience Initiative (CCRI) is to contribute to the implementation of the CBD's 2011­2020 Strategic Plan and Aichi Targets by providing policy advice on effective and appropriate forms of support for community conservation. The project will document and review the findings of bottom­up, participatory assessments in at least 20 countries (including Samoa, Solomon Islands, Russia, Iran, Uganda, South Africa, Ethiopia, Panama, Chile and Paraguay) of the resilience of community conservation initiatives and the support that should be provided to strengthen these initiatives. The results of the assessments will be widely disseminated and fed into the deliberations of the Convention on Biological Diversity and related international policy processes through an active outreach and advocacy campaign. The project will run until April 2019.
A CCRI methodology has been developed, which is a simple guiding framework that can be adapted to the reality of a country/community in order to develop advocacy tools.
A number of CCRI projects are already underway, and the results are inspiring. These pilot projects have taught us a great deal about the best ways to design, develop and implement CCRI projects.
This training toolkit is based on the presentations of different CCRI partner groups, staff and technical advisors at a global training workshop which was organised in November 2014 in Asunción, Paraguay. Download the CCRI training toolkit here
Share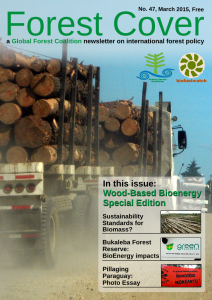 Welcome to a brand new edition of Forest Cover, the Global Forest Coalition newsletter that provides a space for Southern and Northern environmental justice activists to present their views on international forest-related policies. We were happy to co-produce this special edition, which focuses on the impacts of wood-based bioenergy on forests and forest peoples, with our active member group Biofuelwatch. Download the print version to read on about bioenergy, forests, a summary of the international strategy meeting, a photo essay on impacts of unsustainable livestock farming and on wood-based bioenergy and a case on the Bukaleba Forest Reserve.
You can download the print version below or read the articles individually online. For future editions, you can subscribe to our newsletter by writing to gfc@globalforestcoalition.org
Download the print version (high resolution PDF) (low resolution PDF)
Share
Global Forest Coalition and Brighter Green have just released a new Report, "Meat from a Landscape Under Threat: Testimonies of the Impacts of Unsustainable Livestock and Soybean Production in Paraguay."
Written by Dr. Miguel Lovera, this updated report on the social and environmental impacts of unsustainable livestock production focus on those testimonies presented at the workshop. The seminar, organized on November 28 and 29 of 2014 by the Global Forest Coalition together with national organizations in Paraguay, was entitled "Threats to Community Conservation in Paraguay and International Strategy Meeting on the Impacts of Unsustainable Livestock and Feed Production." Attended by at least 60 representatives from affected communities, social movements, and organizations from 20 countries, it also brought together peasants, indigenous peoples, farmworkers, campaigners and academics from different areas of Paraguay. The seminar featured several presentations by community and NGO representatives from Paraguay, which demonstrated the extent of the impacts of the fast-expanding cattle ranching and soybean export business in the country. These are more than just their stories, these are vivid examples of the impacts directly lived by communities.