Roots Newsletter December 2019: ¡unidas somos mas fuertes!
Espanol // Française // русский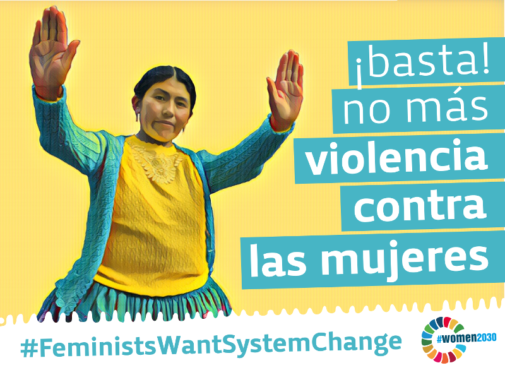 Dear friends,
As 2019 draws to a close we reflect on the failure of yet another round of climate negotiations, and the stark contrast between the two sets of events that GFC participated in earlier this month. On the one hand, a corporate-controlled COP in Madrid provided the perfect cover for human rights violations in the country holding the UNFCCC presidency. COP25 was marked by security physically ejecting indigenous representatives and activists from the conference rooms, and negotiating parties failing miserably to increase climate mitigation ambition or to adequately compensate countries experiencing the worst impacts of climate change. On the other hand, the "Cumbre de los Pueblos" (People's Summit) in Santiago de Chile showed how creating a vibrant, diverse and inclusive space for civil society to come together in a non-discriminatory and anti-capitalist environment can build towards a people's movement to tackle the climate, biodiversity and social crises the world faces.
In Santiago, we hosted a number of events with our allies and member groups at the Cumbre de los Pueblos including a Latin American "Dialogue on Alternatives to Unsustainable Livestock Production" and a panel discussion on gender, forests and climate change. We also held meetings for our Latin American member groups and Women2030 partners, the conclusions of which were presented at the Women's Tent in the Cumbre. We published a blog looking at the situation in Chile, and our member groups GJEP and Biofuelwatch also extensively documented ongoing resistance there. In Madrid, we co-hosted two side events on transformative changes in agriculture and against carbon markets, and published a blog looking at the key agenda items. We also hosted a press conference and participated in Women's Major Group activities. Despite the failure of the negotiations, one positive outcome was that GFC members and other climate justice campaigners successfully prevented an agreement on Article 6 of the Paris Agreement (PA), which deals with carbon markets. The deal on the table would have totally undermined the few positives left in the PA by incentivising emissions trading and offsetting on a scale never seen before.
The second half of 2019 was a busy time for the Women2030 programme and our work on women's rights, with the publication of Forest Cover 59 on the impacts of bioenergy in West Africa on women and forests. We also published a photo essay in the Ecologist on how women's groups are struggling for food sovereignty in Paraguay, two short videos on International Day of #RuralWomen to celebrate the work of our member groups in Kenya and Paraguay, and an op-ed on the importance of tackling violence against women in forest conservation. You can also now find information on Women2030 project partners, reports, communications materials and more in our new interactive map.
As well as events in Chile, our livestock campaign held an African "Dialogue on Alternatives to Unsustainable Livestock Production" in Addis Ababa, and published a briefing on agroecological alternatives to industrial livestock production with case studies on four Latin American countries. We also published an op-ed on World Food Day, showing how the future of the planet is being mortgaged for meat and dairy. A timely blog also drew the link between the global trade in livestock and animal feed products and the devastating fires in the Amazon and elsewhere.
A key publication for our climate campaign was the results of research into projects financed through the Global Environment Facility, which exposed how eucalyptus plantations have been promoted in Uganda at the expense of forests and communities and how projects involving clean cookstoves aren't reducing emissions or improving women's health.
Finally, our new Extractive Industries, Tourism and Infrastructure (ETI) campaign, with support from the Women2030 programme, has just launched its first publication. Forest Cover 60 looks at China's Belt and Road Initiative (BRI) and how it is impacting women and forests, with case studies from a number of GFC members in countries being affected by BRI investments. We're also pleased to announce provisional dates and a location for our ETI campaign strategy meeting, which will focus on BRI, and take place 16-20 February in Indonesia. The strategy meeting will happen back-to-back with GFC's annual Monitoring, Evaluation and Planning (MEP) meetings, which will take place 13-15 February. We very much encourage the participation of our member groups in these meetings, and look forward to seeing you there.
We hope you enjoy this edition of Roots, and we would like to encourage our members to submit your news, publications and events for future editions. It's easy, just e-mail us and we'll include it!
In solidarity,
The GFC team
Publications
New briefing: Agroecological alternatives to industrial livestock production (1 December)
Women2030 interactive map (1 December)
Is climate finance for cookstove and charcoal projects helping communities, forests or the climate? (27 November)
An investigation into the Global Environment Facility-funded Green Charcoal Project in Uganda (27 November)
Short videos for International Day of #RuralWomen (15 October)
"They are only interested in soy", Paraguay Women2030 photo essay (25 September)
From the blog
Market mechanisms and money: an overview of what's at stake at COP25 in Madrid (6 December)
World Food Day and the fires next time: Mortgaging the future of the planet for meat and dairy (16 October)
Greta Thunberg and the UN Climate Summit should reject monoculture tree plantations as a false solution (21 September)
Crocodile tears will not help to put out the Amazon's fires (24 August)
Events
A dialogue on livestock production and other causes of deforestation (4 December)
COP25 side event: Real Solutions, Real Zero – A People-Centered Approach to Climate Change (3 December)
COP25 side event: Transformative Climate Resilient Pathways for Sustainable and Healthy Food Systems, Diets and Landscapes (2 December)
Meetings for our Latin American member groups and Women2030 partners (2 December)
Global Forest Coalition and allies' events in Chile (1 December)
Climate Week 2019, Greens Movement of Georgia (27 September)
African Dialogue on Alternatives to Unsustainable Livestock Production (2 September)
News
The World Social Forum between politics and NGOs (18 October)
Remembering Fany Avila (2 September)
Share your news!
We encourage all of our members to send us your news, whether it be an event, a blog, a testimony, a photo essay or your press releases. We can help to share your campaign materials!
Contact us: gfc@globalforestcoalition.org