Roots Newsletter December 2018: strength and solidarity for the year ahead!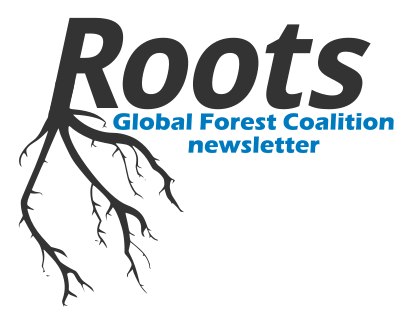 Dear friends,
As 2018 draws to a close we look back on an action-packed, but also challenging and inspiring year. The highlight for GFC was bringing together so many of our members and allies to participate in our members' assembly and fostering community conservation conference in Montreal in July. The learning, debating and planning that happened there has inspired our work since, and will continue to do so well into to the new year.
More recently, GFC participated in two "COPs", the Convention on Biological Diversity's Conference of the Parties (CBD COP14) in November in Sharm-el-Sheikh, Egypt, and the United Nations Framework Convention on Climate Change (UNFCCC COP24) earlier this month in Katowice, Poland. These two UN processes are worlds apart, with the CBD on the one hand making genuine efforts to respect the rights and conservation initiatives of Indigenous Peoples, local communities and women, and the UNFCCC on the other failing utterly to tackle the climate crisis and respect basic human rights.
But as these international processes rumble on, vital work is happening at the local level, with struggles for rights and equality, against transnational corporations, and in defiance of despotic governments. It has been our great privilege over the past year to publish a vast array of new materials from CCRI assessments that took place in communities in 12 different countries, which show the power of community conservation and community forest governance, as well as the huge importance of respecting and protecting the rights of forest peoples.
Since our last edition of Roots we have also published: two Forest Cover magazines, one on community conservation in Africa, and the other on community perspectives on the IPCC's 1.5 degrees report; photo essays on community conservation in India, the impacts of subsidised soy and livestock production on rural women, and the impacts of pulp and paper giants and their eucalyptus plantations in Brazil; a briefing on the subsidies and incentives that are causing deforestation for unsustainable livestock production in South America; and blog posts, press releases and much more.
We are also very pleased to be publishing this edition of Roots in Spanish and French (look out for Roots in Russian early in the new year!) and with that, we send strength and solidarity to all of our members and allies for the year ahead.
The GFC team
Publications
Policy recommendations for the Convention on Biological Diversity Conference of the Parties 14 (15 Nov)
Forest Cover 56 – Community conservation in Africa (28 Sept)
Photo essays
The Chaco under attack (16 Oct)
Indigenous Peoples, Afro-descendants, and peasant farmers resist "green deserts" in Brazil (21 Sept)
From the blog
CBD COP14: Deforestation, monocultures and Strategic Plans – The farce continues (23 Nov)
CBD COP14: Who benefits from gene drives as a modern biotechnology? (21 Nov)
Fire and Plantations in Portugal: A case study on the risks of using tree plantations to remove carbon from the atmosphere (28 Sept)
Recent events
COP24 side event: 1.5 degrees from a community perspective (5 Dec)
The Bottom Line: The centrality of Aichi Target 3 and community conservation to resource mobilization and the future of the CBD (20 Nov)
Recent news
Peoples' voices and urgent solutions dismissed at COP24 in Katowice (19 Dec)
The UN Declaration on Peasant Rights is a massive victory for humanity! (18 Dec)
Latin America wide platform established to campaign against free trade agreements (27 Nov)
The industrialisation of the Bioeconomy poses risks to the climate, the environment, and people (8 Nov)
132 civil society organisations critizise CORSIA in open letter to ICAO Council (25 Oct)
Over 120 groups from around the world declare large scale forest biomass energy a dangerous 'delusion' (24 Oct)
Share your news!
We encourage all of our members to send us your news, whether it be an event, a blog, a testimony, a photo essay or your press releases. We can help to share your campaign materials!
Contact us: gfc@globalforestcoalition.org