"They are only interested in soy": how peasant and indigenous women in Paraguay are organising to survive the twin threats of industrial agriculture and climate change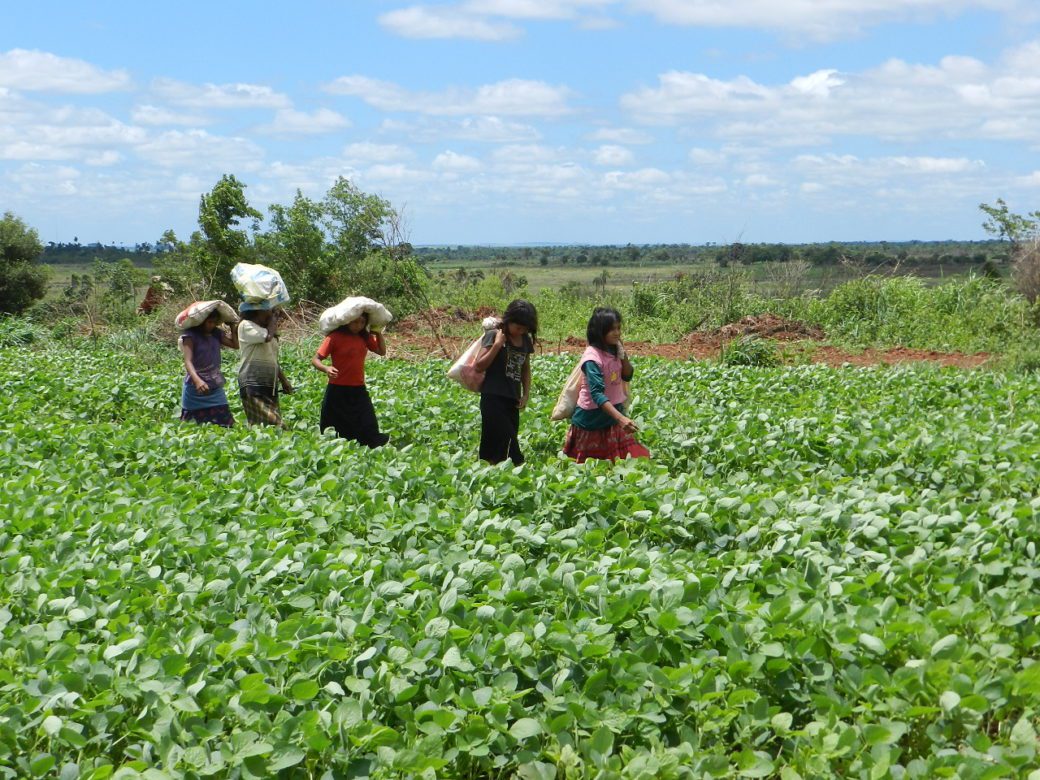 With world leaders gathering once again at UN Headquarters in New York, this time for the Climate Action Summit, this photo essay highlights the stark contrast between profit-driven, biodiversity-destroying, carbon-intensive and toxic agribusiness, and the efforts of women in Paraguay to provide healthy and safe food for their communities.
Devastating fires across South America's fragile forests have put the spotlight on the impacts of a growing and emboldened livestock and feedstock sector, which is hungry for land and unburdened by legislation or law enforcement. The Chaco forests in western Paraguay have been particularly badly hit by deforestation and fires, as cattle ranchers expand their pastures.
Eastern Paraguay, on the other hand, has already been largely cleared of its forests, which were burned over recent decades to clear land for agribusiness. There, 94% of arable land is used for cultivating genetically-modified monocultures, primarily soy, which is exported as animal feed. Peasant and indigenous communities are caught between a state-sponsored agribusiness industry that steals land and poisons the air, soil and water, and a climate emergency that puts even more pressure on their already fragile ability to feed themselves.
With minimal external support but maximum threats to land security, community health and food sovereignty, peasant and indigenous communities are organising to reclaim control of their lives. Women are at the forefront of this resistance, and in particular they are strengthening their organisations through training and skill-sharing to tackle gender-based discrimination, on top of all of the other pressures they face.
---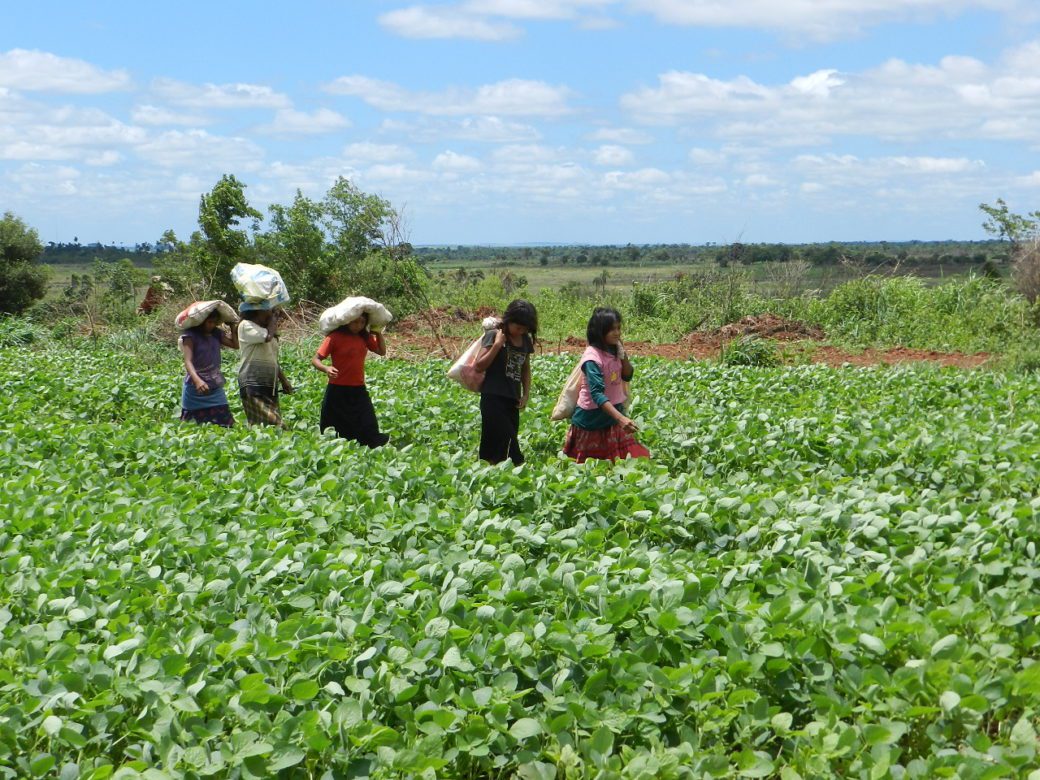 Peasant women walking through a field of genetically-modified soy. Photo by Luis Wagner
Eastern Paraguay was once covered by wooded savannahs, grasslands and dense humid subtropical forest, but these habitats have been devastated in the race to free up land for industrial-scale export-oriented agricultural production, especially of genetically-modified soybeans and beef. Sojization or "soyification" is the term used locally to describe this process. Many peasant and indigenous communities have been evicted from their lands or persuaded to sell or lease their lands for little in return. The people left behind speak of empty schools, and land and water contaminated with agricultural toxins, which are killing crops and animals as well as making people sick.
---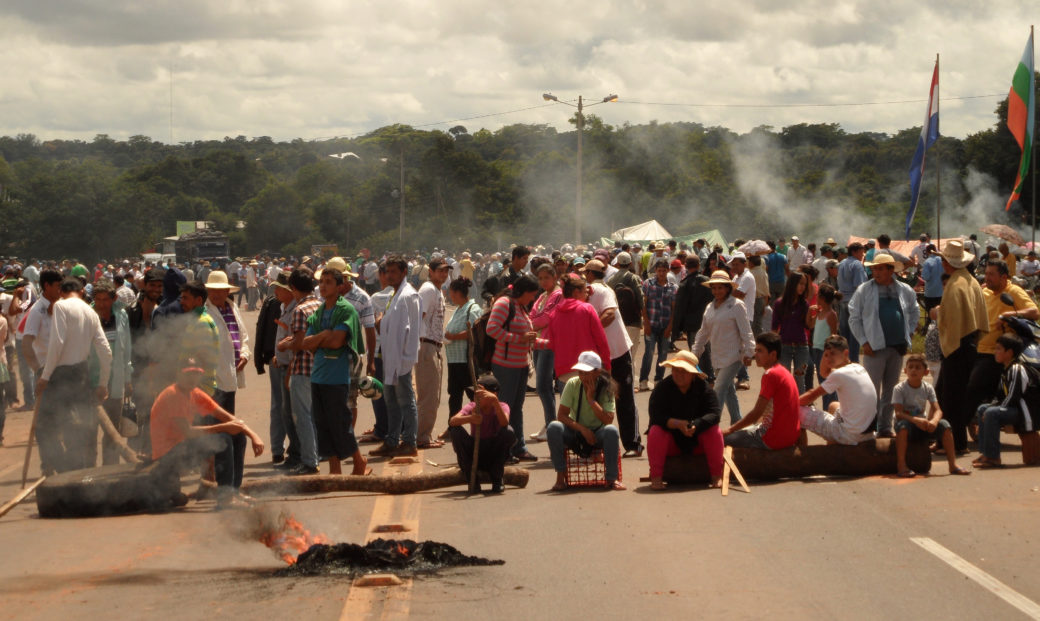 Peasant farmers blockade a major road to disrupt crop spraying. Photo by Hugo Hooijer
The dire situation in Paraguay has led to serious conflict between the state and agribusiness on one side, and Indigenous Peoples and peasant communities on the other. Through organisations such as the Federación Nacional Campesina (National Federation of Peasants/FNC) and Coordinadora Nacional de Mujeres Campesinas e Indígenas (National Coordination of Peasant and Indigenous Women) peasant and indigenous communities, and in particular their women members, are working together to protect their food sovereignty, indigenous seeds, natural medicinal resources and traditional, ancestral knowledge. Faced with the twin threats of advancing monocultures and climate emergency, they are building their own resilience from the soil up.
---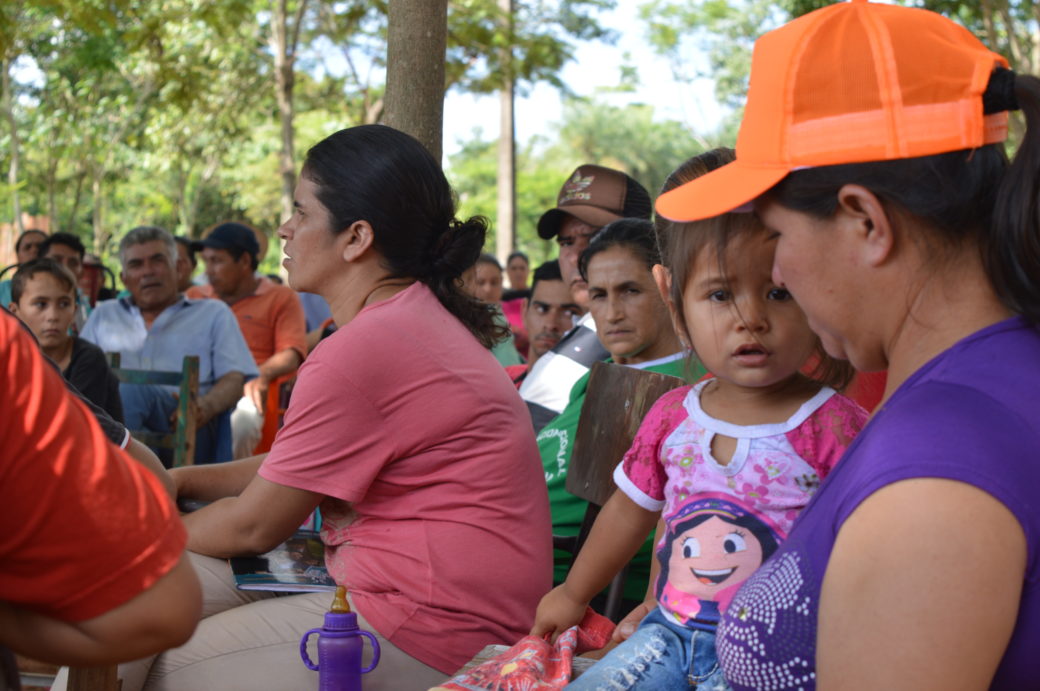 Women from Crescencio González participating in a community assembly. Photo by Inés Franceschelli
The community at Crescencio González is a direct result of the struggle over land. It cost the lives of five militants, including Crescencio González, who was the first to be killed and where the settlement takes its name from. The dispute ended when the government gave the community back 5,000 hectares to live on and farm. The participation of women in political assemblies and decision-making meetings in Crescencio González is increasing, and they are doing so with extraordinary enthusiasm. Together with their children they participate and debate, and are heard and respected by their peers. In this particular assembly, while women discussed how to achieve food sovereignty through sustainable food production, the men in the community cooked and then served them lunch.
---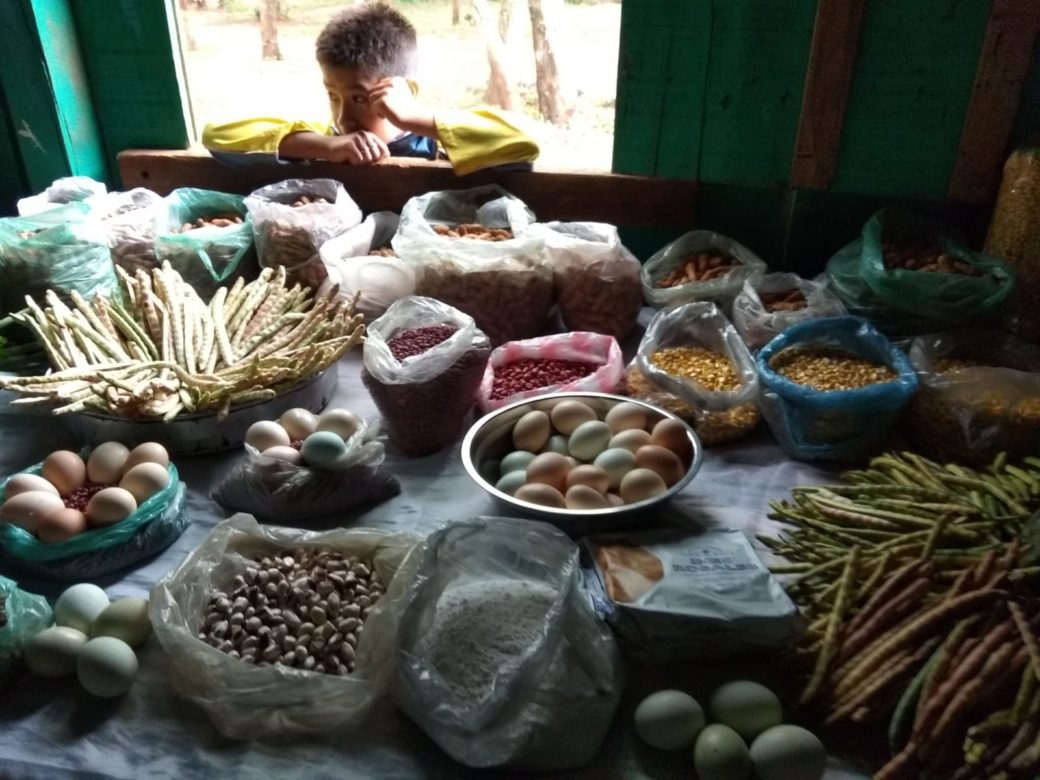 Native varieties of maize and bean seeds, and free-ranch eggs on display at a community event in Crescencio González. Photo by Inés Franceschelli
Crescencio González is organised by the National Federation of Peasants (FNC). One of the main objectives of the FNC is to conserve agrobiodiversity, which encompasses the variety and variability of animals, plants and microorganisms which are necessary to sustain the key functions of the agroecosystem, in order to support and ensure food production and food security. This is in stark contrast to the vast majority of agriculture in the country, which relies on vast monocultures and huge inputs of chemical fertilizers, pesticides and herbicides.
---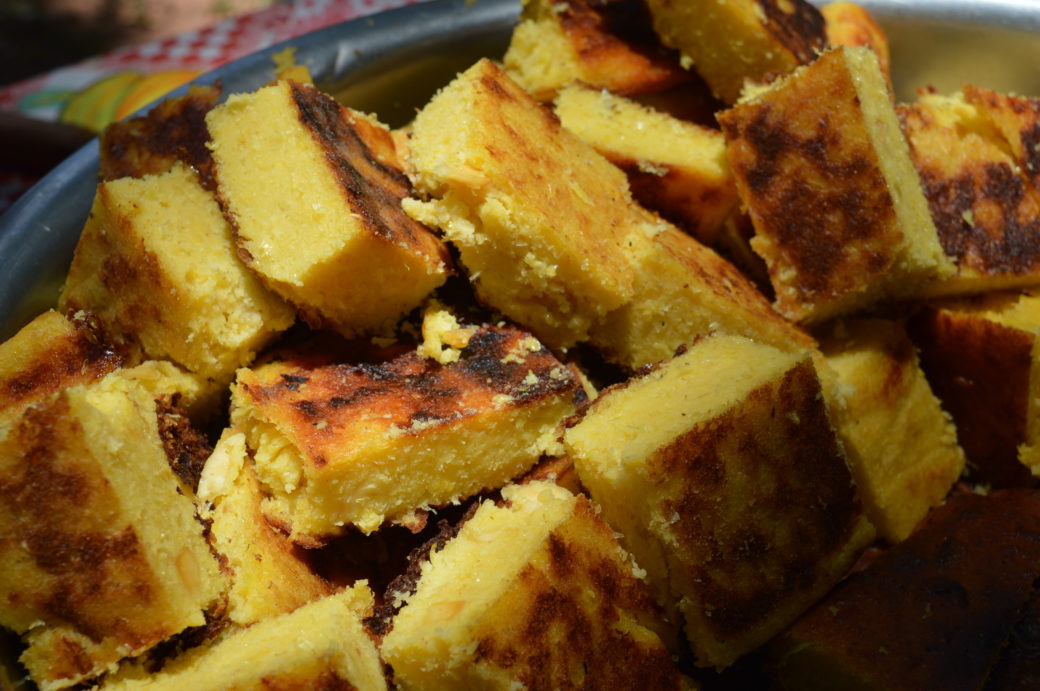 "Paraguayan soup", a traditional Paraguayan food made from native corn in the FNC's Sebastián Larrosa settlement. Photo by Susana Balbuena
Food sovereignty and security are central to climate resilience and the ability of communities to adapt to increasingly extreme climates. As in many parts of the world, Paraguay's climate is getting hotter and drier, with drought conditions straining already fragile and marginalised local food production. At the same time, extreme weather events are causing severe flooding in the wet season, which has turned many peasant and indigenous communities into climate refugees, and forced them into slums in urban areas.
---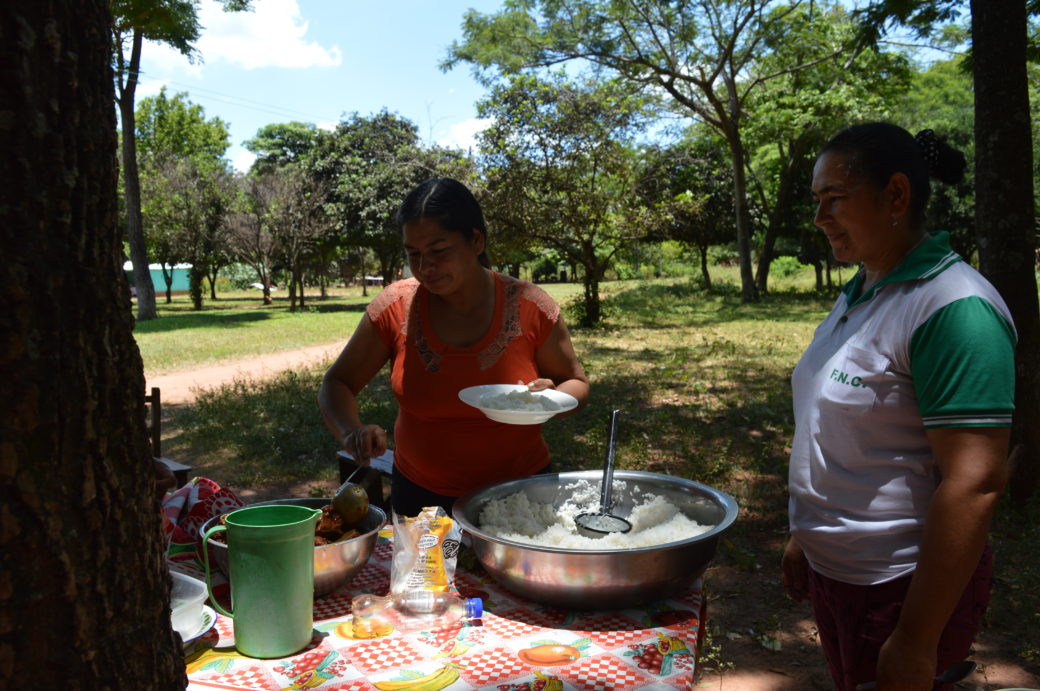 FNC general secretary Teodolina Villalba and a compañera serving food to a community event in Sebastián Larrosa, another FNC settlement. Photo by Inés Franceschelli
The National Federation of Peasants has a Women's Front, which for many years has been working to empower women to fulfill political roles in the organisation and more broadly. As an example of the success of this women-led organising, this year's Peasant March in the capital Asunción was led by FNC women who carried a banner with the slogan "Land and Production for National Development". During the closing ceremony, the three speeches were also given by women. A woman from Sebastián Larrosa commented of the Paraguayan state: "They are not interested in peasant or indigenous production, they are only interested in soy. Their response is always eviction, because they need more and more land to produce on."
---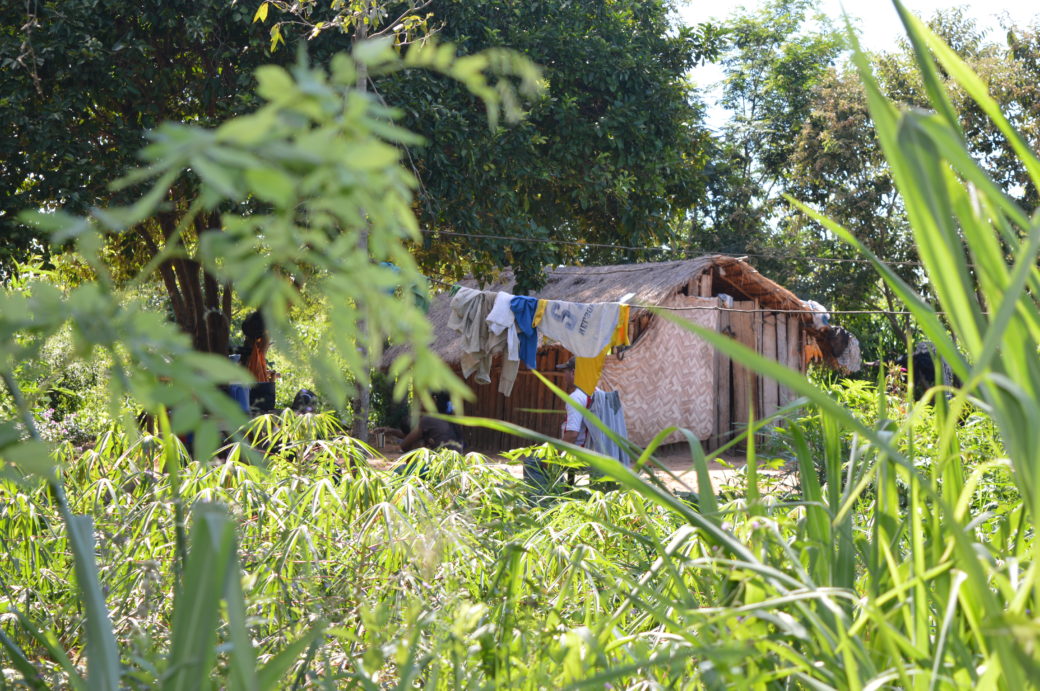 A house in Tovatiry. Photo by Inés Franceschelli
The pressures from competing land uses and climate change are felt by all communities in Paraguay. Whilst some are able to support themselves to live in dignity, others are not so fortunate. The Tovatiry community is home to the Avá Guaraní Indigenous People, and now finds itself in a situation of extreme poverty, having been forgotten by local and national authorities. The drought suffered in the spring spoiled all of the corn crop and much of the bean crop. Several families have already left the community to go to the closest city. The families that have remained had to subsist on cassava and by hunting, and the eggs that four hens provided, shared between ten families. there were also several reports of sexist violence against women leaders. Despite these extreme challenges, the community continues to resist and build towards a better future.
---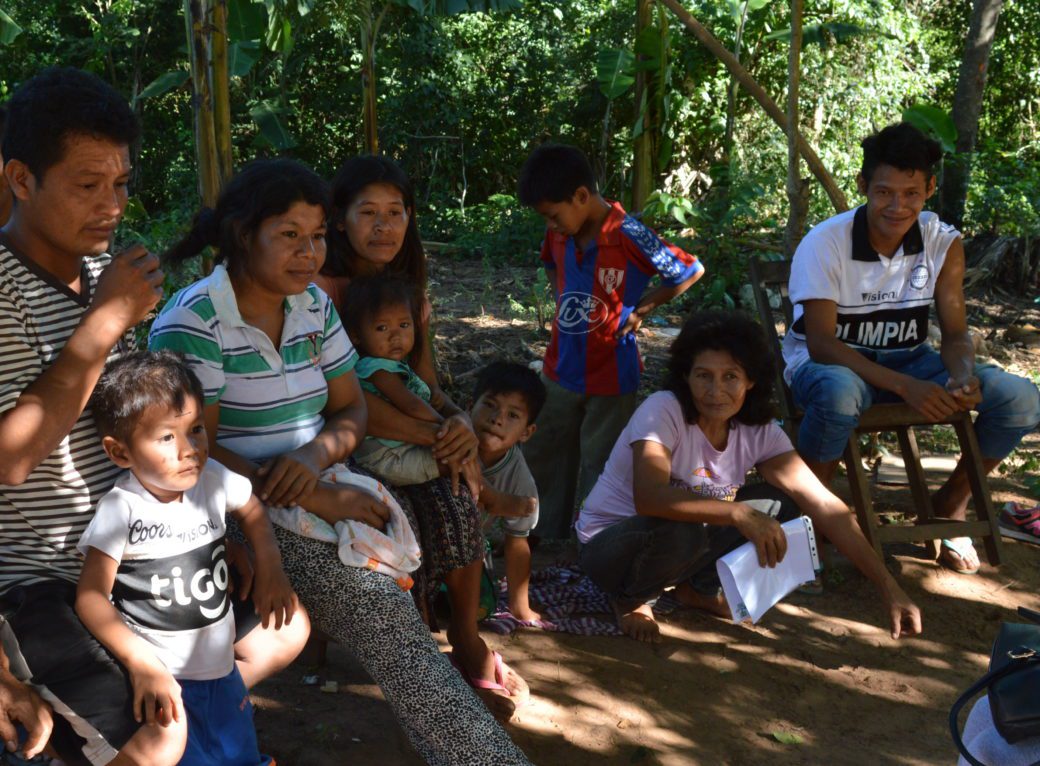 Community assembly in Tovaitry. Photo by Inés Franceschelli
Before the drought and with the support of the National Coordination of Peasant and Indigenous Women, the Ava Guaraní community had been planning to build a storehouse to preserve the diverse range of crops they had planted. But the limited resources available to them through the fundraising of peasant and indigenous organisations had to be redirected towards helping to plant the next crop, in the hope that another drought wouldn't destroy that too. In the absence of state support it is up to grassroots organisations to provide the support themselves. The community at Tovaitry is a clear example of the vulnerability of communities on the front-lines of climate change, and how precarious their lives are.
---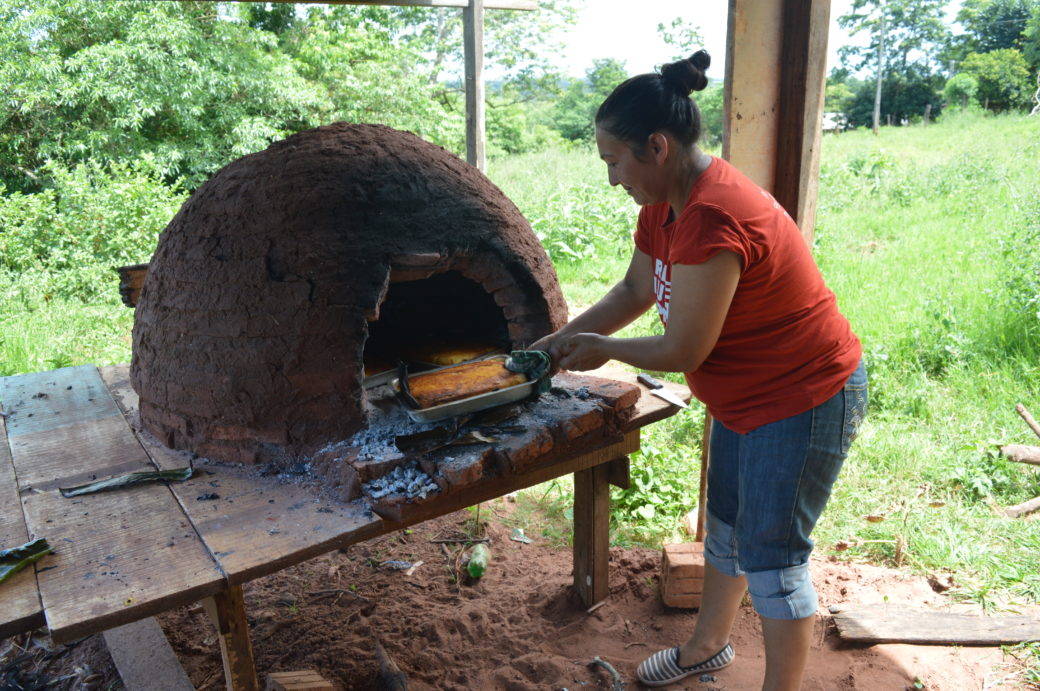 A woman from Arsenio Vazquez removes a dish of Paraguayan soup from a "tatakua" (traditional clay oven), made from corn cultivated by the community. Photo by Inés Franceschelli
The Arsenio Vázquez settlement is another National Federation of Peasants success story, built on the struggle for access to land. It covers 1,100 hectares and is named after a peasant leader who was martyred during the occupation that ultimately secured the land and rights to it for the community. Today, at almost 15 years old, it is flourishing and produces food for the community and surrounding areas.
---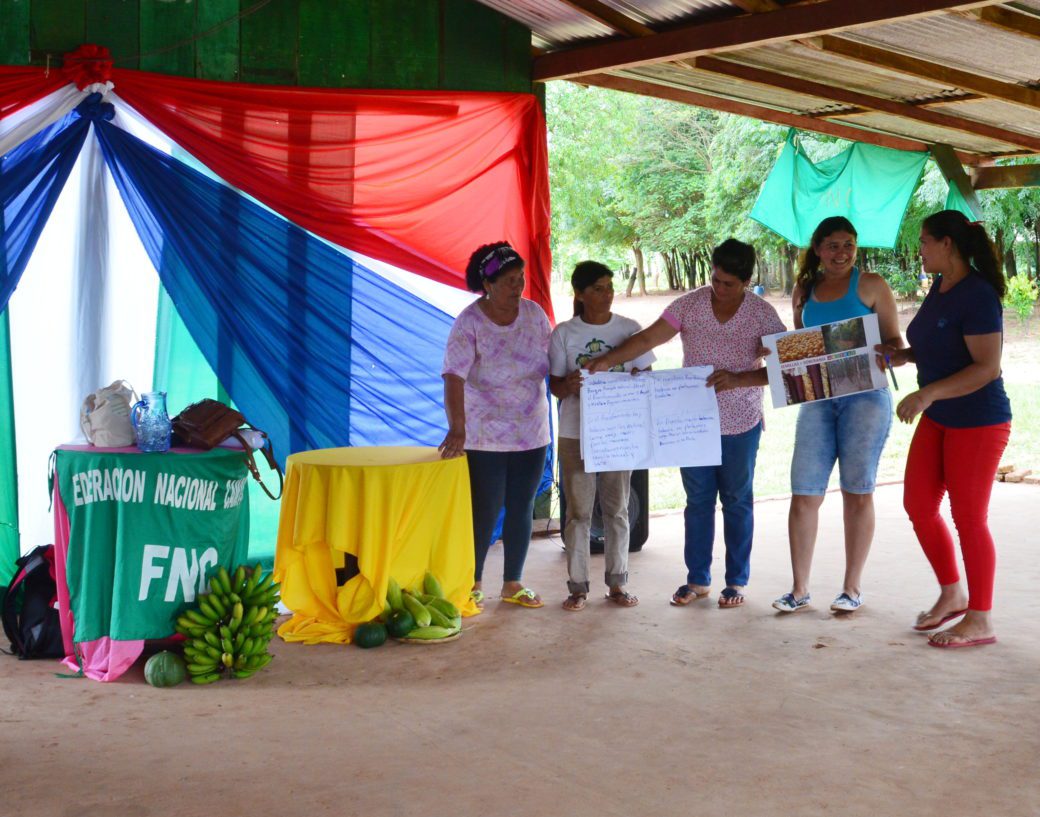 Women discuss food sovereignty and climate change in Arsenio Vázquez. Photo by Lisa Meyer
Women in Arsenio Vázquez are confident and defiant. The level of organisation and collective action in the community, and the importance given to women's participation in collective processes, are responsible for its growth and development. Community members are free and able to come together to discuss all of the issues that are important to them and learn from past mistakes, whilst also bringing new knowledge and understanding to traditional practices, allowing their quality of life to be continually improved. They recognise that deforestation produces climate change and poverty, and that a system that evicts farmers from their land for cows and soybeans can only benefit the very privileged few. With the threats posed by climate change and industrial agriculture only increasing, they must support each other to survive.
---
It is this kind of climate resilience that should be taking centre-stage in New York, as leaders gather to discuss more ambitious and transformative climate action. These communities are clear that in order to be able to adapt to the worsening climate crisis, big agribusiness must be stopped from stealing their land, destroying their biodiversity and poisoning their water. At the same time, their collective and women-led efforts to organise for their own resilience must be respected and supported. The indigenous and peasant women featured in this photo essay embody the kind of ambitious and transformative climate action that is so desperately needed.
---
This photo essay is based trainings facilitated by Heñói as part of the Women2030 programme. Heñói, a member of the Global Forest Coalition, has been developing a process of dialogue, training and debate with peasant and indigenous women since 2016, with the objective of strengthening their organisational capacity, and their struggles to reclaim their rights. The dialogue has been an important opportunity to learn from women for whom life is resistance and struggle, to bring awareness of environmental issues to rural communities which is crucial to their future, and to establish more coordinated advocacy networks, established on relationships of trust.
The Women2030 Programme is a coalition of five women and gender network organisations collaborating to realize the Sustainable Development Goals (SDGs) in a gender-equitable and climate-just way. Follow Women2030 on Facebook and Twitter.
The Global Forest Coalition is a worldwide coalition of 99 NGOs and Indigenous peoples' organisations from 62 different countries striving for rights-based, socially just forest conservation policies. Follow the Global Forest Coalition on Facebook and Twitter.