Webinar on the Belt and Road Initiative: Impacts on forests and communities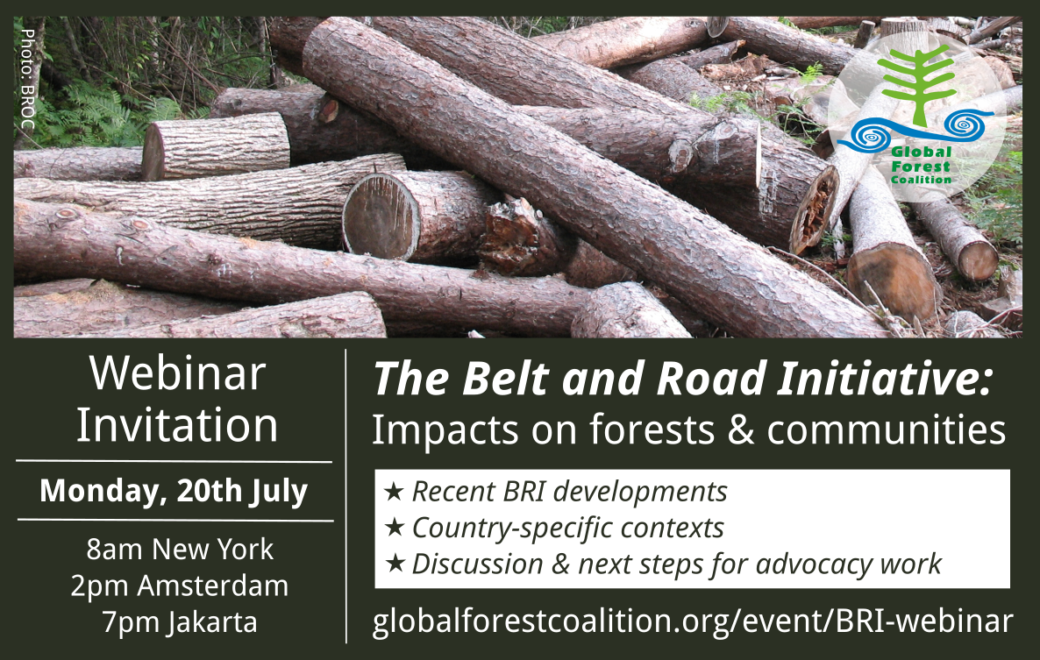 MONDAY 20TH JULY – 8am New York/2pm Amsterdam/7pm Jakarta
The Global Forest Coalition's campaign on Extractive Industries, Tourism and Infrastructure (ETI) invites you to participate in a webinar on the impacts of the Belt and Road Initiative (BRI) on forests and communities. Building on our recent regional strategy meeting on the BRI, and the publication of a series of case studies on the impacts of BRI projects in key participating countries, this webinar is an opportunity to take stock of the recent developments around the BRI and particularly in light of the COVID-19 pandemic. It will also be an opportunity for participants to share their experiences of BRI projects and their impacts, and discuss future networking and advocacy work in order to strengthen our campaigns and support GFC member groups.
Program:
Moderator: Kaisha Atakhanova (Social EcoFund, Kazakhstan)
Anna Kirilenko (BIOM, Kyrgyzstan and GFC Chairperson of the Board): introduction to the issues
Mark Grimsditch (Inclusive Development International, USA): Updates and current situation with BRI projects
Anatoly Lebedev (BROC, Russia): BRI forest projects in Siberia
Hemantha Withanage (Centre for Environmental Justice, Sri Lanka): BRI projects in South and Southeast Asia
Open discussion:
A) updates from participants
B) next steps for advocacy work on the BRI
Andrey Laletin (GFC and Friends of Siberian Forests, Russia): Closing comments
To participate, please register here. The webinar will take place on Zoom, which you can download here. The meeting will be held in English.
For more information, see a report on our recent BRI strategy meeting that took place in Bogor, Indonesia, in February 2020.