Webinar sobre la Iniciativa de la Franja y la Ruta: Impactos en los bosques y las comunidades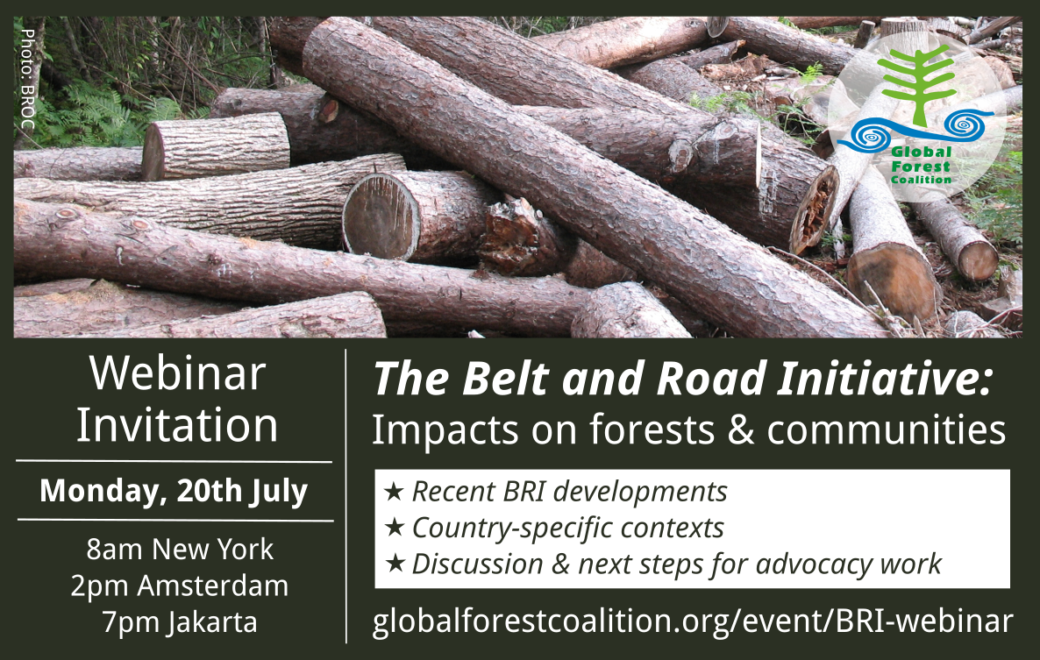 La campaña sobre Industrias Extractivas, Turismo e Infraestructura de la Coalición Mundial por los Bosques invita a un webinar sobre los impactos de la Iniciativa de la Franja y la Ruta (BRI, por sus siglas en inglés) en los bosques y las comunidades. Sobre la base de nuestra reciente reunión de estrategia regional sobre la BRI y la publicación de una serie de estudios de casos sobre los impactos de los proyectos BRI en los países participantes claves, este webinar es una oportunidad de evaluar los acontecimientos recientes relacionados con la BRI y en particular en relación con la pandemia de COVID-19. También servirá para que lxs participantes compartan sus experiencias de los proyectos BRI y sus impactos, y discutan el trabajo futuro de trabajo en red y de promoción para fortalecer nuestras campañas y apoyar a los grupos miembros de la Coalición Mundial por los Bosques.
Continuar leyendo en ingles…
Program:
Moderator: Kaisha Atakhanova (Social EcoFund, Kazakhstan)
Anna Kirilenko (BIOM, Kyrgyzstan and GFC Chairperson of the Board): introduction to the issues
Mark Grimsditch (Inclusive Development International, USA): Updates and current situation with BRI projects
Anatoly Lebedev (BROC, Russia): BRI forest projects in Siberia
Hemantha Withanage (Centre for Environmental Justice, Sri Lanka): BRI projects in South and Southeast Asia
Open discussion:
A) updates from participants
B) next steps for advocacy work on the BRI
Andrey Laletin (GFC and Friends of Siberian Forests, Russia): Closing comments
To participate, please register here. The webinar will take place on Zoom, which you can download here. The meeting will be held in English.
For more information, see a report on our recent BRI strategy meeting that took place in Bogor, Indonesia, in February 2020.