#DivestFactoryFarming website project consultant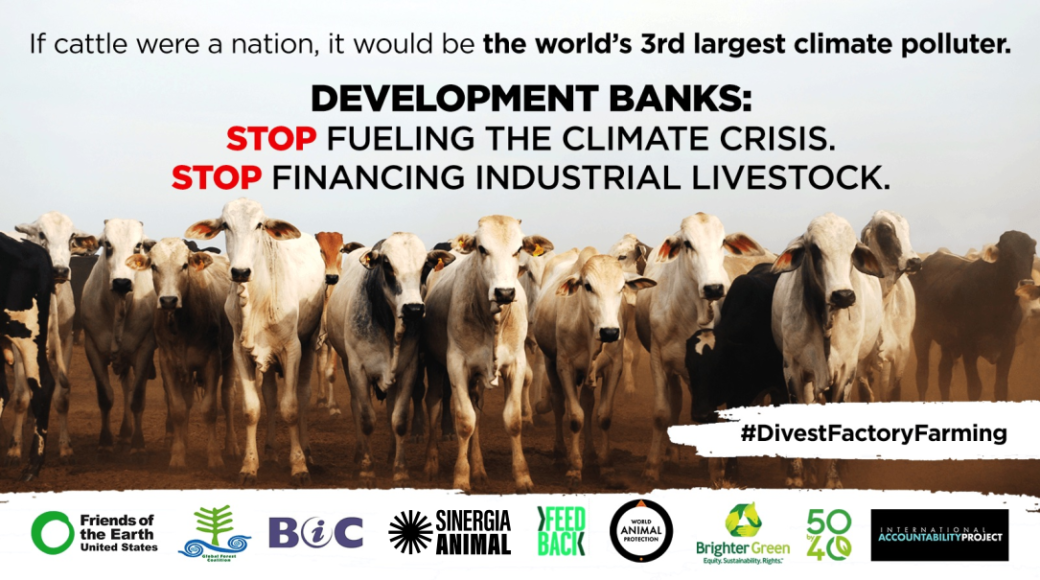 The Divest Factory Farming campaign is seeking an experienced digital consultant to coordinate the production of a new website for the campaign.
Contract: Fixed term – approximately 10 days work
Remuneration: 260 EUR / day.
Location: Remote. Access to a fast and reliable internet connection is required.
Start date: ASAP
#DivestFactoryFarming members: Bank Information Center, Brighter Green, International Accountability Project, Friends of the Earth US, Feedback Global, Global Forest Coalition, Sinergia Animal, and World Animal Protection.
About the campaign
Across the globe, industrial livestock operations are a major cause of greenhouse gas emissions, deforestation, biodiversity loss, land and social conflicts, animal cruelty, water depletion and air and water contamination. These harms disproportionately impact women, indigenous peoples and low-income communities of color. Yet, from Brazil and Ecuador to China and Vietnam to Madagascar, Public Development Banks (PDBs) are financing giant meat companies like Marfrig and Smithfield Foods under the guise of "development". Our research has found that in the past decade, the top 5 development banks poured $4.5 billion into industrial livestock companies.
A diverse coalition of groups have come together to launch a global campaign that aims to shift public development finance away from industrial animal agriculture towards more sustainable food production, initially targeting multilateral development banks and their funds – such as the IFC/World Bank, the InterAmerican Development Bank (IDB), Asian Development Bank (ADB), African Development Bank (AfDB), and the Green Climate Fund.
The goal of the campaign is to end public financing of industrial livestock farming and to shift finance to food systems that use agro-ecological practices and high animal welfare standards, that are more plant-based; that support smallholder farmers and communities, including in particular women; and that are just, equitable and sustainable.
About this Terms of Reference
We are seeking an experienced digital communications consultant, with a strong knowledge and understanding of managing website development projects and other digital product design. The consultant will work with the steering committee and with the Campaign Coordinator (role currently under recruitment) to:
Draft and refine the specification for the Divest Factory Farming website and create a terms of reference to recruit a website developer to deliver the website.
Define the criteria for the creation of a visual identity for the website, and work with a designer to finalise this identity.
Shortlist and recruit an appropriate skilled website developer and work with them to set up the website build project.
Create a development timeline and project plan for the website development.
Project manage the website build, ensuring that a product is delivered to specification in the timeline and on budget.
Work with the campaign steering committee to create and refine initial website content, and populate the website.
Ensure that all back-end set up is appropriately managed by the host organisation, GFC, including hosting, an upkeep plan, data protection, privacy policy and cookies collection.
Work closely with the steering committee and web developer to ensure that the website is a manageable and appropriate asset, that fulfills the immediate needs of the coalition and is flexible to respond to future needs.
This role will be hosted by the Global Forest Coalition, on behalf of the Divest Factory Farming campaign. The role will report to the steering committee of the campaign, which currently consists of 6 NGOs, and as such will involve working closely with all members of the steering committee.
To apply, send your CV and a brief proposal for how you would approach this project to kezia@mailbox.org.