Women's leadership in forest conservation and governance is central for an equal future: Voices from GFC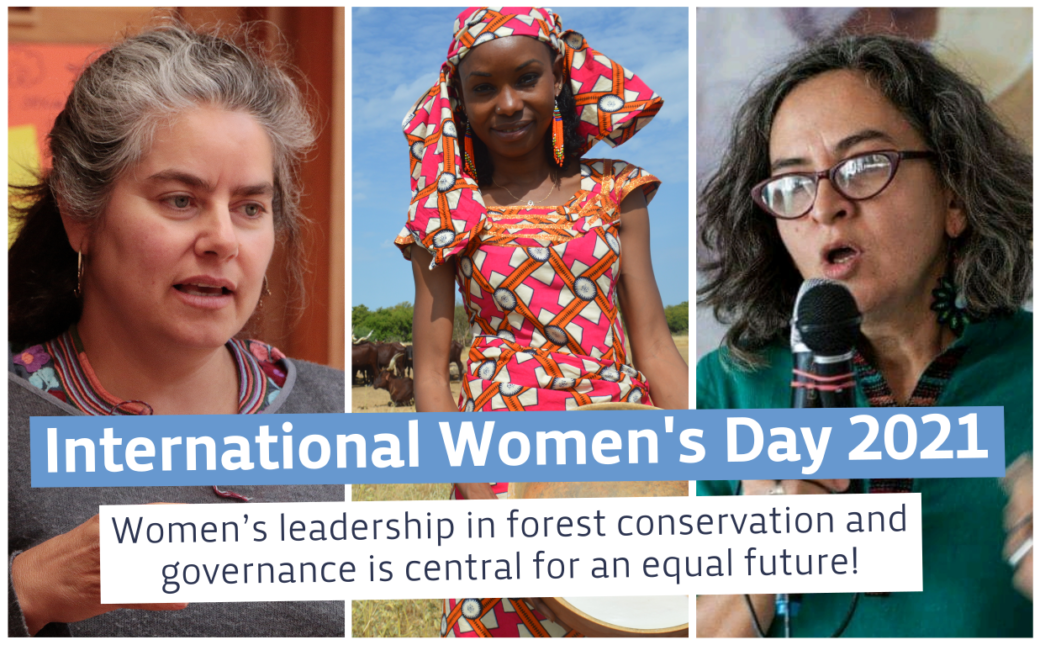 For an inclusive and just future in a COVID-19 world and beyond, we recognise that gender equality and addressing structural barriers of patriarchy, extractivism, racism and capitalism go hand in hand. Women's leadership in decision-making platforms is central to this, enabling the priorities, needs and experiences of women in all their diversity and their communities to be heard.
More often than not, forest and environmental governing bodies are still male-dominated and policies still do not take gender into account. This matters because gender inequality and issues such as gender-based violence not only impact women's lives but also pose threats to community development and the defence of land and forests.
The discrimination and barriers faced by underrepresented groups in society must be given due attention if forest conservation and governance is to be successful and inclusive. Whether it is Indigenous women fighting for access to forests (and their resources), or developing training and livelihood opportunities for young people, or advocating for land tenure rights and access to finance for single-women headed households, we need the leadership of diverse women to drive us towards a just future.
On this International Women's Day, we want to share with you some thoughts from women leaders in Global Forest Coalition. As changemakers, they are amplifying important messages from local to global on the need to respect Indigenous Peoples' rights and inclusive and just environmental policies.
Jeanette Sequeira, GFC's gender programme coordinator
---
Johanna Molina
Colectivo VientoSur, Chile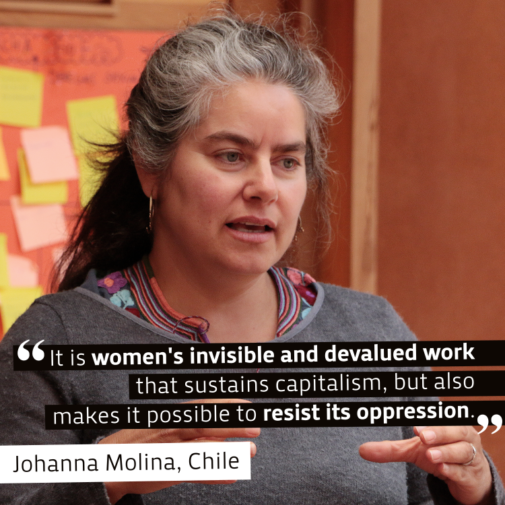 The only way we can confront the current context in which patriarchal capitalism penetrates and brutally impacts our entire existence is by organizing and creating alliances to elevate and connect peoples' struggles. There is an urgent need to denounce at the international level human rights violations and the destruction of nature, and GFC makes it possible to do this and to forge complicities in the defense of the land and those who defend it.

Women have historically been the defenders of life, and we know from experience that care work in all of its dimensions is what allows us to sustain it. It is the invisible and devalued work of women that sustains capitalism, but also makes it possible to resist its oppression. Women defenders of the land and forests, guardians of seeds and agroecological producers, etc., have allowed us to continue to have natural goods on which to subsist. However, putting life at the center is a task for all of us, and hence we must transform the way we organize as a society to move toward forms of production, consumption and distribution that are based on solidarity and in harmony with nature, and women have a lot to say about that.

I get hope from local economies, local organizing and life in community; protecting and caring for nature; mass marches in the streets against violence, extractivism and patriarchy; the demands of Indigenous peoples, women's collectives; and the multiple experiences that put life at the center. They show us that another world is possible, one guided by the values of solidarity, reciprocity and respect, one where we are aware of our interdependence and ecodependence. We are not alone; we have each other."
Photo by: Paulina Veloso
---
Hindou Oumarou Ibrahim
IPACC/AFPAT, Chad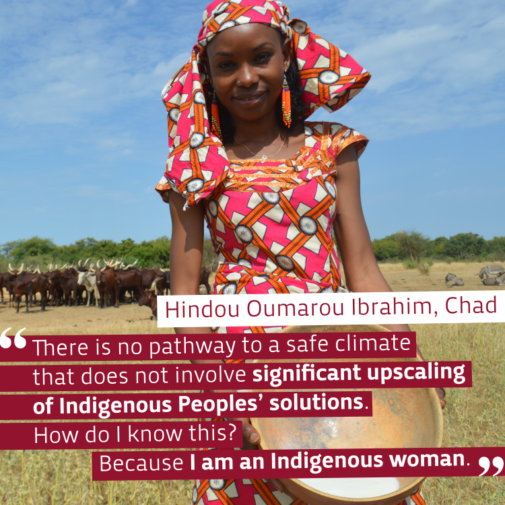 There is no pathway to a safe climate that does not involve significant upscaling of Indigenous peoples' solutions. How do I know this? Because I am an Indigenous woman of the pastoralist Mbororo people in Chad, who for centuries have herded livestock to fresh grazing grounds in the Sahel region following the rhythm of the seasons. My people move from around Lake Chad to the Congo Basin tropical forest, minimizing our impact and allowing our fragile ecosystem to regenerate. The world's Indigenous peoples have been living in harmony with nature for centuries. For us, there is no difference between the environment and life. We depend on nature, we are connected to nature, it is our supermarket, and we protect it. Nature is completely intertwined with our culture, identity and way of life. We are nature!

My people sustain many of the healthiest ecosystems on Earth. Although Indigenous peoples make up just 5% of the world's population, they manage more than a quarter of all land, including forests, and protect about 80% of global biodiversity.

With the COVID-19 pandemic, protecting forests and the rights of Indigenous peoples must be at the heart of our future plans to rebuild better and restore a more just and sustainable global economy. I believe these solutions are essential for a sustainable future.

Our collective vulnerability to COVID-19 mirrors our vulnerability to the climate crisis. This vulnerability has motivated people around the world to demand a new way forward built on social equity and economic justice that includes everyone so that we can protect ourselves and our planet. Fortunately, this gives me reason for hope. Today, all around the world, the climate movement is growing, led by young people, women and Indigenous communities…"
Photo by: Salma Khalil
---
Inés Franceschelli
HEÑÓI, Paraguay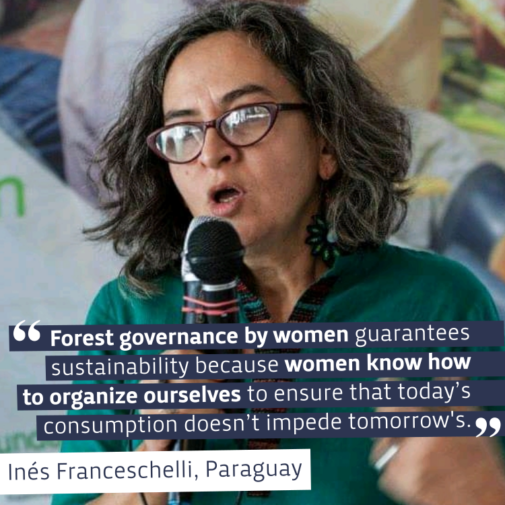 The defense of forests and the fight against their destruction is the only path of hope for the survival of the human species. Joining forces is the only alternative, given the enormous power wielded by the corporations responsible for leading the destruction of the planet.

Women have long assumed responsibility for managing basic human needs: nutrition, health care, etc. Forest governance by women guarantees sustainability because women know how to organize ourselves to ensure that today's consumption doesn't impede that of tomorrow. Women know how to administer, plan and care better than men; we think of everyone, not just a few. We manage community relations better, and that's why it's important to promote women's leadership in forest conservation and governance, and in all of the arenas of public life.

In some of our peasant communities, I see growing awareness and understanding of the magnitude of the threats, I see young people interested in returning to the countryside and interested in being rooted in the rural setting. I see in some cases a recovery of the production of healthy foods, improvements in diets, eliminated ultra processed foods that not only harm health but also make the country [of Paraguay] dependent on foreign industries. And I see more and more women free and organized. That gives me greater hope."
Photo by: Ronnie Hall
---
See our women's rights and empowerment programme: https://globalforestcoalition.org/campaigns/womens-rights-and-empowerment/