Spotlight on Sustainable Development 2017: Reclaiming policies for the public
December 2017
Climate Action in the Land Sector: Treading Carefully – CLARA group briefing for climate negotiators
April 2017
Presentation on India´s REDD+ Policy: Old Wine in New Bottle by Souparna Lahiri
November 2014
Appeal to India and to the UN on Development, Rights & Biodiversity in Forest Communities
November 2014
This is an appeal to India and to the UN governing bodies on human rights and biodiversity to ensure that the rights and protection of India's vulnerable forest communities and biodiverse environment are not violated. Also to ensure that India allows no regress or removal of the legal safeguards set for these vulnerable communities' rights or environment under the Forest Rights Act (FRA) or other laws of India.
New version in Hindu of "Community Rights and 'Buen Vivir' as an alternative to  'Green' Forest Grabbing – A Guide for Communities (हरे वनों पर कब्जे के ववकल्प के बतौर सामुदायिक अधिकार और 'अच्छा जीवन' ('ब्िून ववववर' (BUEN VIVIR)1 समुदािों के लिए एक यनदेलिका)
November 2014
This is the Hindu version a brief toolkit for Indigenous Peoples and local communities looking for information about 'sustainable forest management' and 'bioenergy' projects that was published last year.
What can Indigenous Peoples, local communities and women expect from Global Climate and Forests Funds in terms of their rights? An introduction and comparison of Safeguards and Participation Mechanisms 
November 2014
As a result of the regime on 'Reducing Emissions from Deforestation and forest Degradation and enhancing forest carbon stocks' (REDD+) adopted by the UN Framework Convention on Climate Change, several relatively new global funds or financial windows have been established to finance forest-related initiatives from a climate perspective. The purpose of the briefing paper is to make a comparative analysis of the strengths and weaknesses of these funds´ rules and safeguards, specifically with respect to the rights of Indigenous Peoples, women and local communities, including their participation rights. Although we explore and compare a number of global funds, we place more emphasis on the Green Climate Fund, since it has recently emerged as the main multilateral finance mechanism within the international climate arena, with separate windows for forest-related adaptation and mitigation initiatives. 
NGO report on indigenous Pygmy peoples. Indigenous peoples in the DRC: The injustice of multiple forms of discrimination 
April 2014
This alternative report has been prepared by non-governmental organizations of indigenous Pygmy peoples and their supporters: 15 non-governmental organizations that work with indigenous peoples of the Democratic Republic of Congo (DRC). Its aim is to present a picture of the situation of indigenous Pygmies.
REDD and the Underlying Causes of Deforestation and Forest Degradation
November 2013
The aim of Global Forest Coalition's 'Reducing Deforestation and Forest Degradation through Addressing the Underlying Causes' programme has been to analyse the underlying causes of forest biodiversity loss in five important forest countries; and to integrate the results of this analysis into national processes to develop strategies to reduce deforestation and forest degradation (REDD+) and other relevant national forest conservation policies.
COMMUNITY RIGHTS AND 'BUEN VIVIR' AS AN ALTERNATIVE TO 'GREEN' FOREST GRABBING – A GUIDE FOR COMMUNITIES
May 2013
This is a brief toolkit for Indigenous Peoples and local communities looking for information about 'sustainable forest management' and 'bioenergy' projects. Projects like these are increasingly being proposed as solutions to climate change and worries about energy security. In many cases communities are being encouraged to take part in them. However, there are risks and pitfalls associated with commercial forest projects like 'REDD' (which are focused on reducing deforestation and forest degradation in order to slow climate change). This toolkit outlines some of the risks communities may face. It aims to balance out some of the extremely optimistic claims that are often made by those promoting these 'market-based' projects.
Civil Society Views in Scaling up Biodiversity Finance, Resource Mobilization, and Innovative Financial Mechanisms
GFC submission to the UNFCCC call for Parties and accredited organizations on modalities and procedures for financing results based-actions and activities related to decision 1/CP.16, paragraphs 68-70 and 72. This paper is the outcome of the Ad Hoc Working Group on Long Term Cooperative Action and was prepared by the CBD Alliance.
REDD Fairy Tales – "SNOW WHITE AND THE SEVEN DWARFS"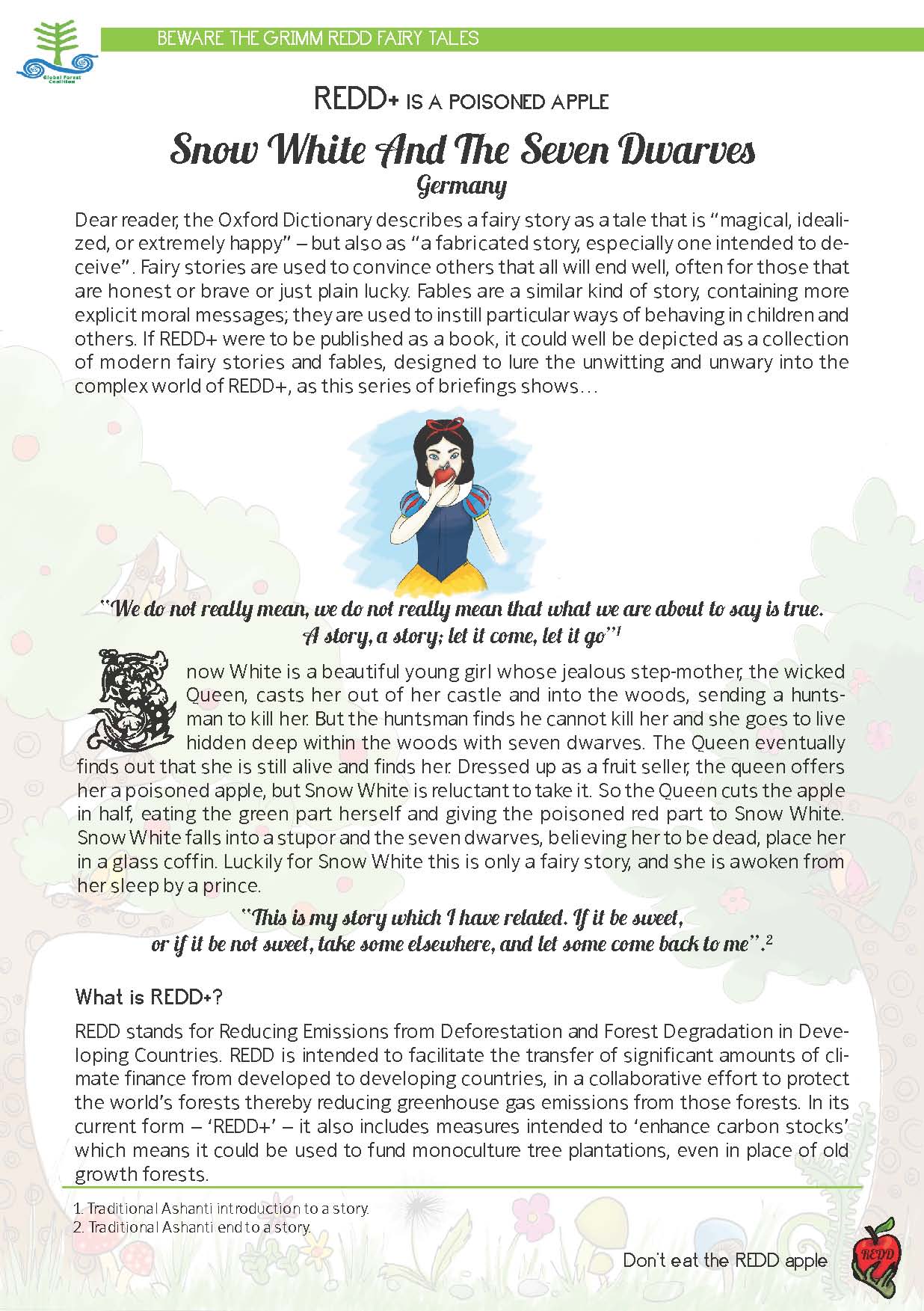 REDD+ is a poisoned apple with a very tempting side which is showed openly but a very toxic side for people who actually 'EAT' the REDD+ apple. REDD+ drives the expansion of plantations and provides finance for toxic trees, and may possibly also include biochar.
REDD Fairy Tales – "ANANSE"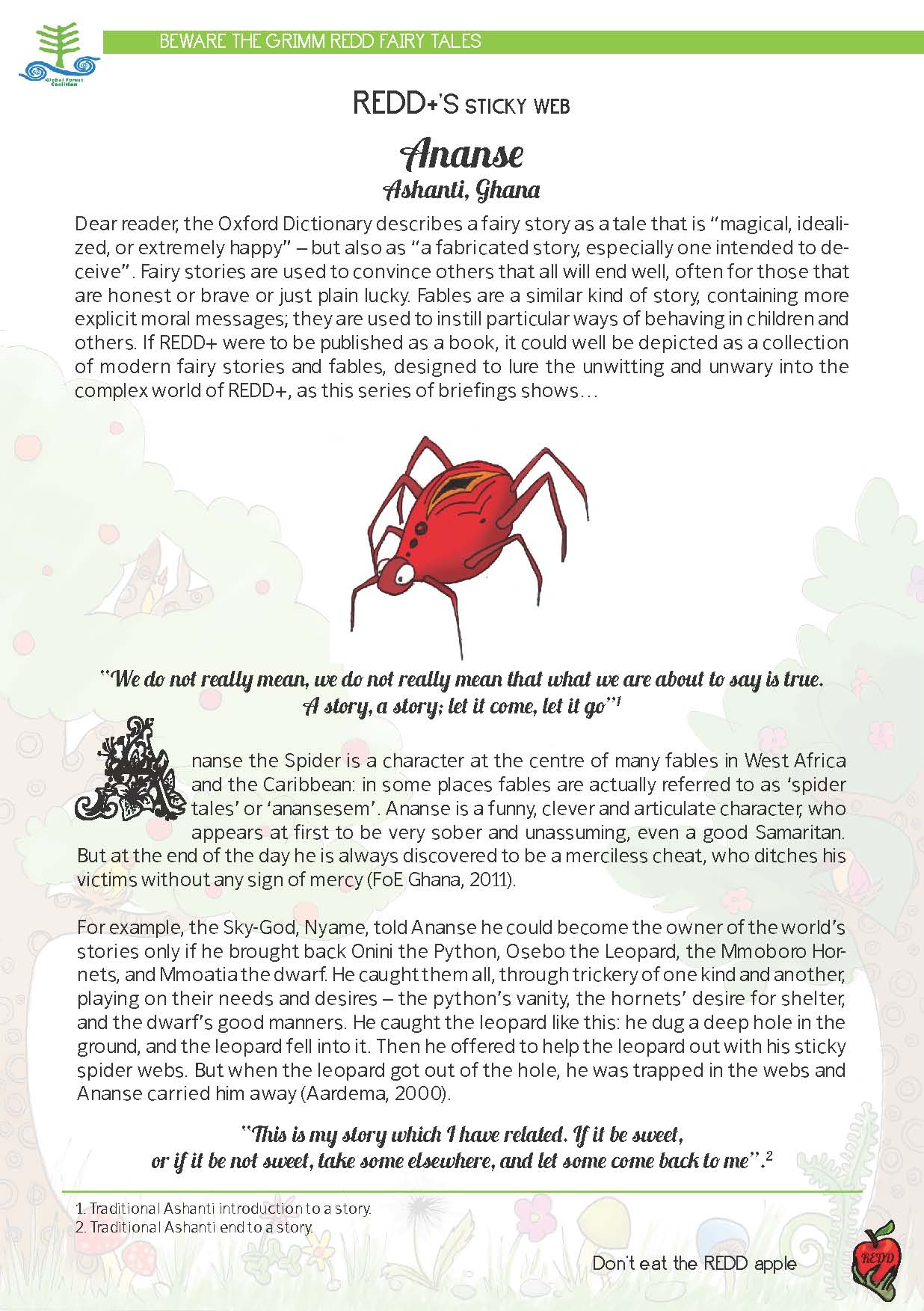 REDD's sticky web traps Indigenous Peoples and Local Communities by playing with their needs and necessities (just like Ananse, a popular fairy tale in Africa of a spider that deceives everyone around!) and thus, luring developing countries deeper into debt.
REDD FAIRY TALES – "THE EMPEROR'S NEW CLOTHES"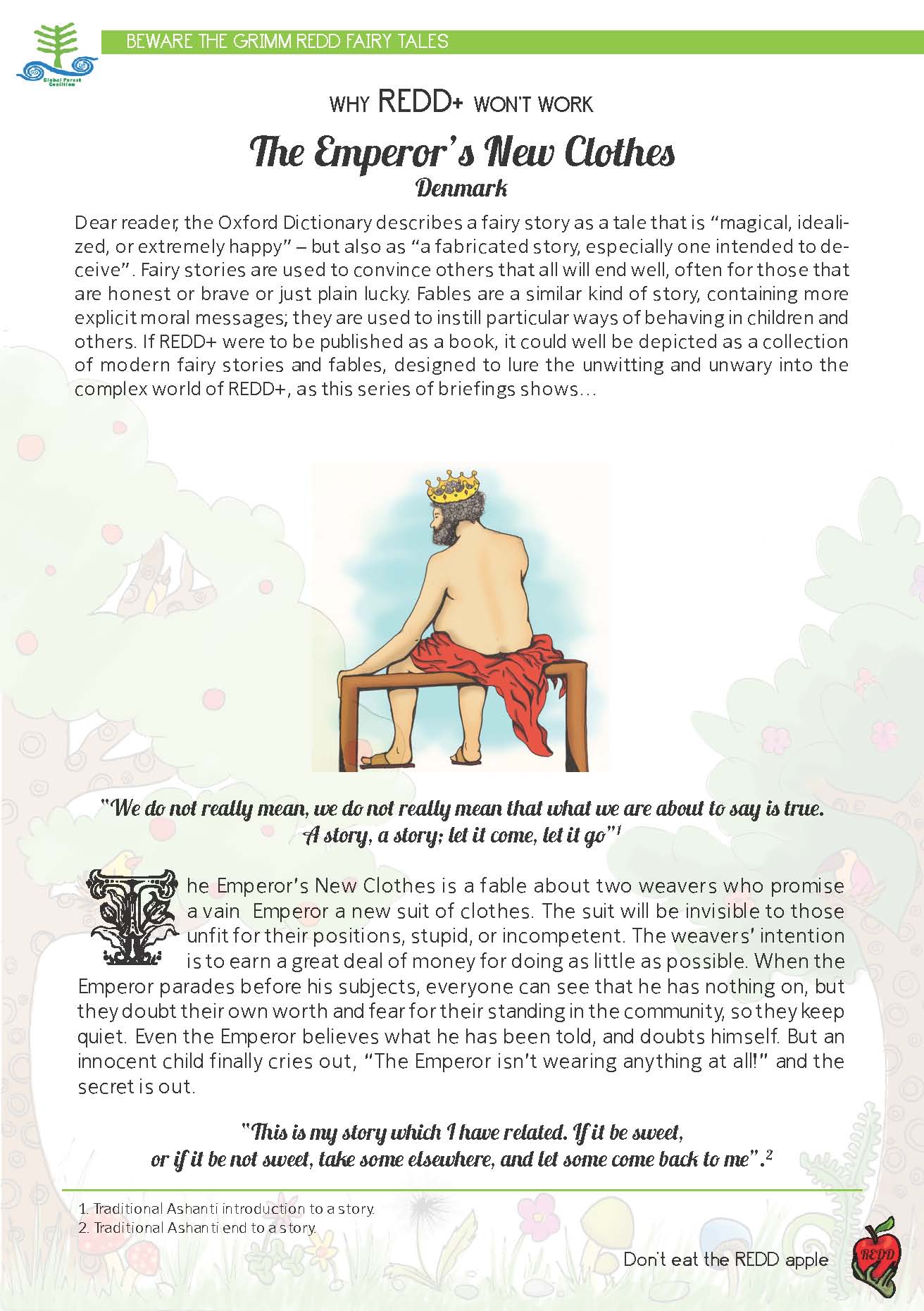 Why REDD won't work is clearly depicted in this fairy tale, REDD's weaknesses are getting more evident starting from the fact that it is very hard to measure carbon and that REDD+ finance may even go to projects that would have happened anyway, not really "offsetting" emissions therefore, the climate loses twice.
REDD FAIRY TALES – "KAGGEN"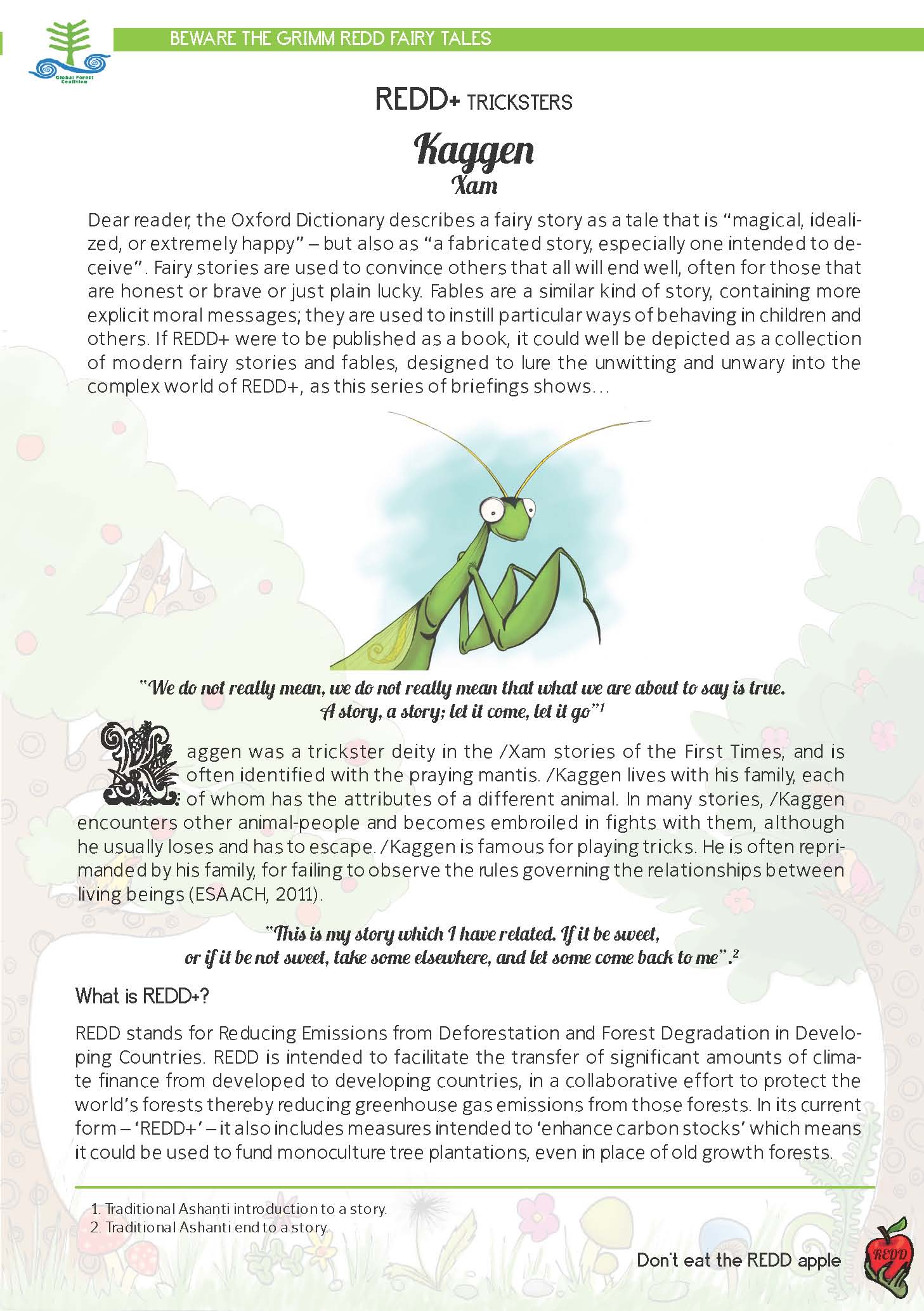 REDD+ Tricksters are resulting from this mechanism. Even the Interpol has recognized REDD+ as a potential target for international crime. In addition, it only promotes "business as usual" leaving Indigenous and Local Communities far from receiving its "substantial" rewards.
REDD FAIRY TALES – "RUMPELSTILZCHEN"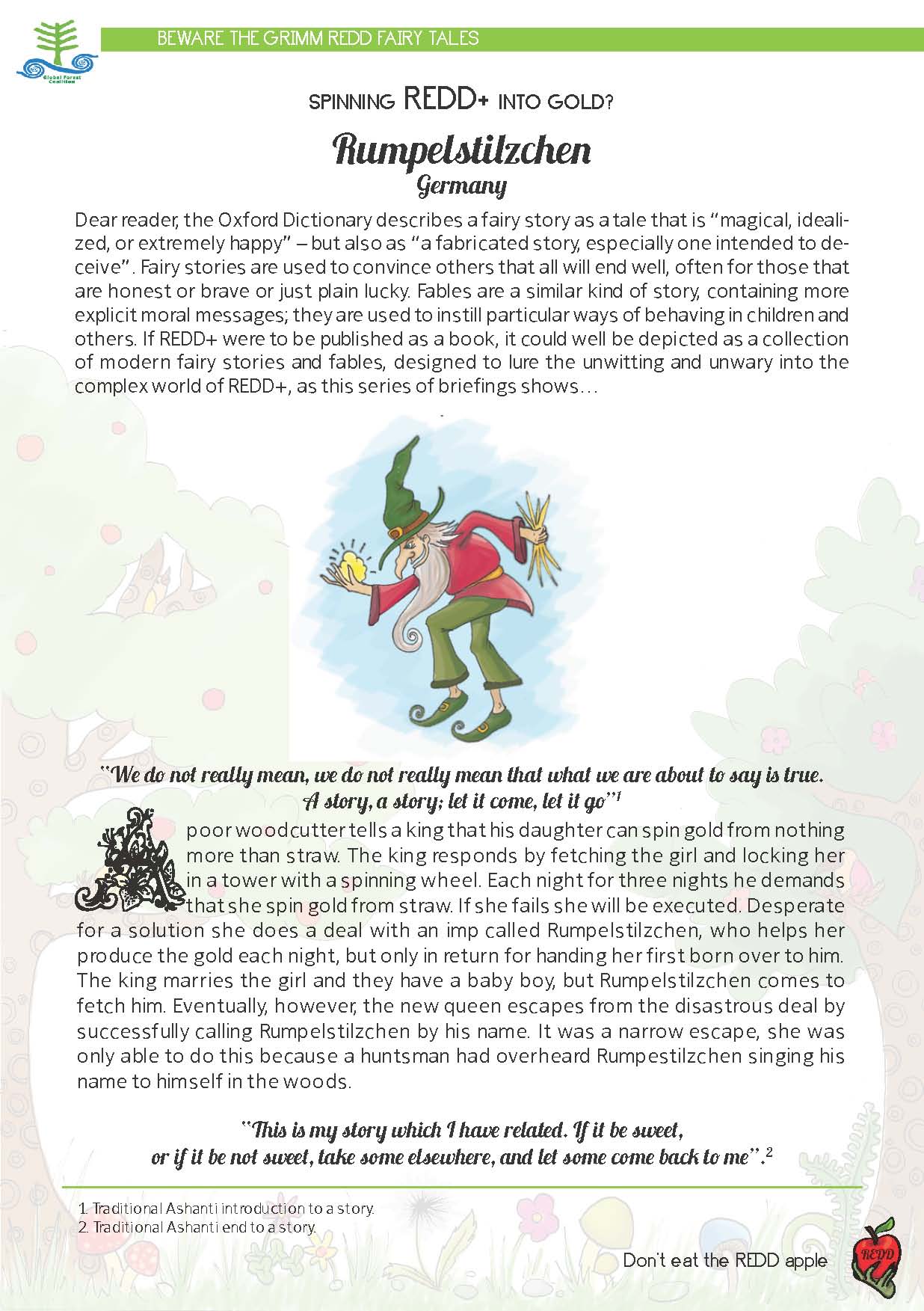 Spinning REDD+ into gold? It appears as if REDD+ would generate a lot of profit for all stakeholders but after its implementation, it appears that the price to pay is way too high.
–
REDD and Indigenous Peoples in the Chaco
Toolkit on the Potential Negative Impacts of REDD+ on Indigenous Peoples
REDD Realities
How strategies to reduce emissions from deforestation and forest degradation could impact on biodiversity and Indigenous Peoples in developing countries.
December 2009.
–
Imaginary Sinks: India's REDD Ambitions
A Position Paper by the Forum of Forest People & Forest Workers (NFFPFW), India
–
Hottest-REDD-Issues, Rights, Equity, Development, Deforestation and Governance by Indigenous Peoples and Local Communities.
–
Potential Policy Approaches to Postive Incentives to Reduce Emissions from Deforestation in Developing Countries.
A submission to the Secretariat of the Framework Convention on Climate Change. February 2007
–
Climate Change, Forest Conservation and Indigenous Peoples Rights
Discussion paper prepared by Estebancio Castro Diaz
International Expert Group Meeting on Indigenous Peoples and Climate Change
Darwin, Australia, 2 – 4 April 2008
–
Can the Amazon survive false solutions?
By Hildebrando Velez, executive director, CENSAT Agua Viva/Friends of the Earth Colombia