Media Release: The Bioeconomy is Bad for Biodiversity, Global Forest Coalition Warns
Obama's Plan Bodes Ill for Human Rights and the Environment, New Report Finds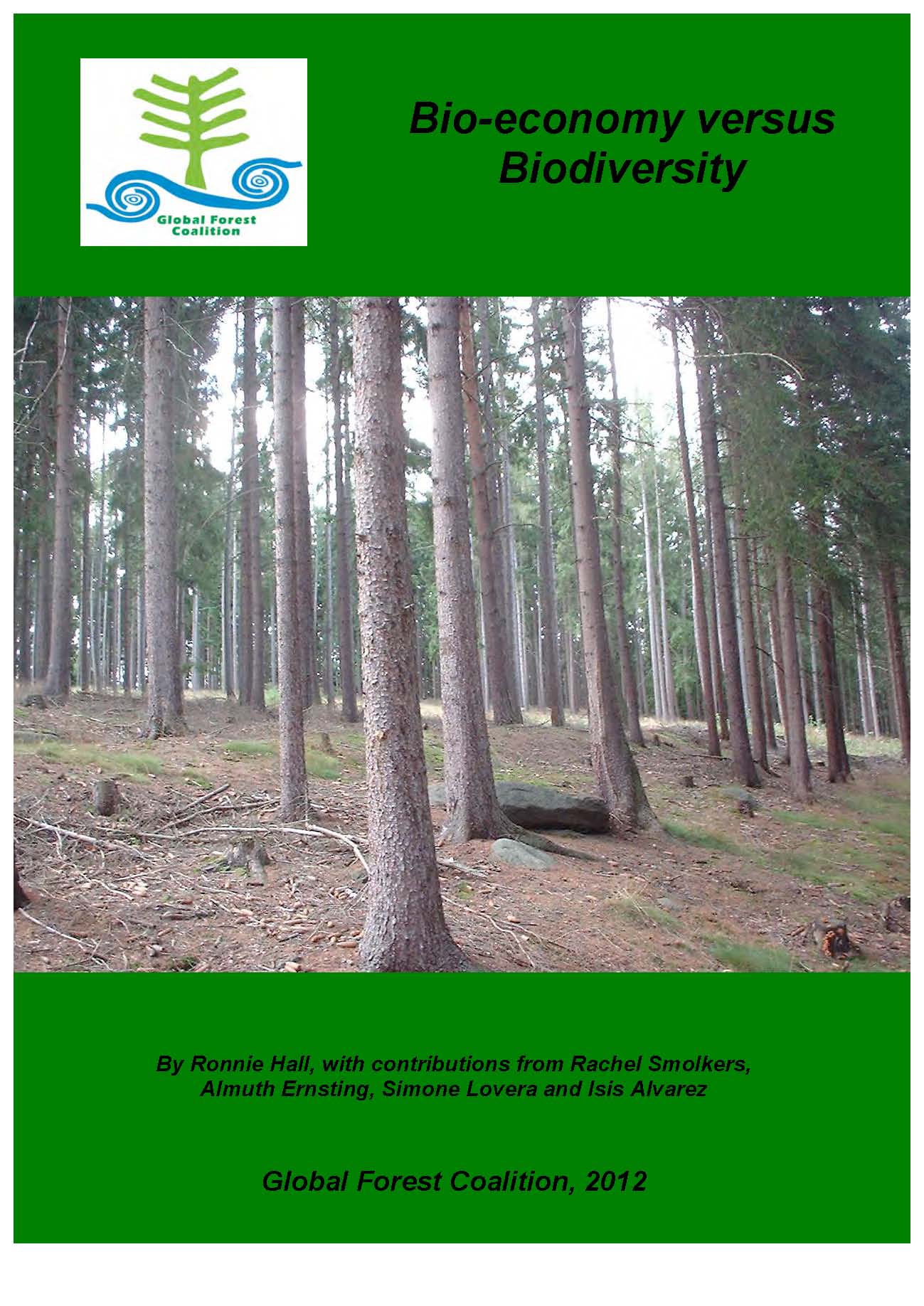 As U.S. President Obama announced his new "National Bioeconomy Blueprint" today, the Global Forest Coalition [1] unveiled its report, "Bio-economy versus Biodiversity"[2]. The report's conclusions differ sharply from the President's "Blueprint," alerting policy-makers to the serious negative impacts the so-called bioeconomy will have on forests, forest-dependent peoples, and biodiversity.
The 'bioeconomy' promotes speculative markets for ecosystem-based products and services, which are increasingly promoted as a 'green' alternative to the fossil fuel economy. Trading in 'ecosystem services' such as forest carbon offsets is accompanied by a massive expansion of wood-based bioenergy and other biomass-based products.
The Global Forest Coalition report concludes that these markets are a dead end.
"The divergent elements of the bioeconomy are at cross-purposes," warns Rachel Smolker of Biofuelwatch, a lead author of the report. "On the one hand, we'll extract biomass from forests and farmlands to produce energy and materials at a scale comparable to our current fossil fuel extraction. And on the other hand we'll create new financial instruments based on the protection of ecosystems. We can't have it both ways," said Smolker.
"We have a wealth of evidence that these approaches are misguided, but that evidence is ignored. Why? Because the bioeconomy is about generating profits for the top 1%, regardless of the consequences."
The new report, "Bio-economy versus Biodiversity", is based on years of research by civil society groups working directly with communities impacted by biomass extraction, carbon offset projects, and other elements of the bioeconomy. The report concludes that the bioeconomy approach could be no better than our current reliance on climate-wrecking fossil fuels. The massive increase in production and use of biomass will trigger a cascade of problems including hunger, land grabs, and ecosystem collapse, the report warns.
Simone Lovera, Executive Director of the Global Forest Coalition, said, "The bioeconomy is a massive effort to privatize nature for corporate profit. The record of forest carbon offset schemes like REDD+ [3] make it clear that market-based approaches to conservation inflict serious harm on Indigenous Peoples, women, peasant farmers, and biodiversity itself."
"Further," said Lovera, "high-risk technologies like synthetic biology, nanotechnology, and genetically engineered trees will only drive the planetary ecosystem further into crisis."
Harm to both ecosystems and human health from these technologies, the report points out, are both inevitable and irreversible.
The report's conclusions challenge the Obama administration and other global leaders to abandon the green sheen of biotechnology and market-based conservation schemes, and to affirm the kinds of biocultural approaches demonstrated by Indigenous Peoples and social movements in the Global South that eschew infinite economic growth for sustainable livelihoods, local living economies, and integration with the natural world.
Contact:
Simone Lovera, Executive Director, Global Forest Coalition (at the Rio+20 preparatory negotiations in New York): +1-3053191990
Rachel Smolker, co-coordinator, Biofuelwatch: +1 802-482 2848 /+1-802 234 4066 / +1 802 735 7794
###
Notes for editors:
[1] The Global Forest Coalition is a worldwide coalition of 53 Indigenous Peoples' Organisations and NGOs in 39 different countries, that promotes rights-based, socially just and effective forest conservation policies. https://globalforestcoalition.org
[2] Hall, R., 2012. "Bio-economy versus Biodiversity". Global Forest Coalition, April 2012. See: https://globalforestcoalition.org
[3] REDD+ stands for Reducing Emissions from Deforestation and forest Degradation and enhancing Forest Carbon Stocks. It is a international forest policy developed within the framework of the Climate Convention that promised results-based payments to countries