New GFC report shines a spotlight on devastating impacts of false climate solutions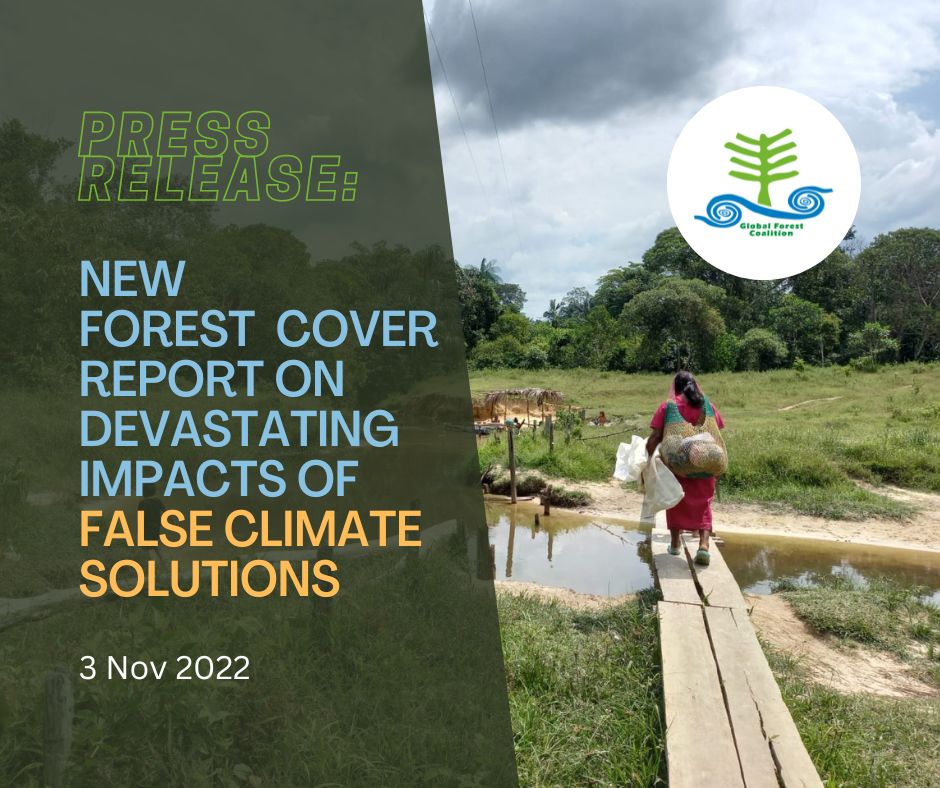 International Community Must End Greenwashing and Ensure Rights-Based, Gendered Response to Climate Crisis
November 3, 2022, UTRECHT—The international community must reject false climate solutions including carbon offsetting and burning of forest biomass, and ensure a rights-based, gendered response to the climate crisis if we are to have any chance of reigning in rising global temperatures, the Global Forest Coalition said as government officials and civil society leaders prepare to gather in Sharm el-Sheikh for the United Nations' COP27 climate conference next week.
"Developed nations and global corporations are profiting from the climate crisis through false solutions that let them continue with business as usual, while the Global South bears the burden of living with these so-called solutions, which have real and devastating consequences for frontline communities and for our planet," said Simone Lovera, Executive Director of the Global Forest Coalition (GFC). "To have any hope of safeguarding the future of life on earth, we must arm ourselves with the knowledge to recognise greenwashing, debunk false science, and push for real climate solutions. People and planet must come before corporate profit."
Launched today, the 32-page publication, The End of False Solutions: Moving Towards Rights-Based and Gender Transformative Solutions to Climate Change, presents articles from GFC member groups in Asia, Africa, and Latin America. These accounts illustrate the false, corporation-backed solutions dominating the official climate change response and the resistance of marginalised communities and forest-dependent peoples around the world.
As well as exposing the false science and negative impacts of climate "solutions" like net zero, geoengineering, REDD, and Nature-Based Solutions, the report also presents a pathway for rights-based, gender-transformative climate solutions that phase out fossil-fuel burning and actually reduce emissions, rather than turning forests into a tradeable commodity.
"In the lead-up to COP27, Indigenous groups, environmental justice organisations and activists are bracing for more greenwashing and the corporate capture of the most pressing concern facing humanity and all life on earth today," said Coraina de la Plaza, climate campaign coordinator of GFC, who is in Sharm el-Sheikh. "We can expect COP27 to open with a litany of government pledges and statements of concern and intent—but there needs to be more hope of genuine actions and commitment to real solutions to the climate crisis."
The report, with case studies from Uganda, South Africa, Nepal, and Colombia, is the 28th issue of GFC's Forest Cover series. GFC is a coalition of 123 NGOs, Indigenous Peoples organizations and women's rights groups in 70 countries that works to promote rights-based forest policy.
CONTACTS
Coraina de la Plaza: coraina.delaplaza@globalforestcoalition.org, WhatsApp: +31 6 26290703
Simone Lovera: simone@globalforestcoalition.org, WhatsApp: +595-981-407375
###