Mpumalanga Environmental Youth Network engagement meeting with government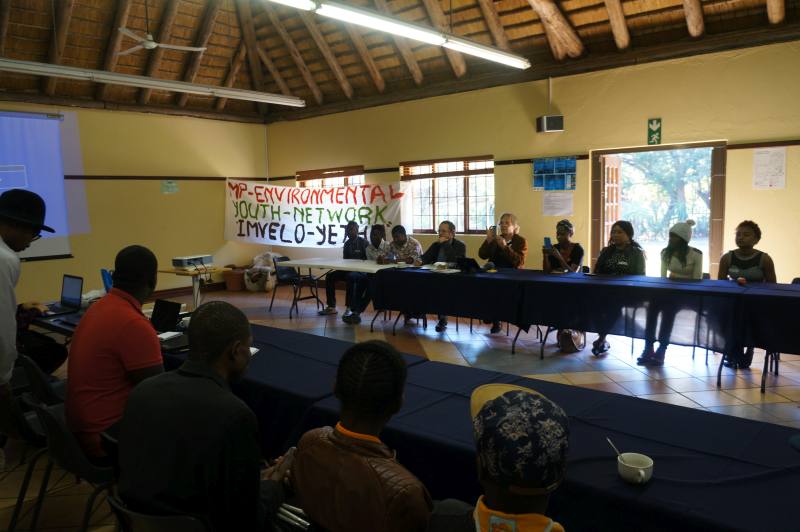 by the Mpumalanga Environmental Youth Network (MEYN)*
On the 23rd of July MEYN held an engagement with government stakeholders. This meeting is the second one in a row to establish contacts and start dialogue with important stakeholders from civil society, government and industry, which are working in the field of environment.
The morning session was dedicated to reflect our former actions. The committee of our network and other engaged members initiated valuable actions like the #10 minutes awareness media campaign, which you can follow on our Facebook page. Beside these radio interviews, research programs and educational programs were established and will be developed in future. The members who started these actions were rewarded with seed packages from our generous donator Agrimark Nelspruit. MEYN thanks you!
Later in the day we focused on our guests and main program point: the involvement with governmental stakeholders. We were glad to get valuable insights from Braam De Beer who works for the Department of Agriculture, Rural Development, Land and Environmental Affairs and Themba Koza who represented the Department of Water and Sanitation. Both of them gave talks about the work of their departments and answered willingly the questions of the youth. In this process we explored the possibilities for a future cooperation and MEYN looks forward to work with these departments.
In addition to this we were happy to have Tshepo Peele from Greenpeace South Africa at our meeting. Tshepo expressed Green Peace's view on certain environmental issues and enriched the meeting in this way. He illustrated their ways of working and the Youth Network looks forward to future involvement.
Also worth mentioning is the presence of Sboniso Dlamini who is the head of MYACC one of the most active organizations within our network.
This engagement meeting with government brought MEYN interesting insights in the work of the South African government, and the opportunities for future engagement excites us. We thank all our guests for their contribution to a successful meeting.
*the Mpumalanga Environmental Youth Network (MEYN) is a group of youth working closely with Geasphere, member of GFC in South Africa