GFC interviewed about the new Global Biodiversity Framework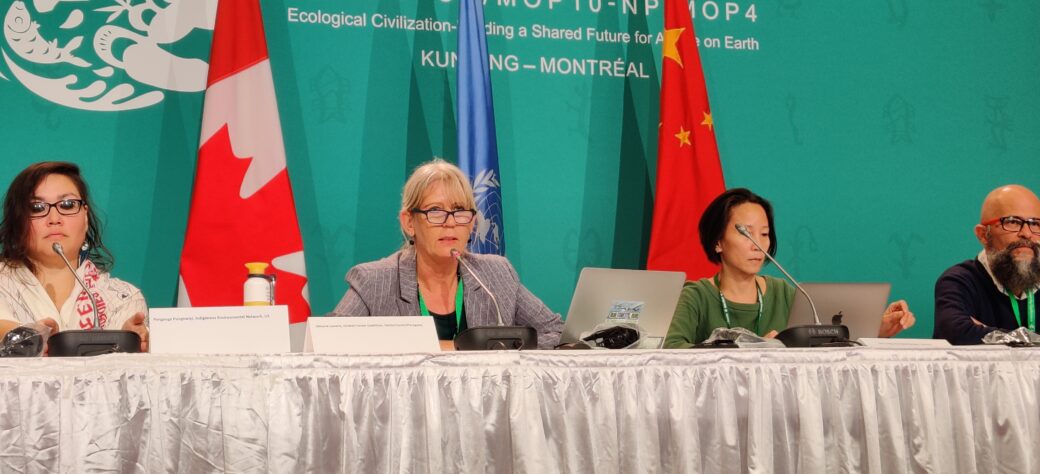 GFC's Simone Lovera spoke with Inter-Press Service about the new Global Biodiversity Framework that came out of the UN Biodiversity Conference in Montreal (COP15) on Monday, December 19.
In conversation with journalist Emilio Godoy, Lovera welcomed some of what was included in the last-minute agreement:
[The accord] recognizes the rights of indigenous peoples and local communities, and of women. It also includes a recommendation to withdraw subsidies and reduce public and private investments in destructive activities, such as large-scale cattle ranching and oil palm monoculture.
However, she was critical of the conditions for its application, saying:
There is little public funding, more is needed. It's sad that they say the private sector must fund biodiversity. In indigenous territories money is needed. They can do much more than governments with less money. Direct support can be more effective and they will meet the commitments.
Lovera slammed the 30 by 30 conservation initiative and the use of offsets, saying:
This system allows us to destroy 70 percent of the planet while preserving the other 30 percent. It is madness. For indigenous peoples and local communities, it is very negative, because they lose their own biodiversity and the compensation is of no use to them, because it happens somewhere else.
Read more from IPS in Spanish here or check out GFC's press release on the outcome of COP15.
See more coverage of GFC's perspectives on COP15.
From Mongabay:
with the significant presence of the private sector at the conference, business interests did largely influence negotiations and actively lobbied governments, say a group of delegates from the Friends of the Earth International, Rainforest Action Network, Global Forest Coalition, the corporate watchdog ETC Group, scientists from the Federation of German Scientists, along with some Indigenous, local and civil society activists.
From Bloomberg:
The Global Biodiversity Framework agreed in Montreal will guide policy and funding over the next decade, with "an important breakthrough" including the adoption of a target that calls on governments, industries and the finance sector to align their financial flows with the new framework, said Simone Lovera, policy director of the Global Forest Coalition. That means they'll need to "divest from harmful activities."
From Earth.org:
Speaking about Indigenous and local communities rights, Policy Director of the Global Forest Coalition (GFC) Simone Lovera, said: "We don't need to protect the planet from people, but rather ensure people's rights to protect the planet. We need a new biodiversity framework that truly incorporates and upholds human rights, including Indigenous, women's, and land rights."
From The Breach:
New sources of financing for conservation sounds positive on the surface, said Simone Lovera, executive director of Global Forest Coalition, one of the NGOs participating in the convention. But the emphasis on "leveraging private finance" set out in the framework transfers responsibility from governments to the private sector. "It will make biodiversity institutions dependent on private sector interests. It's a perverse conflict of interest."
From Reuters:
"If there is no finance, the developing countries are clearly saying that they don't have the capacity to do what they are supposed to do," said Souparna Lahiri, a climate policy advisor at green umbrella group the Global Forest Coalition.
Photos by Allie Constantine, GFC.