Webinar: Airports and tourism development: another face of extractivism in the African continent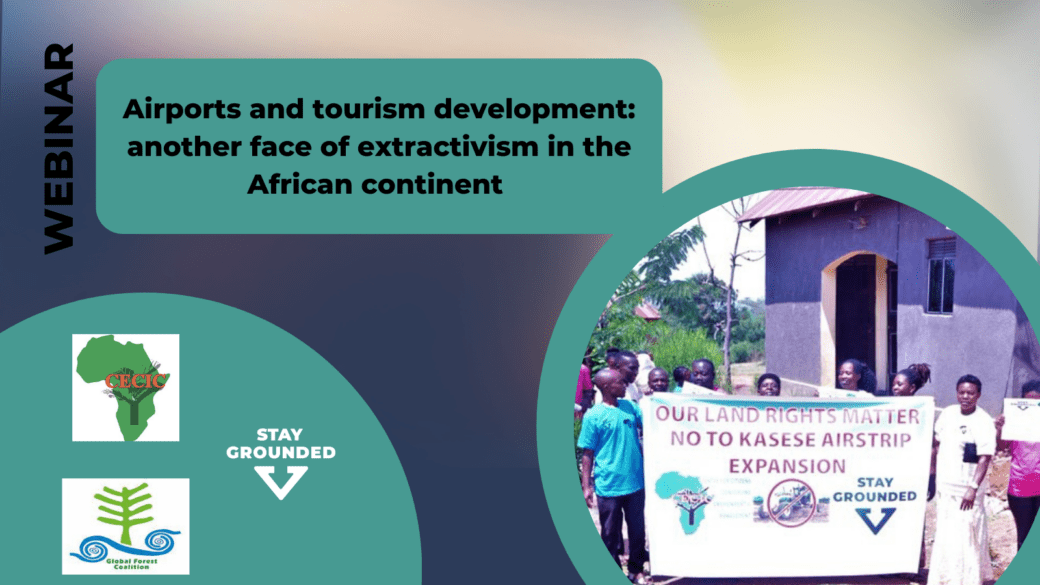 –
Analysing the prospect of expanding the Kasese Airfield into an international airport along with three others in Uganda and its implications for local communities, environmental conservation and the climate crisis 
–
The planned expansion of the Kasese Airfield in Uganda into a fully-fledged international airport is one of four proposed airport expansion projects aimed at boosting tourism in the country. The proposed expansion of the Kasese Airfield will impose negative impacts on  local communities, particularly women in all their diversities, and wildlife in Queen Elizabeth National Park, which is in close proximity to the airstrip. Families in the vicinity have been forced to move and government compensation, when exists, is insufficient to buy equivalent land plots. The airport's encroachment into the national park is set to cause further disturbances, exacerbating the risk of deadly human-wildlife interactions. The communities that will be affected by this expansion project and further consequences of tourism development in the area are already bearing the consequences of climate catastrophes such as annual flooding devastating the Kasese municipality.
To understand the drivers and implications of the Kasese airport expansion plan, we will look at how infrastructure development – such as airports – in Africa and elsewhere pave the way for many forms of extractivism, including those of tourism; and how such projects fuel gender-based and other human rights abuses and exacerbate the climate crisis, contributing to the devastation of ecosystems and putting human and non-human lives at risk. To raise awareness on the impacts of airports on communities as well as to learn successful strategies to oppose these projects, we will listen to testimonies from those willing to share their stories of past and ongoing airport-related injustices and resistance cases. We hope to gather knowledge and inspiration that can support Kasese's communities in their struggle for justice and respect for their right to their lands and livelihoods.
Speakers:
Kwami Kpondzo is based in Togo and is African Coordinator and Coordinator of Extractive industries, Tourism and Infrastructures campaing at Global Forest Coalition.
Gabriela Vega Tellez lives in Texcoco in Mexico and is part of Coordinadora de Pueblos y Organizaciones del Oriente del Estado de México (in english, Coordinator of Peoples and Organisations of Eastern Mexico State), an organisation that has been actively involved in the resistance against the expansion of aviation in Mexico.
Edwin Mumbere lives in Uganda and is young environmental economist coordinating the Ugandan organisation Centre for Citizens Conserving Environment (CECIC) that has been vocal in denouncing the proposed expansion of the Kasese Airfield.
Date and time: September 25, 6:30 pm (Eastern Africa Time = GMT +3) // 5:30 pm (CEST = GMT +2) // 09:30 am (CST = GMT-6)
Language: English with Spanish interpretation.
Please register here: Registration Webinar "Airports and tourism development: another face of extractivism in the African continent"