Fueling agro-industrial livestock production: Asia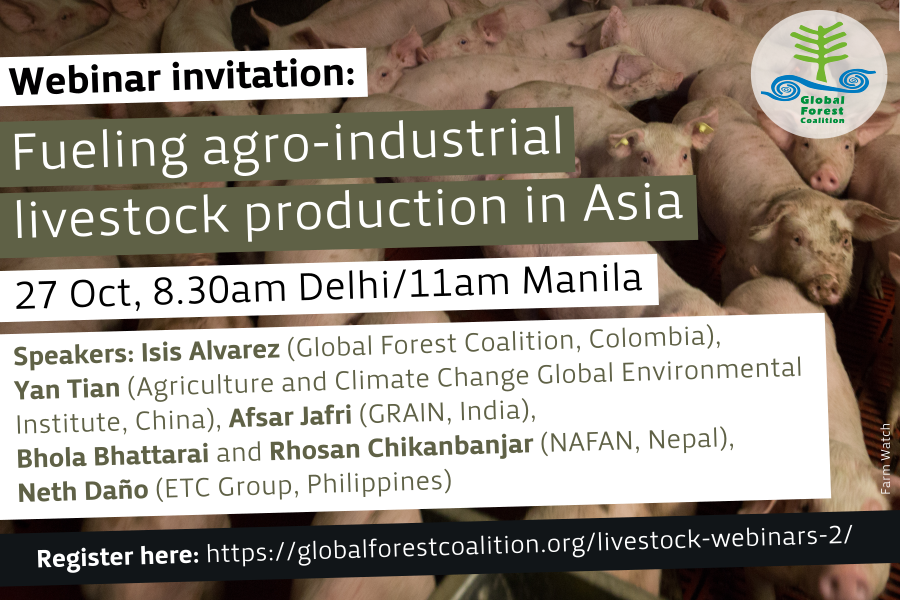 The Global Forest Coalition (GFC) invites you to participate in a webinar series looking at what is fueling agro-industrial livestock production, taking place at the end of October and beginning of November. Four regional webinars, covering Asia on 27th of October, Latin America on the 29th, Africa on the 3rd of November and finally Europe and North America on the 5th, will explore how financial support and other incentives in producer and consumer countries is driving the expansion of the industry, and which key governments and institutions are the main barriers to a real transformation in food production.
Register for the Asia webinar here.
Read more about this webinar series here.
Agenda and speakers
Facilitator and introduction: Isis Alvarez (Unsustainable Livestock Campaign Coordinator, Global Forest Coalition)
Yan Tian (Program Officer, Agriculture and Climate Change Global Environmental Institute, China) – Approaches and policies on the soy sector, agri-business and deforestation.
Afsar Jafri (GRAIN, India) – Livestock, milk production and FTAs
Bhola Bhattarai and Rhosan Chikanbanjar (NAFAN, Nepal) – Nepal's incentives for animal agriculture
Neth Daño (Asia Director of ETC Group, Philippines) – Corporate consolidation in the livestock and poultry industry.
Q&A + Open space for dialogue
Closing