International Monsanto Tribunal in The Hague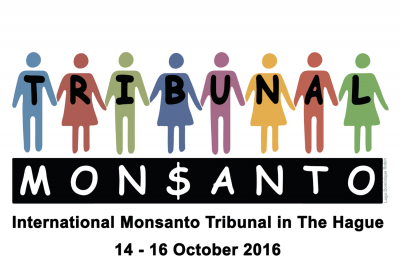 Several representatives of the Global Forest Coalition participated in the People´s Assembly and the International Monsanto Tribunal in the Hague from the 14-16 October. The Monsanto Tribunal is an international civil society initiative aimed at holding Monsanto to account for human rights violations, crimes against humanity, and ecocide.
During the tribunal there were testimonies from people from all around the world, and with very different backgrounds and expertise, including farmers, agronomists, toxicologists, lawyers, academic researchers and policy analysts. On the first day hearings were focused on the many impacts that Monsanto's activities have had on human health, on soils and plants, on animal health and biodiversity, on farmers and on the right to food. The second day of the tribunal revolved around the pressures on stakeholders and institutions, and included the testimony of Miguel Lovera, one of the GFC representatives at this event. Monsanto representatives were invited several times to be present at the tribunal, but refused to attend.
Five eminent judges heard the testimonies of 24 of Monsanto's victims and will deliver an advisory opinion in the Spring of 2017. The tribunal was live-streamed and you can find some of the testimonies and other key moments here.
A People´s Assembly was held parallel to the Monsanto Tribunal, from the 14-16 October, which included workshops and discussions aimed at countering the problems caused by industrial agriculture. Representatives of GFC and our allies were present at this event.