Webinar: International day of struggle against monoculture tree plantations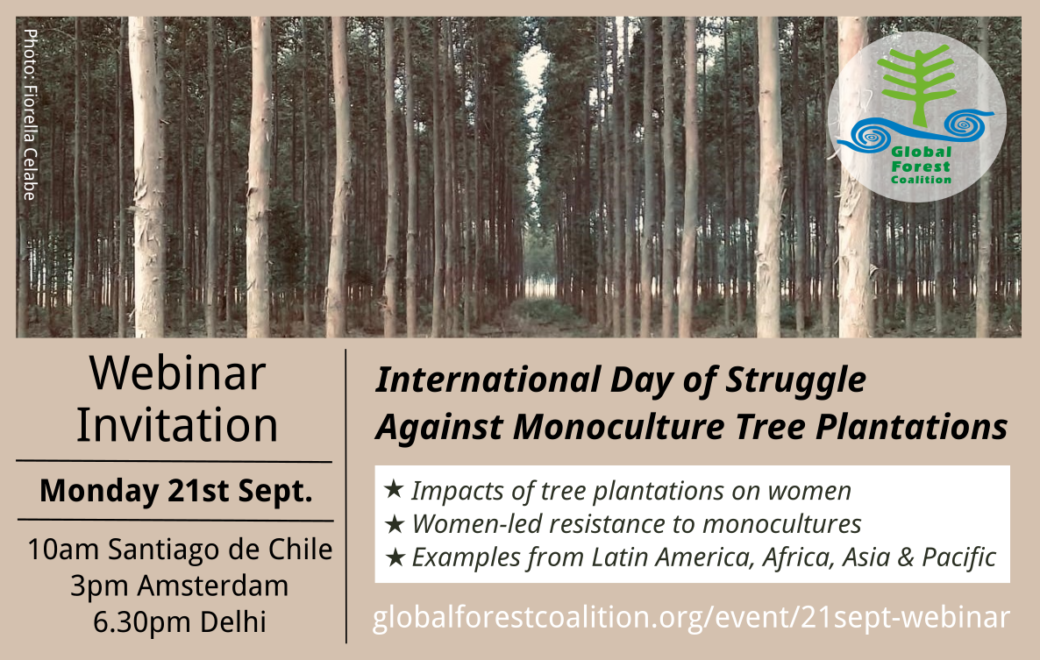 Monday 21st September – 10am Santiago de Chile/3pm Amsterdam/6:30pm Delhi
September 21st marks International Day of Struggle Against Monoculture Tree Plantations, a day to celebrate resistance against the establishment and expansion of harmful commercial monocultures. To commemorate the occasion and amplify the struggles of Indigenous Peoples, local communities and in particular women, this year we are launching our new report on the gender-differentiated impacts of tree plantations and women-led resistance to industrial forestry. The report has contributions from nine GFC member groups from different regions showing how these 'green deserts' negatively impact the environment and communities, with an emphasis on the impacts that women suffer.
During this webinar our member groups will present concrete examples of these impacts and also how women's rights groups and other civil society organisations are working to overcome them through protest and gender-responsive, community-led alternatives to the tree plantation model.
Moderator: Juana Vera Delgado, Global Forest Coalition
Speakers:
Sophie Chao, University of Sydney, Australia
Devjit Nandi, Navrachna, India
Constanza Ramos and Camila Romero, Colectivo VientoSur, Chile
Aphrodice Nshimiyimana, Global Initiative for Environment and Reconciliation, Rwanda
Daniela Meirelles, FASE/ES, Brazil
To participate, please register here. The webinar will take place on Zoom, which you can download here. The meeting will be held in English with interpretation in Spanish and French.