Aviation expansion: the global cost of the carbon jet set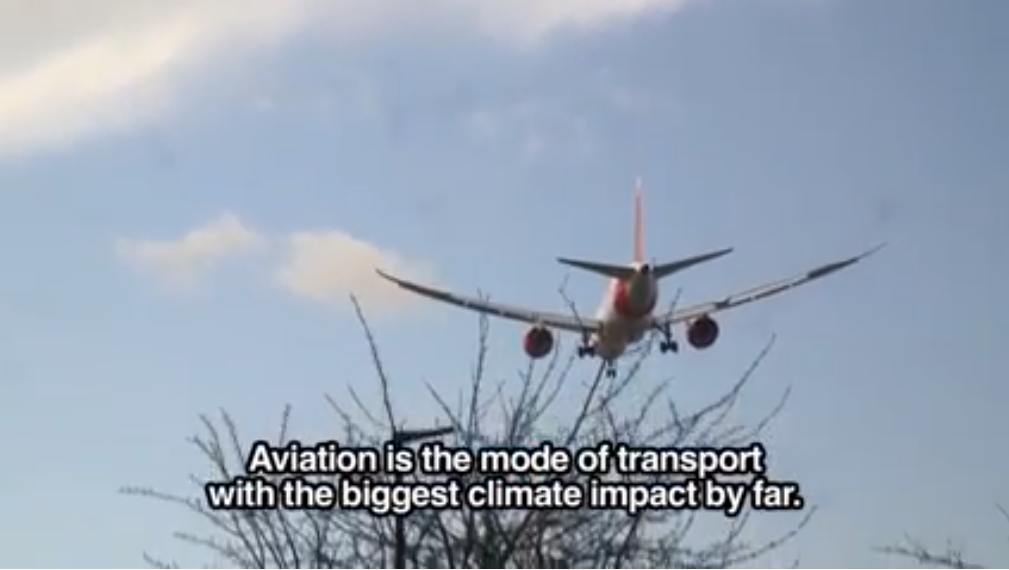 Film Length: 21:46 A new global network has been launched to combat and coordinate action against the frightening expansion plans of the aviation industry. The plans are driven by the super rich flying increasingly frequently to their tax havens – and if they go ahead there is no chance of stopping runaway climate change. Fortunately there is growing resistance everywhere from a coalition of local residents, environmentalists and trade unionists, determined to stop the plans while protecting the futures of the workers who work in the industry – from hunger strikes in South Korea to the stunning victory in Notre-Dame-Des-Landes, Nantes.
Various groups are highlighted in this film – click on their names to get more information on them. Finance & Trade Watch are a tiny NGO based in Vienna and have done a lot of brilliant work in initiating and coordinating this new global network.  System Change Not Climate Change Austria have been at the centre of the campaign against the expansion of Vienna airport.  HACAN  is a voice for those who live under the Heathrow flightpaths and has been very involved in the campaign to stop the third runway at that airport. Global Anti-Aerotropolis Movement is a website with loads of information on aerotropolis projects – airport-centric development, whereby a new or existing airport is surrounded by urbanisation including luxury hotels; shopping and entertainment facilities; convention, trade and exhibition complexes; golf courses and sport stadiums; and industrial parks. Coordinadora Ote Edomex is a coalition fighting a proposed new six runway airport at Lake Texcoco, just outside Mexico City.  Transport & Environment do a lot of research and campaigning to expose the real impact of transport on our climate, environment and health. Kuzey Ormanlari Savunmasi are taking action in Turkey to protect an important ecological area between the residential areas of Istanbul and the Black Sea coast.  Global Forest Coalition  is an international coalition of NGOs and Indigenous Peoples' Organizations defending social justice and the rights of forest peoples in forest policies.  PCS – the Public and Commercial Services Union – are a British trade union who represent mainly civil servants, but also represent a number of airport workers. They are working out how to reduce the environmental impacts of aviation while protecting their members' terms and conditions, and are doing a lot of excellent work on climate change and energy democracy. Back on Track are a European network to support improved European cross-border passenger train traffic, and are campaigning to stop the cutting of night train routes and for more and better night trains in general. Biofuelwatch provides information, advocacy and campaigning in relation to the climate, environmental, human rights and public health impacts of large-scale industrial bioenergy. Last but certainly NOT least, Zone A Défendre are the group responsible for the spectacular victory in January 2018 where the airport project at Notre Dame-des-Landes, near Nantes, was finally cancelled – after years of struggle, huge mass demonstrations, direct action, and a permanent occupation of the land.
See the original article on ReelNews here.