UN plans for aviation biofuels and carbon offsets condemned by 88 organisations worldwide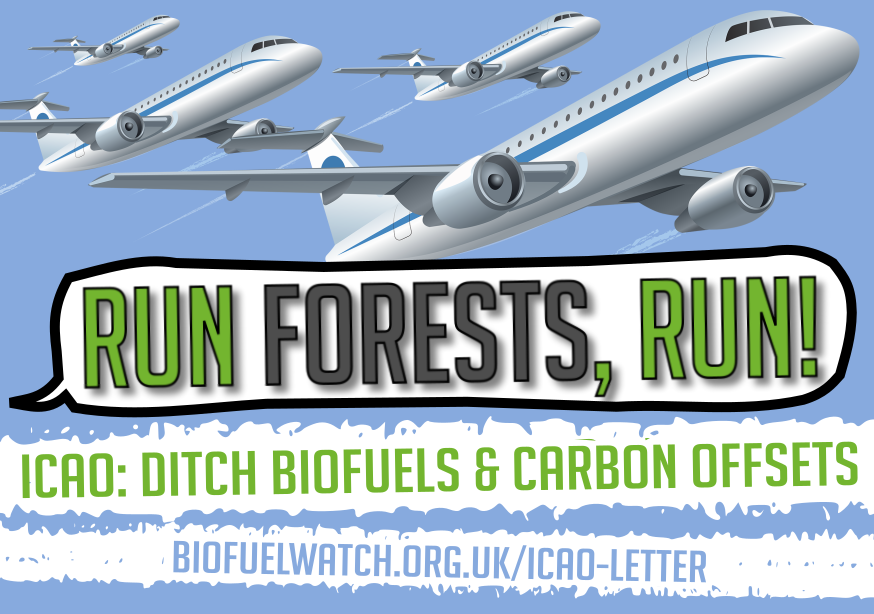 For immediate release, Monday 11th June 2018.
88 organisations from 34 countries have called on the UN's International Civil Aviation Agency (ICAO) to ditch plans for aviation biofuels and carbon offsets, as the Agency's governing body convenes in Montreal to finalise proposals for a controversial "Carbon Offsetting and Reduction Scheme" [1].
An Open Letter by the groups [2] warn that ICAO's proposal could incentivise airlines to use large quantities of biofuels made from palm oil in their tanks in order to meet greenhouse gas targets – even though member states rejected biofuel targets last autumn amidst concerns about palm oil.
Simone Lovera, Executive Director of the Global Forest Coalition, one of the signatories of the Open Letter warns: "Palm oil is one of the main drivers of deforestation worldwide, which is a major cause of carbon emissions, yet we could soon see airlines be rewarded under absurd, industry-friendly UN rules to burn biofuels made from it."
Proposed biofuel targets for aircraft were rejected by member states in October 2017 [3], but groups fear that the proposed new rules will introduce large-scale biofuel use 'by the backdoor'.
Nele Mariën from Friends of the Earth International highlights the groups' concerns about the second part of the UN proposal – carbon offsetting for airlines: "There is no way of reaching the goal to limit global warming to 1.5oC unless all states and sectors rapidly phase out their carbon emissions. This means that there can be no role for offsets".
The Open Letter urges member states to reject the biofuel and offsetting plans and to end and reverse the growth in aviation.
Almuth Ernsting from Biofuelwatch explains: "Biofuels and carbon offsetting are dangerous attempts at conning consumers and the public by greenwashing an industry which is one of the fastest growing sources of greenhouse gas emissions globally. The UN and its members need to tackle aviation growth if they are serious about preventing the worst impacts of climate change."
Contacts:
Almuth Ernsting, Biofuelwatch, +44-1316232600 (UK)
Nele Marien, Friends of the Earth International, ++32-488652153 (Belgium)
Simone Lovera, Global Forest Coalition, ++595-981-407375 (Paraguay)
Notes:
[1] The Council of the International Civil Aviation Agency, a specialised UN agency, will be meeting in Montreal from 11th to 29th June. It is due to decide on rules for the Carbon Offsetting and Reduction for International Aviation (CORSIA) scheme. The draft rules were published in January: transportenvironment.org/publications/aviation-carbon-offsetting-scheme-icao-circulates-draft-rules
[2] The Open Letter with the list of signatories can be found at biofuelwatch.org.uk/icao-letter
[3] See transportenvironment.org/press/countries-reject-plan-aviation-biofuels-targets