Remembering Estebancio Castro-Diaz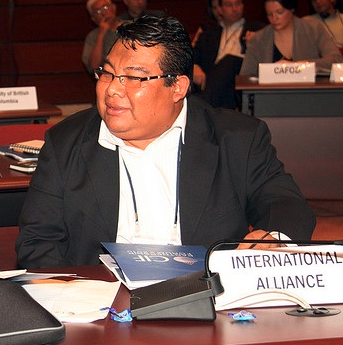 The Global Forest Coalition wishes to express our deep sadness over the death of Estebancio Castro-Diaz, our dear friend and a former GFC staff and board member.
Estebancio was a Kuna leader who worked as GFC's Indigenous legal advisor from 2008 to 2010, supporting us to produce numerous analytical publications on forests and Indigenous rights. He was also a GFC board member for several years, and served as the Executive Secretary of the International Alliance of Indigenous and Tribal Peoples of the Tropical Forests, as well as being a key member of the International Indigenous Forum on Climate Change and the International Indigenous Forum on Biodiversity. He was also actively engaged in our Indigenous member group Fundación para la Promoción del Conocimiento Indígena (FPCI) in Panama. He will be remembered as a very passionate advocate for Indigenous rights and for the profound expertise he had built on global climate and biodiversity policy.
He will be dearly missed by all of his friends and colleagues. Our heartfelt condolences go out to his family and our colleagues at FPCI.
There will be a tribute to his life by the UNPFII Green Room at 17:00 Panama time on Wednesday 28th April.