No more false climate solutions: Press conference at COP27 Nov. 10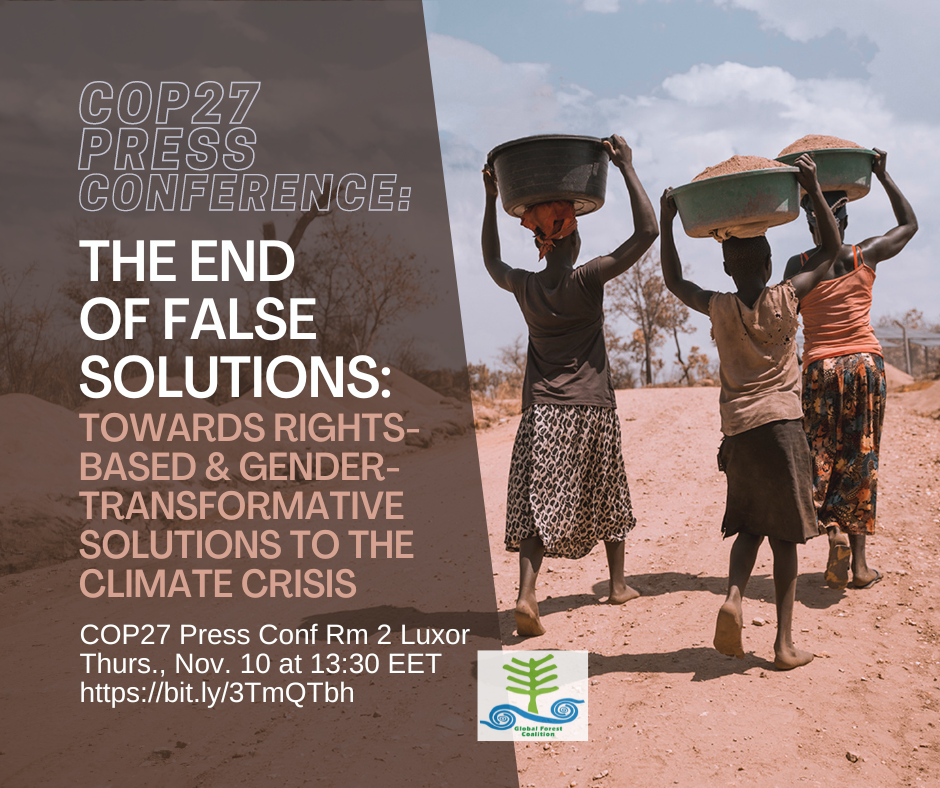 10 November 2022, Sharm El-Sheikh, Egypt—The Global Forest Coalition is hosting a press conference today at the UN climate conference (COP27) at 13:30 local time in Press Conference Room 2 Luxor about the false solutions to climate change linked to the negotiations, featuring panelists from Africa, Asia, and Latin America. This is an important opportunity to hear from frontline communities and their views on real solutions to the climate crisis that are rights-based and gender-transformative.
The press conference is called The End of False Solutions: COP27, Moving Towards Rights-Based and Gender Transformative Solutions to Climate Change. It will highlight a new issue of Forest Cover with the same title: globalforestcoalition.org/forest-cover-68
Speakers at this press conference are: 
Camila Romero of Colectivo VientoSur in Chile

Maureen Santos of FASE Brazil

Kwami Kpondzo of the Global Forest Coalition in Togo 

Souparna Lahiri of the Global Forest Coalition in India

Rachel Rose of Corporate Accountability
They will offer insights on false solutions like Koronivia and climate-smart agriculture, Article 6 and carbon markets, and bioenergy. They will also discuss the extent of the corporate capture of these crucial global negotiations and efforts to bring frontline perspectives to the fore through campaigns like Kick Big Polluters Out.
If you are not in Sharm el Sheik, you can also watch the live webcast of the Press Conference here: https://bit.ly/3TmQTbh 
| | |
| --- | --- |
| WHO: | Global Forest Coalition spokespersons from Africa, Asia, Latin America |
| WHAT: | Press conference critiquing false climate solutions, promoting rights-based ones |
| WHERE: | COP27, Press Conference Room 2 Luxor |
| WHEN: | Thursday, 10 November, 2022 at 13:30-14:00 EET (6:30 am EST) |
CONTACTS:
Coraina de la Plaza (in Egypt): ‪+31 6 26290703‬
Megan Morrissey (in USA): +1 202 365 6900 megan@globalforestcoalition.org 
###