International Day of Action on Big Biomass 2023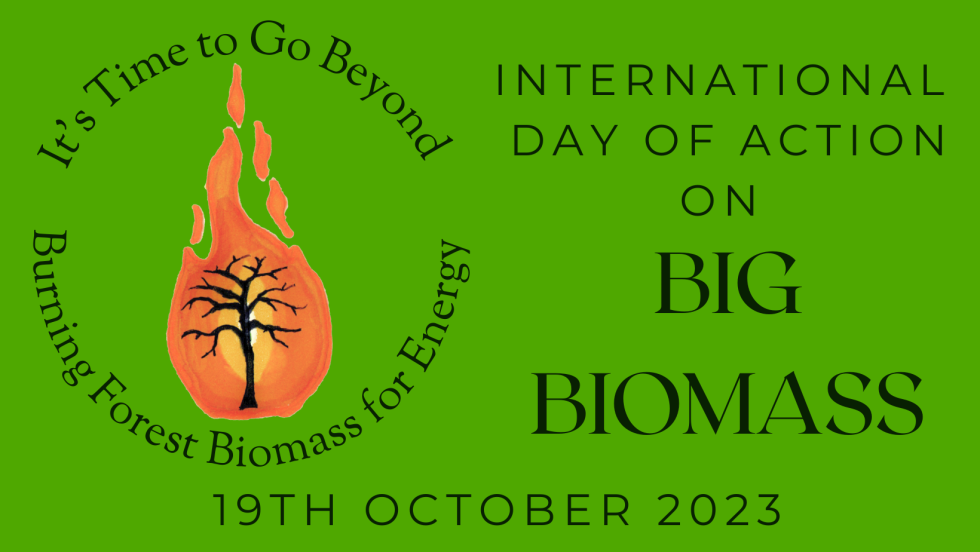 It's Time to Go Beyond Burning Forest Biomass for Energy!
NGOs from all over the world protest together today on the International Day of Action on Big Biomass. #BigBadBiomass
On 19th October 2023 groups from six continents are taking a stand against large-scale forest biomass burning to produce energy, a false climate solution. The international day of action is taking place one month before COP 28 in Dubai, during which the Global Renewable Energy Target will be discussed. A global renewable energy target must not include forest biomass, a highly emissive and destructive energy source – say co-organizers of the Day of Action.
Tokyo / Hobart / Kuala Lumpur / Jakarta / Berlin / Brussels / London / Helsinki / Johannesburg / Cayenne / Washington / Vancouver and more, 19th October 2023 – Leading up to COP28 in Dubai, a network of more than 200 Non-Government Organisations worldwide will take action today – on the International Day of Action on Biomass – to highlight the negative environmental and social  impacts of large scale biomass energy. Burning forest biomass is a false solution to climate change. It emits at least as much CO2 as burning coal per unit of energy produced, additionally contributing to deforestation and violation of local communities rights all over the world.
"Today we have sent a letter to the Asian Development Bank demanding divestment  from financing burning of woody biomass and bioenergy, outlining that a coal exit policy is desirable but must not entail support of the false solution of wood bioenergy. We stress that co-firing coal power generation with biomass entrenches the use of coal rather than hastening a phase out, contradicting the policy direction. Biomass and biofuels sourced at volume from large scale plantations and natural forests is problematic for both climate and biodiversity as well as for Indigenous Peoples, women, and local communities and must not form part of the ABD's energy policy principle," said Souparna Lahiri of the Global Forest Coalition and coordinator of the Asia-Pacific Regional Biomass Working Group.
To find out more please visit https://environmentalpaper.org/2023/10/idoa2023/