Improving Cooperation at the Regional Level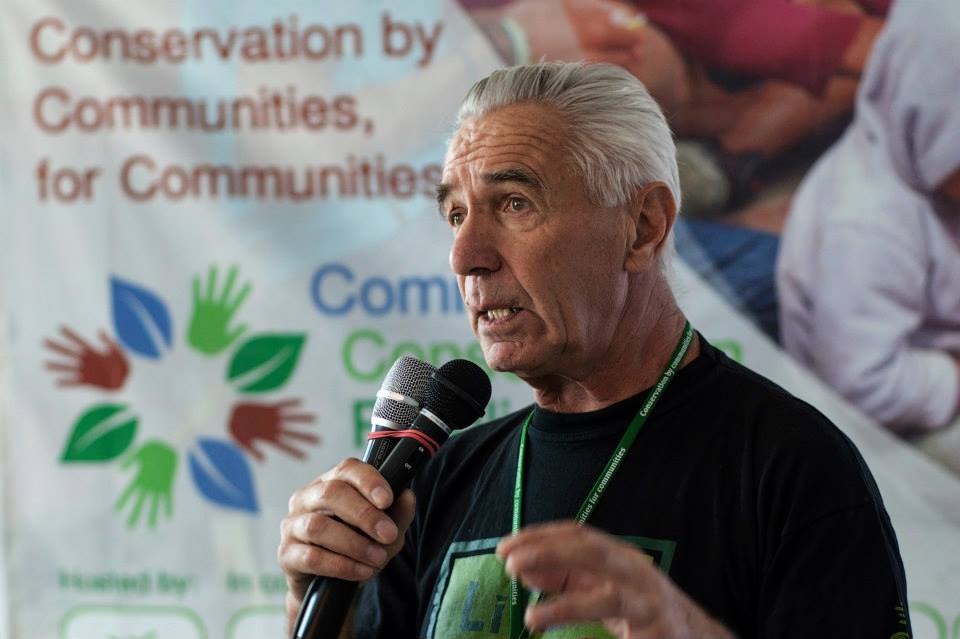 By Andrey Laletin*
Russian speaking participants used Durban meetings to improve regional cooperation between GFC members in Eastern Europe, Northern and Central Asia. Representatives from all member groups from the region came to Durban: Ludmila Zhirina from Viola (Bryansk, Russia), Andrey Laletin from Friends of the Siberian Forests (Krasnoyarsk, Russia), Anatoly Lebedev and Ludmila Guinsar from BROC (Vladivostok, Russia), Olesya Kaspruk from Green Cross (Lviv, Ukraine), Ilia Kunchulia from Dzelkva (Tbilisi, Georgia), Avtandil Geladze from Georgian Green Movement (Tbilisi, Georgia), Anna Kililenko from BIOM (Bishkek, Kyrgyzstan) and Tatiana Novikova from Noosfera (Dushanbe, Tajikistan). Also Maria Palenova representing science and government (Moscow, Russia) and Nadezhda Seljuk representing indigenous peoples (Vladivostok, Russia) joined GFC members in Durban meetings.
All the people mentioned above actively participated in the conference "Fostering Community Conservation". We had a separate regional/language working group that actively discussed presentations from CCRI projects, especially lessons learned from Russia. Anatoly Lebedev and Nadezhda Seljuk were the main speakers during working group meetings answering many questions from other participants. Anatoly was also a great reporter of outcomes from the working group to the plenary. Being a professional writer, he made detailed minutes and sent them regularly to Holly Jonas. Fruitful discussions in the working group helped us to prepare solid recommendations on behalf of the group. Almost all of them were included in the text of the final recommendations of the conference.
We also successfully worked during meetings of the GFC members'assembly. Anna from Kyrgyzstan was reporter from our working group for plenary sessions. We actively debated how to change GFC vision, mission and objectives in the current stage of GFC development and proposed textual changes for future adoption. Our group proposed Anna to become a new member of the GFC board and Andrey to become a member of the GFC advisory committee. Establishment of the Memorial Award of Sandro Urushadze and awarding Wally Menne were remarkable events of the last day of the members'assembly. Many of us knew Sandro very well in person and that evening we gathered in the room of our friends from Georgia, had philosophical discussions about life and death and recounted our meetings with Sandro Urushadze in different times and places.
Our group not only worked well, but we also had a good rest together. We walked before breakfast along the seafront, went together for sightseeing and safari, had meals together and even swam together in the Indian Ocean. Being outside of the hotel helped us to refresh our minds and plan our future collaboration. Tatiana and Anna contacted their NGO colleagues from Durban and discussed with them selection of communities for CCRI projects in Kyrgyzstan and Tajikistan. Ilia and Avtandil discussed about future collaboration between their respective NGOs for joint implementation of CCRI project in Georgia.
On Monday, September 7, in the first day of the World Forestry Congress (WFC), Andrey, Anatoly and Nadezhda (the only representatives from the group accredited for the WFC) spent the whole day in the WFC and all other remaining people from our group spent the day at the CSAP. Many of them left Durban on Tuesday. Wednesday evening there was a GFC side event at the WFC. In spite of the late time and 20 other parallel sessions, there were more than 30 participants. Anatoly and Nadezhda presented a new video from the CCRI project from the Russian Far East and they told about the current life of Udege people from 3 communities living in watersheds of Iman, Bikin and Samarga rivers of Primorsky region of Russia. On Thursday some of the remaining people of our group participated in the CSAP march in the center of Durban and then left Durban in the morning of Friday.
Meetings in Durban were very useful for improving cooperation and collaboration between GFC members from different regions. They gave members the possibility to meet members of the GFC board, staff and colleagues from other NGOs and IPOs and also to contribute to the vision, mission and objectives of GFC. Our regional group members worked hard to ensure collaboration and cooperation in Durban. And I am convinced that activities on CCRI projects in Kyrgyzstan, Tajikistan and Georgia will be also successful like those in the Russian Far East.
*Andrey Laletin is the Regional Resource Person for Russia and Eastern Europe for the Global Forest Coalition