Green Climate Fund Supports Deforestation in Paraguay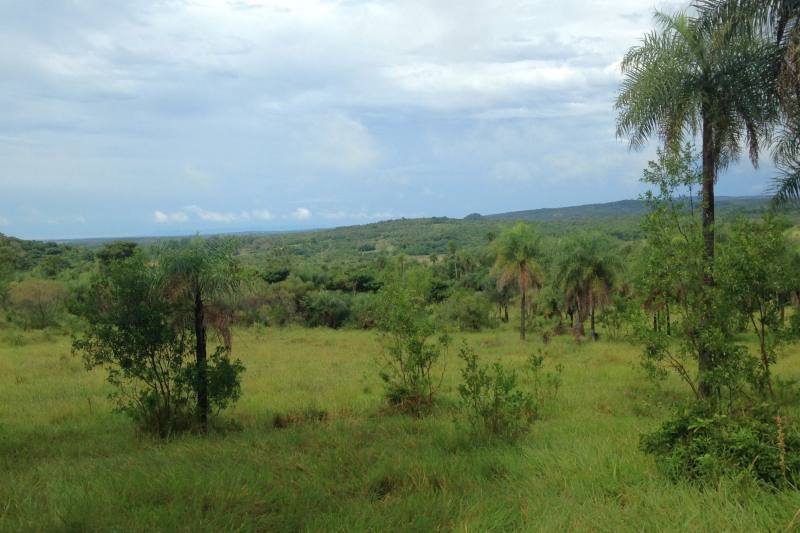 1 March, 2018: The Board of the Green Climate Fund (GCF) [1] has approved a 90-million-dollar climate change project in Paraguay called "PROEZA" [2] at its Board meeting which concluded in South Korea today. Among other things, PROEZA will expand monoculture tree plantations to produce cheap bioenergy for the benefit of the soy industry.  Forest, farmers, and indigenous women's organizations of Paraguay, members and allies of the Global Forest Coalition [3], have severely criticized this move stating that the project disregards multiple negative social and environmental impacts of soy and tree plantations on forests and climate change [4].
While part of the project, elaborated by the UN Food and Agriculture Organization (FAO) claims to benefit poor rural households and forests through projects like agroforestry [5], PROEZA has a problematic component which provides concessional credits to create 24,000 hectares of plantations, called "New Generation Forests Plantations" [6]. These plantations are directed towards producing bioenergy, especially for the soy industry, such as energy to dry soy grains. Soy production destined towards Northern animal factory farms as feedstock, along with bioenergy production are the two main causes of deforestation in the Eastern half of Paraguay, where most soy plantations are found [7].
"FAO's proposal to promote monoculture tree plantations for charcoal production is essentially an indirect subsidy to the soy sector. It is obscene that the government of Paraguay has no political will to protect the last remaining forests of Paraguay by halting soy and beef production, which are the main drivers of deforestation here" says Miguel Lovera, director of Iniciativa Amatocodie.
"Less than one month before the PROEZA proposal was submitted to the GCF, President Cartes revoked a 13-year-old deforestation moratorium, giving land owners explicit permission to replace natural forests by monoculture tree plantations. Cartes himself cut down no less than 2 million trees on his own private property in October 2017," said Lovera [8].
Paraguayan groups like Sobrevivencia/Friends of the Earth-Paraguay, Heñoi Je'y, Iniciativa Amatocodie, Paraguayan National Federation of Peasants, and the Coordination of Indigenous and Rural Women in Paraguay have expressed concern that PROEZA could undermine the ongoing resistance of small farmers against the expansion and deforestation caused by soy. This is because farmers will be incentivized to produce bioenergy for the soy sector and become integrated into the soy production chain.
"By approving PROEZA, GCF is setting a worrisome precedent. Instead of supporting concrete activities to truly curb climate change or produce sustainable energy, it is supporting deforestation," says Coraina de la Plaza, GFC's climate finance campaigner, who attended the Global Climate Fund's Board meeting.
"Recent research demonstrates that bioenergy is actually worse for the climate than coal. In fact, the official observers to the GCF proceedings, representatives of civil society, have called upon the Board to reject all projects that incentivize the expansion of bioenergy production and use." [9]
Notes
[1] The Green Climate Fund is a financial mechanism created by the United Nations Framework Convention on Climate Change (UNFCCC) to help fund climate change mitigation and adaption in developing countries, and thus fulfil the climate goals set out in the UNFCCC and now the Paris Agreement. The GCF claims to be driven by innovation and targets its investments for transformational impact. See: https://www.greenclimate.fund/how-we-work/funding-projects  The GCF Board is meeting in Songdo, South Korea from 26th Feb to 1st March 2018.
[2] PROEZA stands for "Poverty, Reforestation, Energy and Climate Change (Pobreza, Reforestación, Energía y Cambio Climático). According to the FAO, funding will stem from a $25 million GCF grant and $ 65.2 million of co-financing from the Government of Paraguay. See: http://www.fao.org/news/story/pt/item/1104366/icode/
[3] Global Forest Coalition is a worldwide coalition of almost 92 NGOs and Indigenous peoples' organizations from 60 different countries striving for rights-based, socially just forest conservation policies. Link: https://globalforestcoalition.org/media
[4] See these studies by the Global Forest Coalition:-
Report on Livestock Development in Paraguay: https://globalforestcoalition.org/wp-content/uploads/2017/03/paraguay-case-study.pdf
Meat from a Landscape Under Threat: Testimonies of the Impacts of Unsustainable Livestock and Soybean Production in Paraguay:
https://globalforestcoalition.org/wp-content/uploads/2015/01/GFC-BG-Livestock-Landscape-Threat-web.pdf
Working paper: The risks of large-scale biosequestration in the context of Carbon Dioxide Removal: https://globalforestcoalition.org/risks-of-large-scale-biosequestration/
[5] See: http://www.fao.org/news/story/pt/item/1104366/icode/
The Accredited Entity responsible for the elaboration of PROEZA is the Food and Agriculture Organization of the United Nations (FAO). Together with the government of Paraguay it presented this project for consideration during GCFs last board meeting BM18. The proposal was initially rejected, but was reintroduced in a slightly revised form in February 2018.
[6] See: http://www.fao.org/fileadmin/templates/FCIT/documents/PROEZA_ESMF.pdf
[7] Report on Livestock Development in Paraguay: https://globalforestcoalition.org/wp-content/uploads/2017/03/paraguay-case-study.pdf
[8] http://www.abc.com.py/edicion-impresa/economia/horacio-cartes-tumbo-dos-millones-de-arboles-de-su-estancia-en-un-mes-1649785.html
[9] The 19th GCF Board meeting also approved FP063 (Promoting private sector investments in energy efficiency in the industrial sector and in Paraguay), a project that aims to reduce bioenergy demand through energy efficiency and replacement of bioenergy by cleaner forms of energy. The GFC has welcomed this second proposal, but is afraid some of its aims will be undermined by the PROEZA project.
Contacts
Ashlesha Khadse (Media Officer, GFC)
Cell and whatsapp: +91 8600839193 (India)
Email: ashlesha@globalforestcoalition.org
Simone Lovera (Executive Director, GFC)
Global Forest Coalition
+595-981-407375 (Paraguay)
+31-6-47392511 (Europe)
simone@globalforestcoalition.org
Coraina de la Plaza
+31 6 26290703 (Europe)
Miguel Lovera
+595 971 201957 (Paraguay)