WEBINAR Starving Africa to Feed the World: The impacts of unsustainable livestock production
Dear friends, members, allies, and supporters of GFC,
Please join us on Thursday, 9 November, at 1 pm UTC for a thought-provoking webinar where we will explore Africa's livestock production landscape and discuss how to secure the right to food, food sovereignty, ecological stewardship, and combat the climate crisis.
Register now to be part of the event — don't miss this opportunity!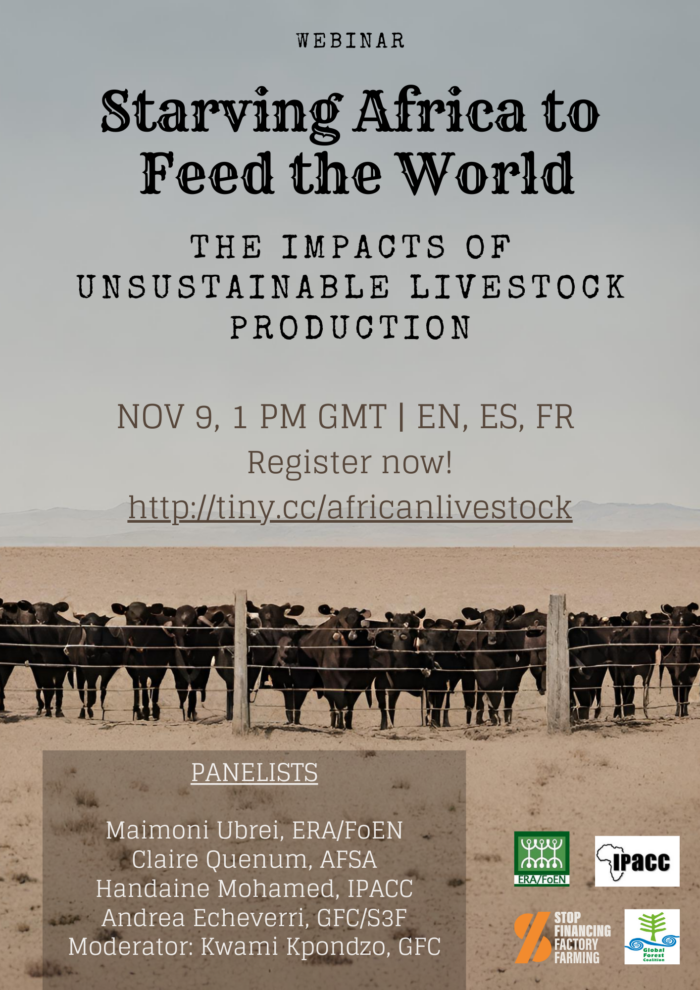 In a world that's slowly awakening to the dire consequences of unsustainable livestock production, Africa stands at a crossroads. Despite mounting evidence of its impacts on climate change, deforestation, biodiversity loss, and public health, the sector receives unwavering support from national governments, development banks, and international financial institutions. Shockingly, between 2011 and 2012, the top five global development banks funnelled over $4.6 billion into the expansion of factory farming.
As appetites for meat and dairy surges, factory farming and extensive cattle ranching sweep across the continent with minimal oversight or regulation. Simultaneously, thanks to savvy marketing, U.S. fast-food giants are making inroads into African markets. The consequences of this unchecked expansion are devastating, particularly for women who bear the brunt of these shifts.
How can we foster a deeper understanding of unsustainable livestock practices in Africa? What is the current situation on the ground in different nations? Who are the key players shaping this industry? And how can we redirect public resources from industrial livestock production towards community-based, rights-oriented, and gender-equitable livestock rearing? Engage with a distinguished panel of experts, and let's come together for a broader conversation, forging a collective path toward sustainable agriculture and responsible investment practices.
When: Thursday, 9 November at 1 pm UTC
Where: Online Zoom Meeting – Register now to secure your place
Moderator: Kwami Kpondzo, GFC
Panelists:
Mariann Bassey, Environmental Rights Action/Friends of the Earth, (ERA-FoE), Nigeria
Andrea Echeverri, Global Forest Coalition (GFC) and Stop Financing Factory Farming Campaign (S3F)
Handaine Mohamed, Indigenous Peoples of Africa Coordinating Committee (IPACC)
Claire Quenum, Alliance for Food Sovereignty in Africa (AFSA)
For more information, please email andrea.echeverri@globalforestcoalition.org