Webinar on Carbon Removals: Unravelling the Real Story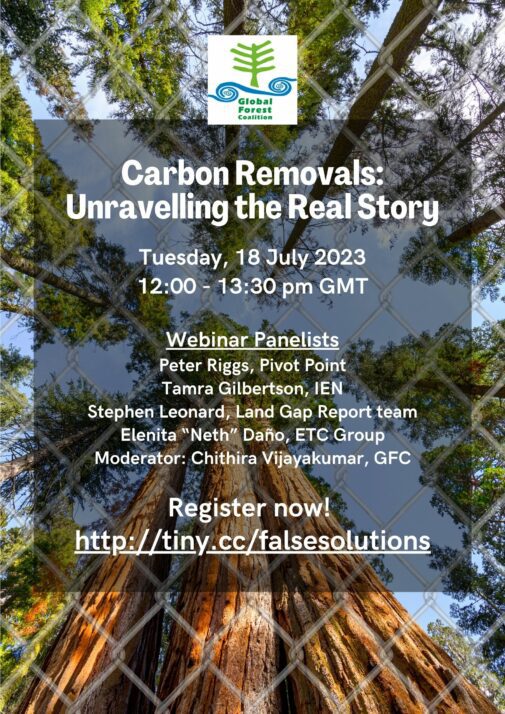 Please join us on Tuesday 18 July at 12 pm UTC for the latest in our webinar series exploring the threats posed by false climate solutions to our forests, biodiversity, and the rights of Indigenous Peoples, local communities, and especially women in all their diversities.
The latest Intergovernmental Panel on Climate Change (IPCC) reports paint a difficult path to 1.5°C and we are already seeing the devastating effects of average temperature  increases at 1.2°C. Policy and financial flows to cutting greenhouse gas emissions in line with the IPCC recommendations remain alarmingly scarce. By contrast, we are seeing increasing momentum for carbon dioxide removals (CDR) as a tool to combat climate change, including through geoengineering projects, Bio Energy Carbon Capture and Storage (BECCS), and monoculture tree plantations. 
But do we need removals? Are they a distraction from the real work of cutting emissions? What do these 'removals projects' actually look like on the ground, and what impact will they have on the land sector, particularly forests? And what are the human rights implications of these projects? 
Register now for our latest webinar to discuss these issues with experts, colleagues and allies in the pursuit to protect our forests and the rights of those who depend on and protect them.
Simultaneous interpretation will be available in English, French, and Spanish.
When: Tuesday 18 July, 2023 at 12 pm UTC
Where: Online Zoom Meeting – Register now to secure your place
Moderator: Chithira Vijayakumar, GFC
Panelists:
Peter Riggs, Pivot Point
Tamra Gilbertson, Indigenous Environmental Network (IEN)
Stephen Leonard, Land Gap Report team
Elenita "Neth" Daño, ETC Group
For more information please email coraina.delaplaza@globalforestcoalition.org