Indigenous Peoples' Contributions to the SDGs and Aichi Biodiversity Targets: Challenges and Opportunities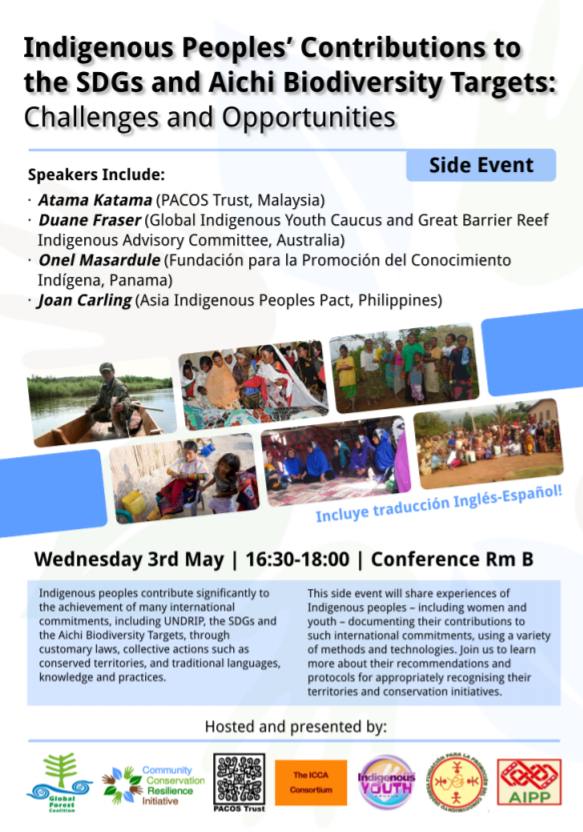 Side event at the The United Nations Permanent Forum on Indigenous Issues (UNPFII 16)
Speakers include:
Atama Katama (PACOS Trust, Malaysia)
Duane Fraser (Global Indigenous Youth Caucus and Great Barrier Reef Indigenous Advisory Committee, Australia)
Onel Masardule (Fundacion para la Promocion del Conocimiento Indigena, Panama)
Joan Carling (Asia Indigenous Peoples Pact, Philippines
Indigenous peoples contribute significantly to the achievement of many international commitments, including UNDRIP, the SDGs and the Aichi Biodiversity Targets, through customary laws, collective actions such as conserved territories, and traditional languages, knowledge and practices.
This side event will share experiences of indigenous peoples – including women and youth – documenting their contributions to such international commitments, using a variety of methods and technologies. Join us to learn more about their recommendations and protocols for appropriately recognising their territories and conservation initiatives.
Hosted and presented by:
Global Forest Coalition
Community Conservation Resilience Initiative
PACOS Trust
The ICCA Consortium
Indigenous Youth Caucus
Fundacion para la Promocion del Conocimiento Indigena
AIPP