COP24 side event: 1.5 degrees from a community perspective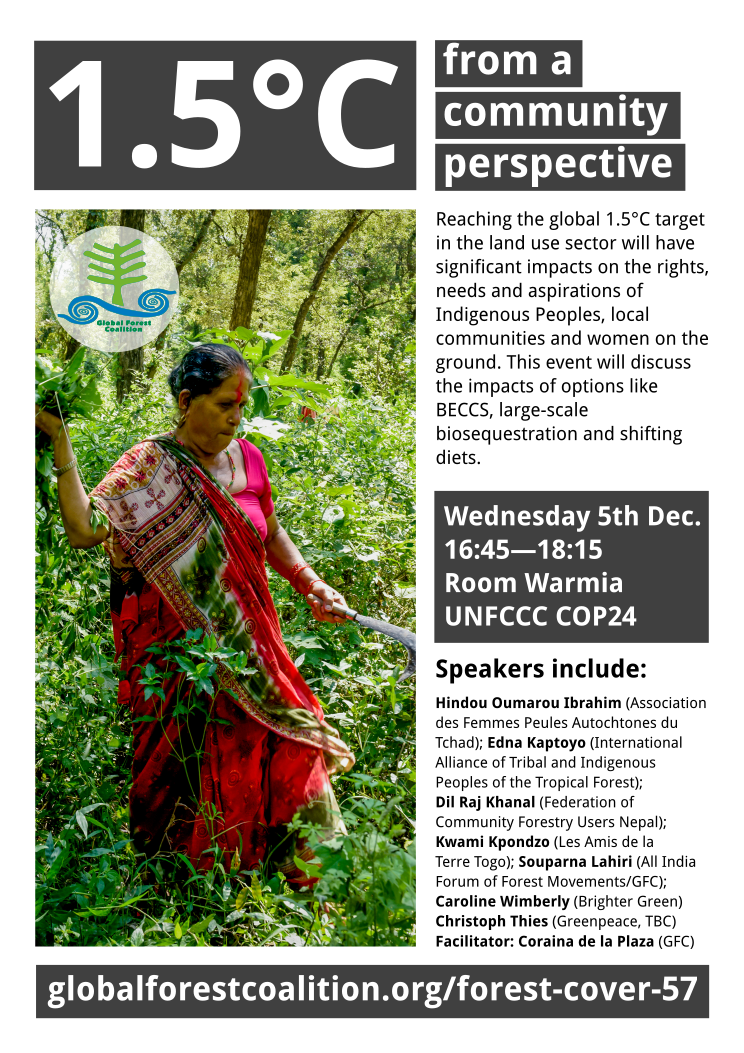 This well-attended side event, titled "1.5 degrees from a Community Perspective", was co-organised by Global Forest Coalition, Friends of Siberian Forests and Brighter Green at COP24 in Katowice, Poland on December 5, 2018. Speakers at the side event presented on how communities, through their traditional conservation practices, are already contributing to cooling the planet, and how carbon removal pathways such as bioenergy and BECCS will impact on community land rights, livelihoods and food security. Speakers also highlighted the findings and recommendations of CCRI participatory assessments in countries such as Kenya and Nepal.
Christoph Thies, Greenpeace, emphasised the importance of reforestation and ecosystem restoration by communities, while Hindou Oumarou Ibrahim, Association of Indigenous Women in Chad, questioned the emphasis on technology-led false solutions in the corridors of UNFCCC. Both Edna Kaptoyo, International Alliance of Tribal and Indigenous Peoples,  Kenya, and Dil Raj Khanal, FECOFUN, Nepal, spoke on community rights and management, citing CCRI country assessments and the possible impacts of technology-driven carbon removal on communities.
Kwami Kpondzo, Friends of the Earth International, Togo, highlighted concerns around bioenergy and monoculture tree plantations in Africa and their impact on land rights and food security on communities. Caroline Wimberley, Brighter Green, USA, spoke on how support for the livestock sector in the EU and Mercosur countries is subsidising forest destruction, and presented data on the subsidies and perverse incentives that are going to agribusiness.
Souparna Lahiri facilitated the event, and launched a report on the CCRI in India, with a brief presentation on the findings and recommendations that came out of it.
Wednesday 5th December, 16:45—18:15, Room Warmia, UNFCCC COP24, Katowice
Reaching the global 1.5 degrees target in the land use sector will have significant impacts on the rights, needs and aspirations of Indigenous Peoples, local communities and women on the ground. The event will discuss the impacts of options like BECCS, large-scale biosequestration and shifting diets.