CCRI national workshop – Uganda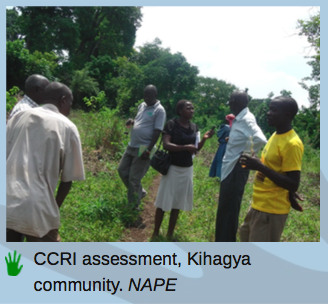 The Community Conservation Resilience Initiative (CCRI) in Uganda began in 2014. It is ongoing and is being implemented by the National Association of Professional Environmentalists (NAPE) in Bukaleba, Kalangala and Butimba villages in eastern, central and south­western Uganda. Communities in these territories are mostly forest dependent but also practice shifting cultivation and fishing. The communities rely on land and forest resources for traditional uses such as medicine, cultural practices and spiritual nourishment.
NAPE selected these sites based on set criteria that included land tenure issues, community ownership, multi­stakeholder engagement, rational management of natural resources and investor related challenges that require proactive counter­ strategies.
Check back here soon for details on the upcoming national workshop this September 30 to October 1.