Anna Kirilenko appointed as new chairperson of the Global Forest Coalition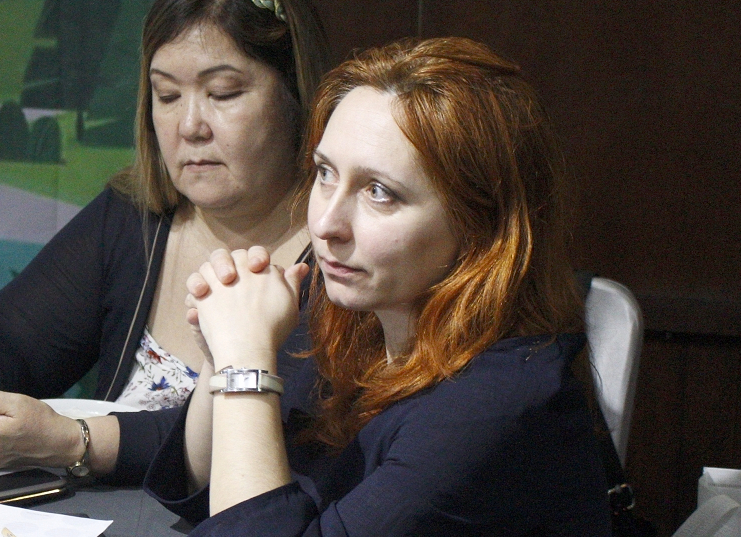 The Global Forest Coalition is happy to welcome Anna Kirilenko as its new chairperson. Anna has served as GFC's board member for North and Central Asia and Eastern Europe for several years. She is the executive director of GFC's member group "Ecological Movement BIOM" and is widely recognised as a leading expert in environmental policy and law and a central figure in the environmental and feminist movement in her home country, Kyrgyzstan. She succeeds Diego Cardona, who served as GFC's chairperson from 2015 to 2019. We sincerely thank Diego for his hard work and dedication to the coalition over the past four years!
GFC's February 2020 board meeting also saw the formal appointment of Johanna Molina of Colectivo VientoSur in Chile as the new board member representing Latin America and the Caribbean. Johanna was elected at the Latin America and the Caribbean regional member's meeting that took place in December 2019 in Santiago de Chile. Aside from being an active member of Colectivo VientoSur, Johanna is currently the coordinator of the Chilean chapter of World March of Women.
Анна Кириленко назначена новым председателем Глобальной лесной коалиции
Глобальная лесная коалиция рада приветствовать Анну Кириленко в качестве ее нового председателя. Анна несколько лет была членом совета директоров GFC по Северной и Центральной Азии и Восточной Европе. Она является исполнительным директором группы GFC «Экологическое движение БИОМ» и широко признана ведущим экспертом в области экологической политики и права и центральной фигурой в экологическом и феминистском движении в ее родной стране, Кыргызстане. Она сменит Диего Кардону, который был председателем GFC с 2015 по 2019 год. Мы искренне благодарим Диего за его усердную работу и преданность коалиции в течение последних четырех лет!
На заседании совета директоров GFC в феврале 2020 года также было официально объявлено об избрании Йоханны Молины из Colectivo VientoSur в Чили в качестве нового члена правления от Латинской Америки и Карибского бассейна. Йоханна была избрана на региональном совещании членов Латинской Америки и Карибского бассейна, которое состоялось в декабре 2019 года в Сантьяго-де-Чили. Помимо того, что Йоханна является активным членом Colectivo VientoSur, в настоящее время она является координатором чилийского отделения Всемирного марша женщин.