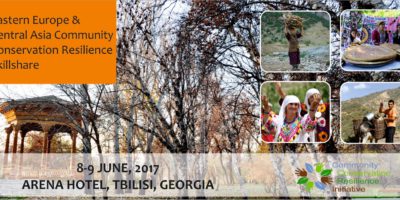 8 Jun 2017 to 12 Jun 2017
Arena Hotel. Tbilisi, Georgia
The Community Conservation Resilience Initiative (CCRI) aims to contribute to the implementation of the CBD's 2011-2020 Strategic Plan and Aichi Targets by providing policy advice on effective and appropriate forms of support for community conservation. To do this, the CCRI is being undertaken in 22 countries, 4 of which are in the Eastern Europe and Central Asia (Georgia, Kyrgyzstan, Russia and Tajikistan).
The goal of the meetings is to provide a regional platform for sharing skills and experience, engaging in dialogue and …