Día de la Aviación Civil Internacional: ¡No a las compensaciones de carbono para la aviación!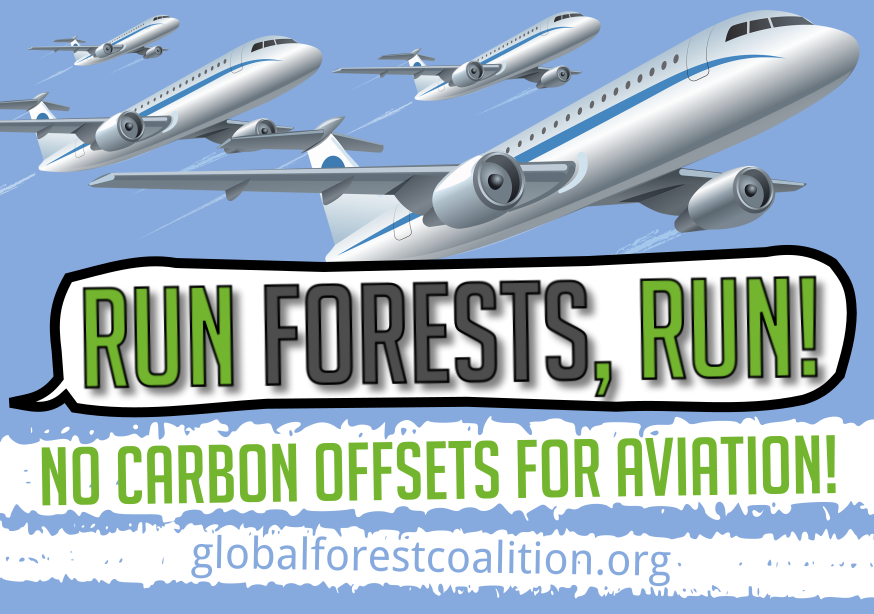 [Português abaixo]Hoy, en el Día Internacional de la Aviación Civil, lanzamos un estudio de caso que detalla cómo los planes de la Organización de la Aviación Civil Internacional (OACI) de compensar las emisiones de los vuelos mediante la compra de compensaciones de carbono (en vez de reducir los vuelos) dañarán a las comunidades, los bosques y el clima.
continuar leyendo en ingles…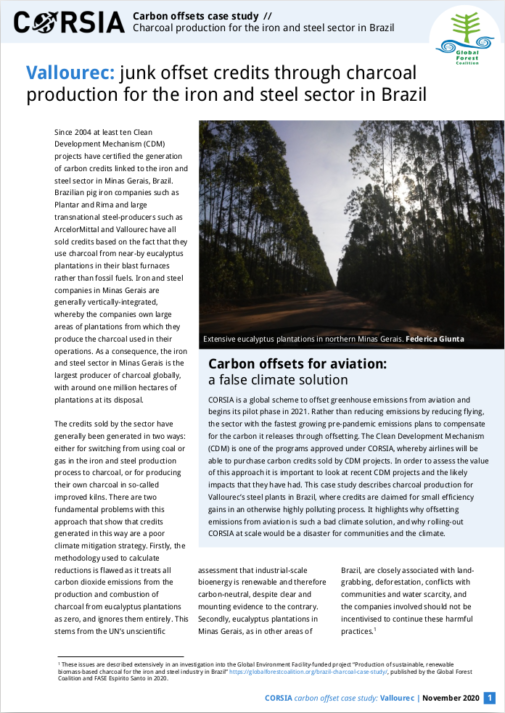 "Vallourec: junk offset credits through charcoal production for the iron and steel sector in Brazil" looks at a recent Clean Development Mechanism (CDM) project and the likely impacts that it is having. It describes how transnational steel company Vallourec is claiming carbon credits for how it turns vast eucalyptus plantations into charcoal for its operations in Brazil, in what is a highly polluting process that results in significant conflicts with communities.
The CDM is one of the programs approved under the ICAO's offsetting scheme, Carbon Offsetting and Reduction Scheme for International Aviation (CORSIA), whereby airlines will be able to purchase carbon credits sold by CDM projects instead of reducing their emissions. The case study highlights why carbon offsets are a false solution to the climate crisis, and why rolling-out CORSIA at scale would be a disaster for communities and the climate.
Download the case study in English and Portuguese.
Help us spread the word – use our social media pack!
For more information on CORSIA check out Biofuelwatch's briefing.

Dia Internacional da Aviação Civil: diga não à compensação de carbono na aviação!
Hoje é o Dia Internacional da Aviação Civil, e estamos lançando um estudo de caso criticando os planos da Organização Internacional da Aviação Civil (OACI) de compensar as emissões geradas pela aviação por meio da compra de créditos de carbono e não pela redução de voos.
"Vallourec: créditos de carbono lixo na produção de carvão vegetal para o setor siderúrgico no Brasil" trata sobre um projeto recente do Mecanismo de Desenvolvimento Limpo (MDL) e os prováveis impactos que gera. Explica como a empresa siderúrgica multinacional Vallourec reivindica o uso de créditos de carbono para compensar a transformação de vastas plantações de eucaliptos em carvão vegetal para suas operações no Brasil, por meio de um processo altamente poluente que resulta em sérios conflitos com as comunidades.
O MDL é um dos programas aprovados sob o esquema de compensação da OACI, o Sistema de Compensação e Redução de Carbono para a Aviação Internacional (CORSIA), pelo qual as companhias aéreas poderão comprar créditos de carbono vendidos em projetos de MDL ao invés de reduzir as emissões. O estudo de caso explica por que a compensação de emissões da aviação é uma solução climática ruim e por que a implantação do CORSIA em grande escala seria um desastre para as comunidades e o clima.
Baixe o estudo de caso em Inglês e Português.
Ajude-nos na divulgação dessa mensagem – use nosso pack para redes sociais!
Para mais informação sobre o CORSIA acesse o resumo de Biofuelwatch.