Organizations protest market-based conservation at CBD COP10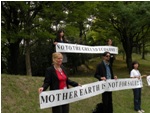 On Tuesday 19 October, the second day of the Biodiversity Conference in Nagoya, Japan, organizations, including the Global Forest Coalition, protested against market-based conservation. A short report from our Executive Director, Simone Lovera:
"It was a great success, especially if you take into account that it was rather spontaneously organized by members of the CBD Alliance over the weekend. Enthusiastically joined by members of the Japanese civil society forum, we held up the banners mentioned at a strategic place near the entrance while conference participants came in, and  the reactions of most participants were very positive. Especially some delegates from Africa were very happy, they are just as concerned as we are about the strong market-oriented tendencies in the biodiversity negotiation texts, especially in areas like "innovative financial mechanisms".
One concrete proposal for an innovative financial mechanism that is on the table is a green development mechanism, which basically boils down to a " trade-without-cap" system for biodiversity "hotspots" (biodiversity rich areas, usually located on the territories of Indigenous Peoples and other politically marginalized peoples).
UNEP is very strongly pushing these market-based approaches, the speech by Executive Director Achim Steiner yesterday could basically be summarized as "if you want money, just sell your biodiversity".
During the weekend, several IPOs and others also expressed strong concern about the Rio 20 initiative and the push for a " green economy", which is seen as a vehicle for promoting such market-based approaches.
Furthermore, it is, of course, REDD all over the place here, from green REDD (forests, agriculture) to brown REDD (soils) to blue REDD (marine protected areas – yes, they smell money too). But interestingly, some key people also seem more and more convinced there is little to expect from the carbon market as it is unlikely there will be an agreement on that before CDM expires, so some are accepting we are in a " fund phase"  now.
 
Happily, the NGOs seem strongly united in their opposition to this kind of REDD model. The CBD Alliance briefing papers were broadly accepted by the people that met last weekend, and they will form the basis for our interventions during the negotiations this week.
CJN! members here are also organizing several side events, on geo-engineering and synthetic biology (we are pushing for moratoria on both and quite some parties support this), the strategic plan, REDD, agrofuels (all on the agenda), and we are planning a CJN side event on Thursday on the links between biodiversity and climate justice in general. —
See photos of the action on the Climate Connections blog of the Global Justice Ecology Project.