New Report Highlights Indigenous Territories and Community Rights as Alternatives to Forest Carbon Markets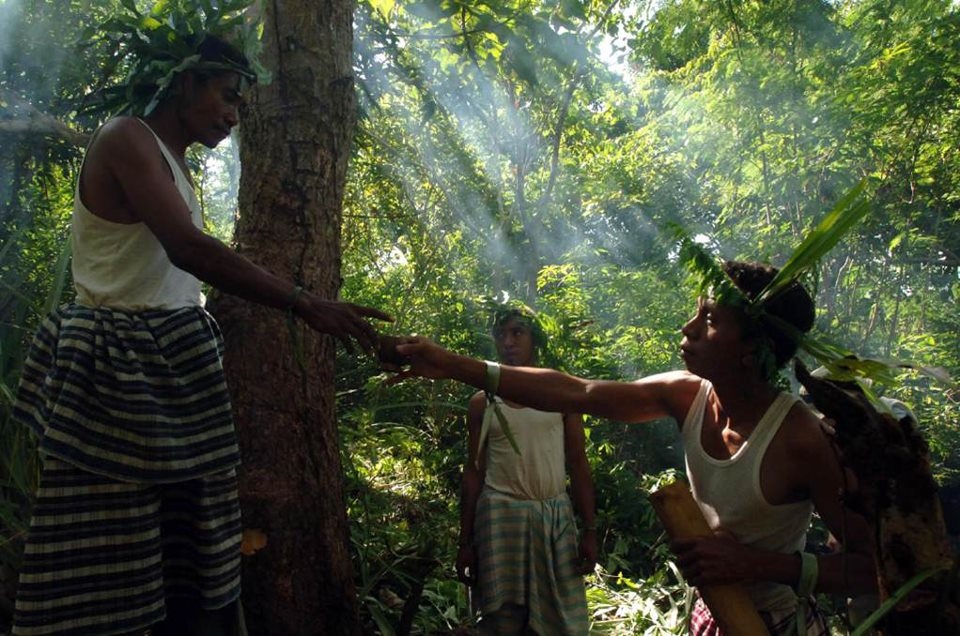 Istanbul–The current logjam in the negotiations at the 10th session of the UN Forum on Forests regarding forest carbon offset markets and other funding mechanisms for forest conservation does not imply that deforestation cannot be halted, argues a new report [1] by the Global Forest Coalition [2], Econexus [3] and the ICCA Consortium [4].
The report — launched today at the 10th meeting of the UN Forum on Forests in Istanbul [5] — concludes that providing appropriate recognition to territories and areas conserved by indigenous peoples and local communities (ICCAs), and eliminating subsidies and changing policies that promote forest destruction, can effectively form non-market-based forest conservation policies that are far more effective, equitable and economically efficient than forest carbon offset markets and other payments for environmental services schemes.The UN Forum on Forests (UNFF) is discussing how to increase financial support for the forestry sector, under the illusion that this will create more sustainable forest management practices. Negotiations about funding to compensate countries that agree to Reduce Emissions from Deforestation and Forest Degradation (REDD) at the climate talks have stalled as countries debate whether most of this funding should be generated through forest carbon offset markets, or through official development aid.
Donor countries have refused to commit significant amounts of public support, while significant funding from forest carbon offset markets is not expected to be generated until at least 2020, due to legitimate concerns about such markets undermining the climate regime and/or leading to inequitable outcomes.
 "It is obvious we cannot wait until 2020 to start reducing forest loss…  if only because Parties to the Convention on Biodiversity have agreed that forest biodiversity loss should have been halted by then", highlights Simone Lovera, executive director of the Global Forest Coalition. "Compensatory payments for reducing the emissions from forest loss as proposed by REDD are not only morally, socially and environmentally questionable, they are also an unnecessarily expensive way to halt forest loss. We can't allow debates about financial mechanisms that are doomed never to work to delay action yet again."
In a report on the root causes of forest loss published in 2010 [6], Global Forest Coalition concluded on the basis of 23 national studies that increased demand for wood and land, rather than the lack of financial resources for the forestry sector, was the main driver of forest loss in most countries.  
"Instead of wasting money on REDD, developed countries should redirect and/or abolish all subsidies and other perverse incentives that promote practices that cause forest destruction, like industrial "bioenergy" production and intensive livestock farming" states Helena Paul, co-director of GFC's member group Econexus. "The Conference of the Parties of the Biodiversity Convention have made a clear recommendation that such perverse incentives should be removed, and that this is a pre-condition for positive incentive schemes to have any effect." she adds.
Another policy measure that has proven to be highly successful all over the world is a combination and legal and social recognition provided to the territories and areas conserved by indigenous peoples and local communities. "Indigenous Peoples and local communities all over the world have proven to be perfectly capable of conserving their forests through traditional, bio-cultural practices that do not treat forests as mere carbon sinks, but as a source of life, livelihoods, spirituality and culture", emphasizes Taghi Farvar, President of the ICCA Consortium, an international consortium of more than 50 organizations dedicated to the recognition and defense of ICCAs.  
"There is an urgent need for the legal and political recognition of ICCAs as an effective, equitable, socially just and culturally appropriate form of forest conservation and restoration", emphasizes Andrey Laletin, chairperson of the Global Forest Coalition, who was one of the contributors to a worldwide study on the recognition of ICCAs published by the ICCA Consortium and the Secretariat of the Convention on Biodiversity in 2012. [7]
Hubertus Samangun, Asian Indigenous focal point of the Global Forest Coalition and Indigenous Peoples focal point for the UNFF adds "Indigenous territories have proven to cool the planet – there are an increasing number of scientific studies that have proven they are more effective in halting deforestation than formal protected areas. Instead of wasting money on making countries "ready" for a compensation scheme that might never have enough money anyway, governments can make significant progress to halting forest loss by recognizing indigenous peoples' territories and community conserved areas, and the rights and governance systems of Indigenous Peoples in general. Not in 2020, but now, immediately."
For more information, please contact:
In Istanbul: Isis Alvarez, GFC communications and outreach officer: +31-645682575
In Asuncion, Paraguay: Simone Lovera, GFC executive director: +595-981-407375
NOTES FOR EDITORS
1. The report "Non-market-based approaches to reducing deforestation and forest degradation" by the Global Forest Coalition, Econexus and the ICCA Consortium can be downloaded in English and Spanish from https://globalforestcoalition.org/wp-content/uploads/2013/11/Non-Market-Based-Approaches-to-Deforestation-final.pdf
2. Global Forest Coalition is a worldwide coalition of 54 NGOs and Indigenous Peoples' Organizations striving for rights-based, socially just forest conservation policies. http://www.globalforestcoalition.org 
3. EcoNexus is a not-for-profit public interest research organisation analysing developments in science and technology and their impacts on environment and society. http://www.econexus.info/ 
4. The ICCA Consortium is a worldwide consortium of organizations and federations of indigenous peoples and local communities, NGOs and individuals dedicated to achieving appropriate recognition and support to territories and areas conserved by indigenous peoples and local communities. http://www.iccaforum.org/ 
5. The 10th session of the UN Forum on Forest will take place from 8 to 19 April in Istanbul, Turkey. See http://www.un.org/esa/forests/session.html 
6. http://www.globalforestcoalition.org/wp-content/uploads/2010/11/Report-Getting-to-the-roots1.pdf