COP 21: Victorious Corporations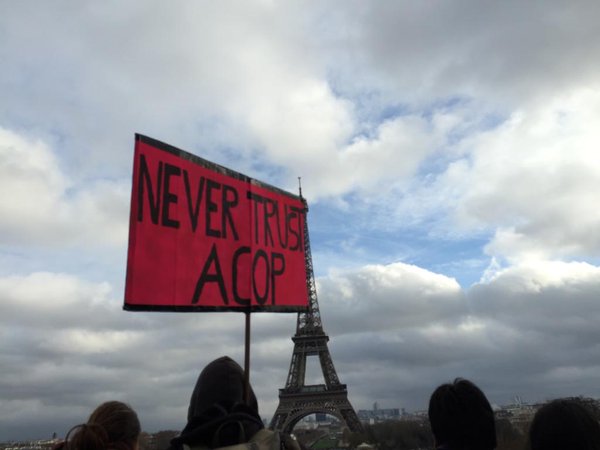 Negotiations to solve climate change started 23 years ago. Ever since then, a trend towards commercializing the problems and the solutions started to be identifiable. More and more neoliberal tendencies that dominated developed country governments -and important developing ones too- took over all aspects and approaches to the problem. Suddenly, civil society also became swamped in the same bog, logged with noncommittal and denying language and flooded with false solutions.
Paris FCCC/COP XXI was not an exception to that tendency. During the two-week period of negotiations, reserved to finding solutions to the gravest threat currently facing humanity and Mother Earth as a whole, it was made clear to all women and men that Governments do not work for them, for their wellbeing, for their safety and definitely not for their interest in saving Mother Earth (bear in mind that they say they cannot take decisive and reasonable measures because you, me, us, citizens of all countries would not tolerate the harsh changes needed, so, it is our fault again!)
In Paris, with no ambition for subterfuge, Governments worked exclusively to accommodate the corporate agenda for continuing accumulating capital at the expense of the sacrifice of the wellbeing, safety and even survival of the populace, in a display of oligarchic indifference only matched by monarchic whims thought to be by now eradicated.
Good grief! They gave us all what we've being historically avoiding in every negotiation in a single one! They ensured that corporations snatch more land, more resources and more atmosphere than in the last 25 to 30 years, adding at least some 30 Gt/yr of greenhouse gases more to worsen our status and putting us at the center of deadly climatic calamity. Corporate sponsors of this event, the honor-gests of the French Government, from France, were the French Revolution launched citizens' democracy three centuries ago, has restored autocracy in the form of corporate oligarchic dictatorship, where exercising rights has become dangerous. Not a joke, millions of hectares are grabbed by the corporate sector and its cronies every year and, in the process, many die or get injured or jailed or are evicted or disappear. Check this link to meet the sponsors of COP XXI: http://www.cop21paris.org/sponsors-and-partners/sponsors
Two remarkable items that eluded all previous negotiations are contained in this agreement, "Indigenous Peoples", yes, never before they were included and recognized as key victims and as key contributors to solving climate change-related problems; and 1.5ºC, which implies a more ambitious effort to lower the increase in average global temperature. The perplexing notion related to these two breakthroughs is that they should (almost) all be achieved through market mechanisms, no true financial commitment matched that impacting rhetoric. Lamentably, this new so-called Sustainable Development Mechanism too much resembles the infamous Clean Development Mechanism. This is a pledge to failure. And if by some miracle it worked, it would be to support a stack of false solutions, namely, climate smart agriculture, geoengineering, large-scale timber plantations to balance the net-zero accounting, which will become the only accountability statement shown by the corporations and nations that have to reduce some 500 billion dollars worth in emissions of greenhouse gases. Did corporations win or what?!