Si les femmes s'arrêtent, le monde s'arrête: nous appuyons la Grève mondiale des femmes lors de la Journée internationale des femmes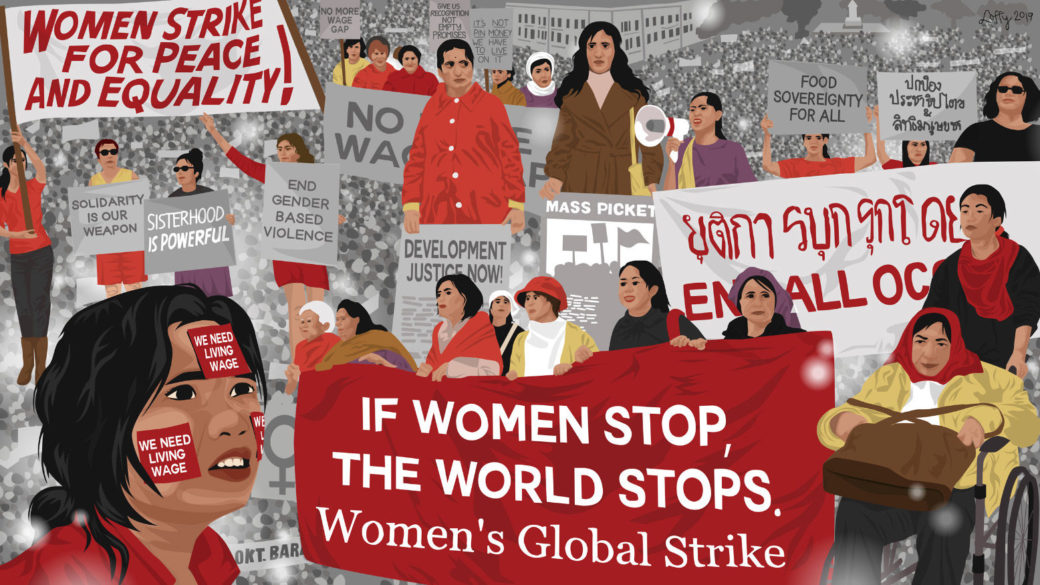 C'est aujourd'hui la Journée internationale des Femmes et la coalition GFC est fière d'appuyer la Grève mondiale des femmes. Plusieurs membres de notre équipe et de nos organisations affiliées se joignent à la grève mondiale pour lutter pour l'égalité et rendre hommage aux femmes qui ont risqué leur vie pour défendre les droits humains. Pourquoi faisons-nous la grève?
Continuez à lire en anglais…
Because the promises made by our governments to advance equality, development and peace for all women 25 years ago were not kept, and women and girls continue to suffer discrimination and violence in every part of the world.
Because International Women's Day is a day when women over generations have risen up and protested, putting their lives at risk to defend their human rights and fundamental freedoms. We honour that history, reclaim the day and revive women's collective power to demand our human rights..
Because the right to strike is a recognised human right and throughout history, strikes have been an effective tactic for harnessing the power of movements to affect change. Strikes have fostered, revived and strengthened solidarity across issues and movements to change structural oppression, whether it be patriarchy, neoliberalism, globalisation, militarism, fundamentalisms or environmental destruction.
Send us your photos! If you are on strike today and join a march please send us a photo of yourself and a line describing why you are taking part (get in touch by email or facebook). We will use your photos on social media to showcase how GFC members around the world are united in the fight for women's rights and gender equality.
If women stop, the world stops!