What is behind the "responsible" soy label? Detective Pig finds out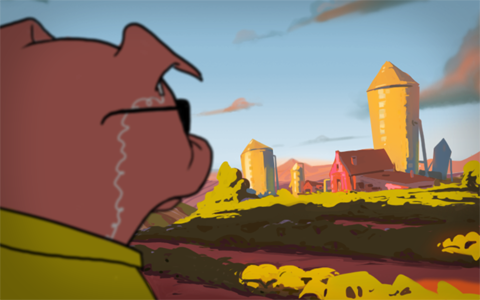 In 2011 the 'Round Table on Responsible Soy' (RTRS) will introduce a label for 'responsible' soy. This will be mostly genetically engineered (GE) soy, designed to be produced with large (and increasing) amounts of chemicals. At the cost of people and the environment. Large scale production and export of soy for animal fodder in meat and dairy industry can never be responsible.  An animation shows what is wrong with 'responsible soy'.
Directly and through NGOs Solidaridad and IUCN, the Dutch government provides financial support for the Round Table. WWF supports the RTRS, but still claims to be opposed to genetically engineered crops. This site reveals what most members and fund raisers of these organisations probably do not know. Ten thousend individuels protested to the Dutch government, hundreds of organisations protested against the RTRS. Monsanto and the RTRS received the Angry Mermaid Award for worst climate lobbying in Copenhagen december 2009.
Now organisations are writing supermarkets: don't buy the lie of 'responsible soy' and don't sell it to us. Please join the protest and send an email to supermarkets all over Europe:
Sign the petition: http://www.toxicsoy.org/toxicsoy/Action/action.html
In collaboration with environmental and social rights organisations, GFC launches an animation which shows Detective Pig investigate the realities of soy labelled 'responsible'. The soy industry is not what it seems. Deforestation and toxic chemicals are being used in South America to grow soy so European cattle can be fed.
To see the animation, please go to: http://bit.ly/toxicsoy-animation