L'état actuel des forêts : quel est l'enjeu et pourquoi est-il si important ?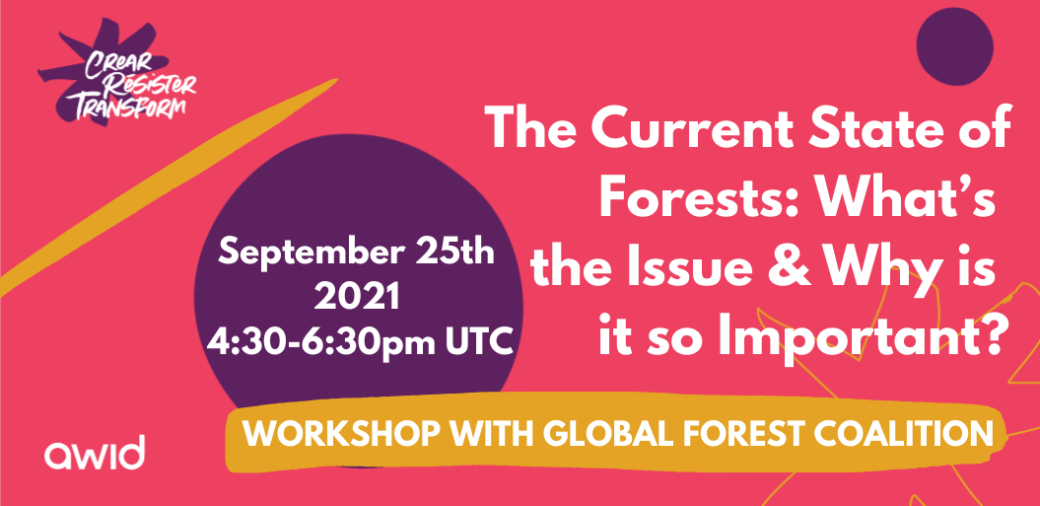 Les forêts jouent un rôle vital dans la préservation d'une planète saine, la stabilisation du climat et le soutien des moyens de subsistance et des systèmes alimentaires d'environ 250 millions de personnes qui y vivent. Parmi celles-ci se trouvent les membres de peuples autochtones et de communautés locales.
---
This event is part of AWID's "Crear, Resister, Transform: A Festival for Feminist Movements" – to participate, please register for the festival.
Forests play a vital role in preserving a healthy planet, stabilizing the climate, and supporting livelihoods and food systems, including for around 250 million people who live in forests among which are Indigenous Peoples and local communities. However, rampant deforestation, fueled by industry, perverse subsidies and market-based policies are contradicting the aims of globally agreed targets, threatening our climate, and violating forest dependent people's rights, especially the rights of women and the younger generation.
Activists defending forests and women's rights in Asia, Latin America and Africa will share their realities, specifically on how women in all of their diversity are disproportionately affected by deforestation, as well as their solutions to the problems they face.
This will be followed by a 'Forest Trivia' with facts and analysis shedding light on the current state of and debate on forests globally, what it has to do with you and how feminist movements can strategically intervene. It will aim to strengthen participants' understanding of the real drivers of forest loss, how plantations and forests differ, and the impacts that specific forest policies are having on women and their communities.
Speakers:
Camila Romero, Colectivo VientoSur, Chile
Kanta Marathe, Navrachna Samaj Sevi Sanstha, India
Salome Gofan, Rural Integrated Center for Community Empowerment (RICCE), Liberia
Indigenous Information Network, Kenya (tbc)