Un quart de siècle de luttes pour la justice climatique : les leçons tirées et les stratégies pour l'avenir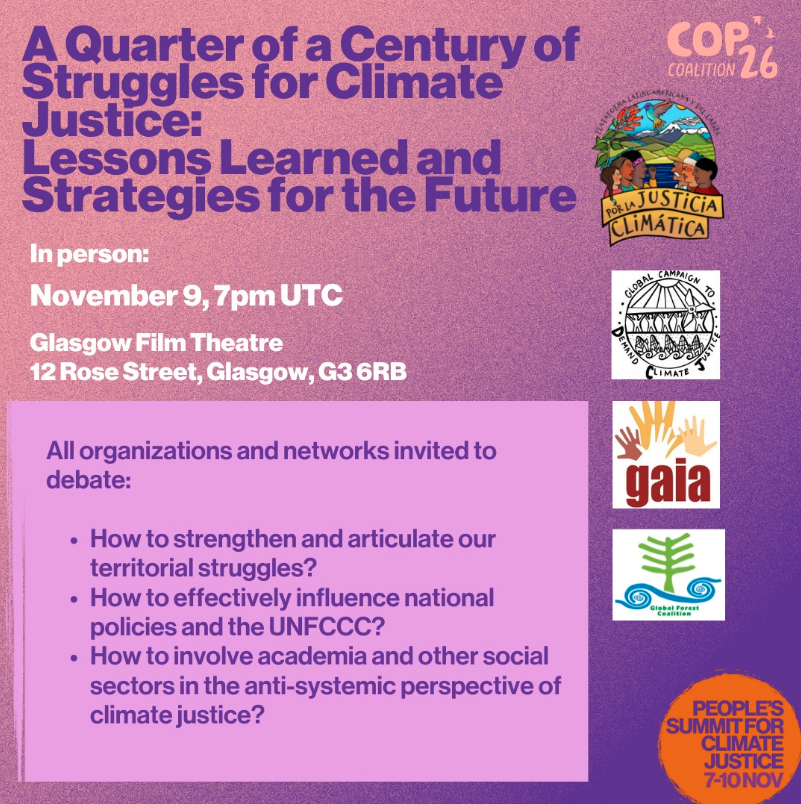 Nous voulons rassembler un groupe d'organisations et de réseaux internationaux de justice climatique afin d'examiner l'efficacité, les réalisations et les lacunes des différentes stratégies et approches que les réseaux de justice climatique ont développées, y compris la résistance, les mobilisations et le plaidoyer politique à différents niveaux (les territoires locaux, les gouvernements nationaux, la CCNUCC-globale), les articulations intersectionnelles, les relations nord-sud, et d'autres domaines d'action. En d'autres termes, générer un cadre commun d'objectifs et de stratégies pour agir à l'avenir. L'activité consiste en un premier panel composé des présentations des différents réseaux participants, suivi d'un espace participatif pour faire un diagnostic des stratégies passées et des propositions pour l'avenir.
---
A Quarter of a Century of Struggles for Climate Justice: Lessons Learned and Strategies for the Future
We want to bring together a set of international climate justice organizations and networks, to review the effectiveness, achievements and deficiencies of the different strategies and approaches that climate justice networks have developed, including resistance, mobilizations and political advocacy in different levels (local-territories, national-governments, global-UNFCCC), intersectional articulations and north-south relations, and other areas of action; and generate a common framework of objectives and strategies to act in the future. The activity consists of an initial panel with presentations from the different participating networks, and then a participatory space to make a diagnosis of past strategies and proposals for the future.
Contributors:
Asad Rehman – DCJ
Maureen Santos – GFC
Mariel Vilella/Christie Keith – GAIA
Eduardo Giesen/Ivonne Yanez – PLACJC