National Native and Creole Seed Fair, Parguay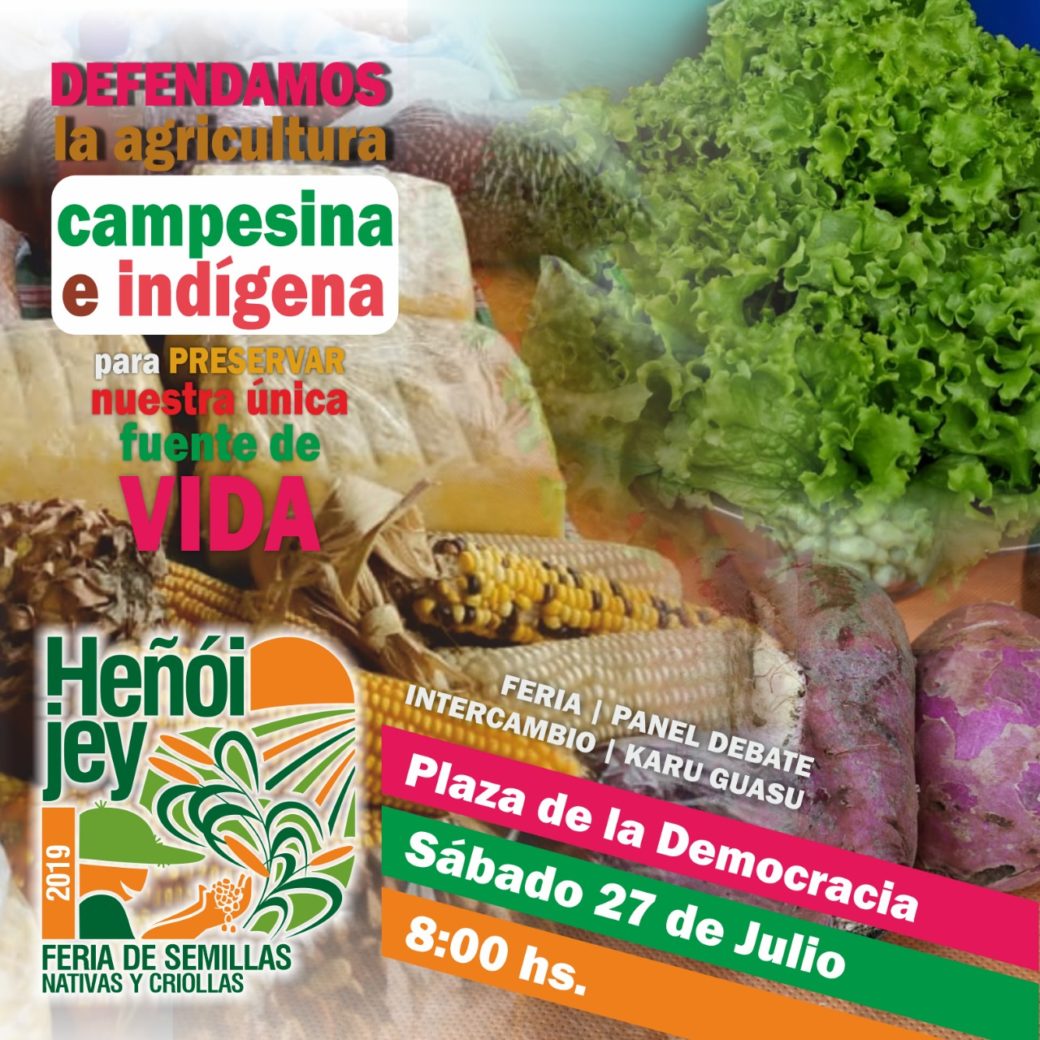 by Heñoi Jey 2019
Our agrobiodiversity allows us to feed and preserve our culture.
Agribusiness weakens and impoverishes the entire country.
Once again we come together to showcase Paraguay's important agro-biodiversity, the force with which our people confront colonialism, dependence on big agribusiness and the looting of our natural resources.
keep reading in Spanish…
Porque cada día se profundiza el control empresarial de la agricultura y la alimentación, sometiendo a la población a comida que enferma.
Porque la agro-biodiversidad decrece; muchos de los alimentos vegetales se encuentran amenazados de extinción o puede que se hayan perdido para siempre por la sustitución de las variedades tradicionales por variedades modernas. Importamos casi todos los vegetales que comemos.
Sin embargo, las campesinas, los campesinos y los indígenas producen semillas gracias a un valioso conocimiento tradicional, que garantiza sostenibilidad productiva y alimentos sanos para el pueblo.
Por esto, una vez más invitamos a la última jornada de Heñoi Jey 2019 – Feria Nacional de Semillas Nativas y Criollas que se realizará en Asunción: Sábado 27 de julio, en la Plaza de la Democracia, a partir de las 8:00 hs.
Invitamos cordialmente a las/los trabajadoras/res de prensa que cubrirán el evento, al karú guasú gentileza de las/los productoras/res.
Programa Feria de Semillas Nativas y Criollas – Heñoi Jey 2019
8:00 hs.: Apertura
08:30 hs.: Palabras de bienvenida a cargo del Dr. Miguel Lovera.
9:00 hs.: Primera exposición: "Agronegocios en América Latina: LA URGENCIA DE AVANZAR HACIA LA JUSTICIA AMBIENTAL". A cargo de Fernando Cabaleiro. Abogado, Investigador, Director de Naturaleza de Derechos, Argentina.
09:30 hs.: Tereré Jeré – Debate
10:30 hs.: Segunda exposición: "Hacia la plena vigencia de la Soberanía Alimentaria: ¿COMIDA O ALIMENTO?" A cargo de Mercedes Paiva. Magister en Nutrición, Docente de la UBA y de la Cátedra Libre de Soberanía Alimentaria.
11:00 hs.: Tereré Jeré – Debate. Moderadoras: Perla Álvarez y Nadia Mercado
12:00 hs.: Karú guazú / Actuación del trío Sununu
13:00 hs.: Presentación de cortos documentales:
• Semillas campesinas e indígenas para nuestra soberanía alimentaria
• SEMILLA RÓGA: Recuperando semillas con CONAMURI
14:00 hs.: Tereré Jeré. Conclusiones colectivas.