La campaña #DivestFactoryFarming está buscando coordinador/a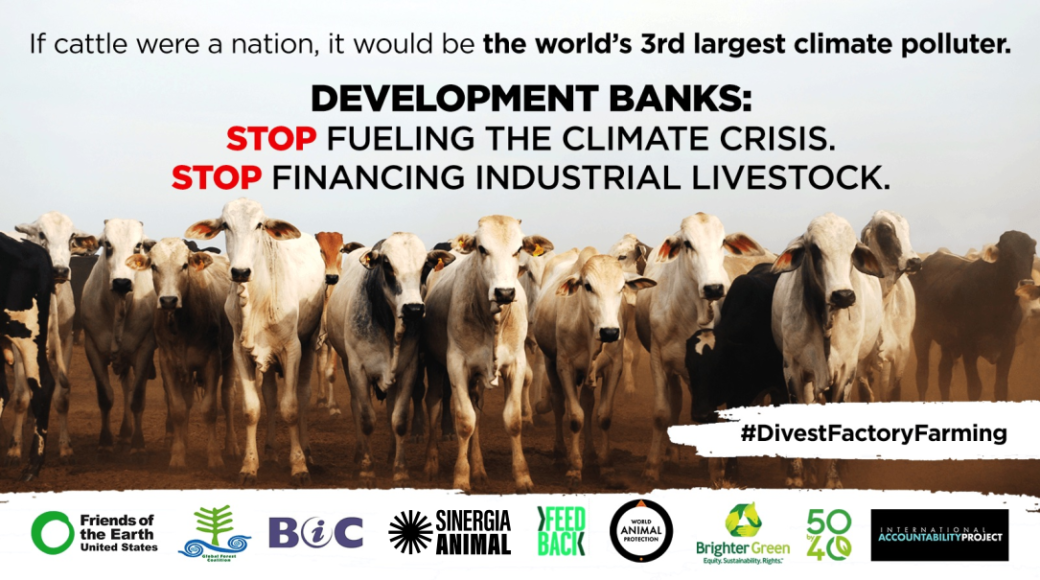 Este puesto jugará un papel clave en la coalición contra la ganadería insostenible, trabajando de la mano con el comité directivo para guiar el trabajo de colaboración, desarrollar estrategias, coordinar y facilitar la coalición, y dirigir la recaudación de fondos y los procesos de entrega de resultados de la campaña.
---
Job description – Divest Factory Farming campaign
Title: Divest Factory Farming campaign coordinator
Contract: Fixed term (12 months) with likelihood of extension.
Remuneration: 260 EUR / day.
Working pattern (days/weeks) to be agreed with the successful applicant.
Location: Remote.
Access to a fast and reliable internet connection is required. Location in a campaign focus country in the Global South preferred (e.g. Ecuador, Brazil, Uganda).
Deadline to apply: Friday 7 January 2022. Interviews to take place from 13 January.
Start date: ASAP from mid February / early March 2022
The Divest Factory Farming campaign is seeking a new coordinator, to take this start-up campaign to the next level.
Across the globe, industrial livestock operations are a major cause of greenhouse gas emissions, deforestation, biodiversity loss, land and social conflicts, animal cruelty, water depletion and air and water contamination. These harms disproportionately impact women, indigenous peoples and low-income communities of color. Yet, from Brazil and Ecuador to China and Vietnam to Madagascar, Public Development Banks (PDBs) are financing giant meat companies like Marfrig and Smithfield Foods under the guise of "development". Our research has found that in the past decade, the top 5 development banks poured $4.5 billion into industrial livestock companies.
A diverse coalition of groups have come together to launch a global campaign that aims to shift public development finance away from industrial animal agriculture towards more sustainable food production, initially targeting multilateral development banks and their funds – such as the IFC/World Bank, the InterAmerican Development Bank (IDB), Asian Development Bank (ADB), African Development Bank (AfDB), and the Green Climate Fund.
The goal of the campaign is to end public financing of industrial livestock farming and to shift finance to food systems that use agro-ecological practices and high animal welfare standards, that are more plant-based; that support smallholder farmers and communities, including in particular women; and that are just, equitable and sustainable.
About this role
This position will play a vital role in the coalition, working with the steering committee to lead the collaborative work of the campaign, develop strategy, coordinate and facilitate the coalition, and lead fundraising and campaign delivery processes. This role would suit someone with strong skills and demonstrable experience in:
Project management and coordination, in particular the coordination of projects across working groups; the management and delivery of multiple parallel work strands; and the creation of new processes and structures to facilitate the coalition's work.
Facilitation of a diverse, multi-cultural and multi-sectoral coalition, in particular working effectively across time zones and languages to realise the richness and benefits of this approach.
Campaign planning and delivery, in particular collaboratively developing campaign strategies and processes; building coalition identity, community and momentum; and understanding how to utilise key social, political and cultural events to have impact.
This role will be hosted by the Global Forest Coalition, on behalf of the Divest Factory Farming campaign. The role will report to the steering committee of the campaign, which currently consists of 6 NGOs, and as such will involve working closely with all members of the steering committee.
The Global Forest Coalition (www.globalforestcoalition.org) is a worldwide coalition of 118 Indigenous peoples' organisations, women's groups and NGOs from 70 different countries. It has two small offices in the Netherlands and Paraguay, and a multi-cultural team working from 12 different countries.
Responsibilities
Coordination, facilitation and accountability

Act as the main point of contact for the campaign, manage the campaign communication lists, coordinate working group and coalition meetings, ensure consistent records and communication with all members of the campaign and external contacts.
Manage the campaign budget
Recruit and manage freelance consultants
Support and facilitate projects via campaign working groups, working with staff at campaign member organisations to deliver outputs
Manage the development and maintenance of the campaign website, and other core campaign resources as appropriate
Work with steering group members on fundraising to support the ongoing needs of the campaign

Campaign delivery

Support the development and delivery of key outputs related to campaigning moments (e.g. sign on letters, social media campaigns).
Work with freelancers and members of the coalition on producing campaign resources, such as research, case studies and communications collateral
Work with key communications partners on the delivery of media work, and keep records of media coverage and key media relationships

Strategic direction and process

Manage the sign-off process for key strategic decisions, in consultation with the steering group
Set up and facilitate strategy and management processes, as agreed in the campaign memorandum of understanding.
Coordinate research for the campaign
Person specification
Essential
Demonstrated ability to effectively plan and deliver campaigns, encompassing organisation, strategy development, capacity building, and coordination.
Project management – managing contracts and contractors, creating processes and timelines, budget management
Facilitating collaborative working – ability to manage a diverse range of rightsholders, stakeholders and interests, and to be a multipartial facilitator of discussions and collaborative working between different organisations.
Working with dispersed teams – experience of working with global teams, across different time zones, and building relationships effectively in these conditions
Experience working with directly affected communities and implementing principles of justice, equity and inclusion

Creative and strategic thinker, ready to lead and take initiative

Excellent time management and executive skills

Self-motivated with excellent coordination and organisational skills. Able to work remotely as part of an international, multi-cultural team with often tight deadlines and able to manage competing priorities.

Fluency in English and excellent communications skills both written and verbal.
Desirable
Being from, and/or based in a Global South country.
Experience and understanding of the drivers of environmental and social harm as a result of intensive livestock production, or parallel issue in environment and development (e.g. mining, intensive arable agriculture, development of hydroelectric dams, deforestation).
Understanding of the international development finance and/or international development policy world
Knowledge of Spanish and/or French and/or Portuguese is an advantage
To apply, send your CV and a cover letter outlining your interest in the position to kezia@mailbox.org.