Monoculture Tree Plantations: Fuelling the Climate Fire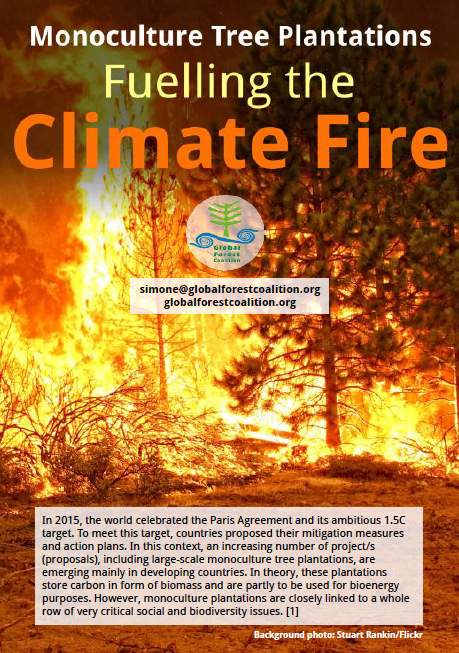 In 2015, the world celebrated the Paris Agreement and its ambitious 1.5C
target. To meet this target, countries proposed their mitigation measures
and action plans. In this context, an increasing number of project/s
(proposals), including large-scale monoculture tree plantations, are
emerging mainly in developing countries. In theory, these plantations
store carbon in form of biomass and are partly to be used for bioenergy
purposes. However, monoculture plantations are closely linked to a whole
row of very critical social and biodiversity issues. [1]
Download the 4 page reader here
Policy brief Biodiversity conservation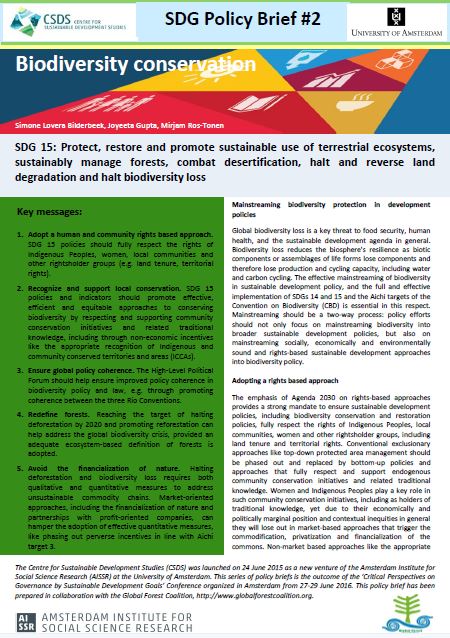 Global biodiversity loss is a key threat to food security, human health, and the sustainable development agenda in general. The effective mainstreaming of biodiversity in sustainable development policy, and the full and effective implementation of SDGs 14 and 15 and the Aichi targets of the Convention on Biodiversity (CBD) is essential in this respect.
Land, Forests and Hot Air: For a comprehensive, holistic, rights based approach to land-use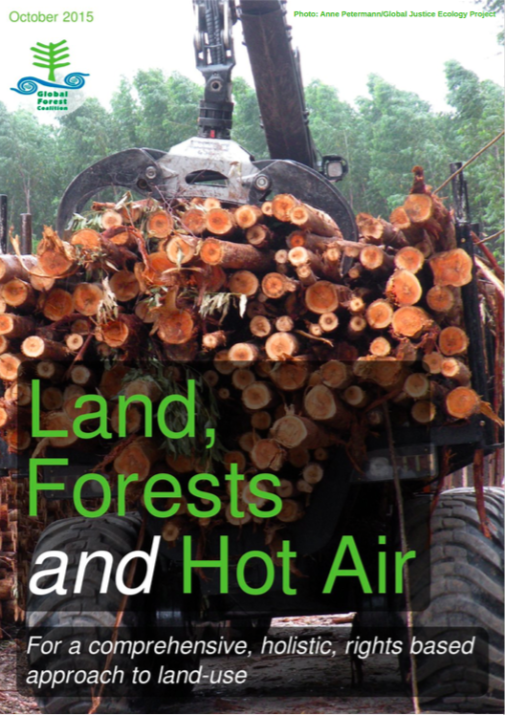 The paper highlights that current carbon accounting rules are too flexible, confusing and allow several forms of cheating. In the case of the Kyoto protocol, Annex I parties were allowed to earn large amounts of fraudulent surplus credits [4]. They also benefitted from future forest management activities that had yet to be implemented, allowing polluters to continue emissions.
GFC calls on governments to take a holistic approach to sustainable land use and agriculture based on existing international agreements such as the Sustainable Development Goals [6], the UN voluntary guidelines on responsible governance of land tenure, fishing and forests [7], the Convention on Biodiversity [8], the UN Declaration on the Rights of Indigenous Peoples [9] and the Convention to Combat Desertification [10], as well as key documents expressing the view of social movements like the Nyeleni Declaration on Food Sovereignty [11]. Climate change resilience should be an integral and important goal of such practices.
Mausam 5. . . talking climate in public space
November 2015
This special issue of Mausam explores India's INDC in depth, providing detailed but accessible analysis of India's energy sources and consumption.
Eco-instigator 09: Martyrs of Activism issue
November 2015
This issue of Eco-Instigator includes article from Global Forest Coalition on the upcoming Paris COP 21. See "The coming Paris #COP21: A disastrous #climate deal that will see the planet burn" on page 17, along with other interesting articles!
Redirection of Perverse Incentives for Unsustainable Livestock Production: Guidance for the Implementation of the Convention on Biological Diversity and its Strategic Plan
International commodities like beef, soy, palm oil, and wood have been recognized as some of the most important drivers of forest and biodiversity loss. Policies to make these commodity chains more sustainable in terms of quality and quantity cannot be the responsibility of the producing countries only. Measures to reduce deforestation triggered by commodity trade in one country will almost by definition lead to transboundary "leakage" of emissions if no measures are taken to address the levels of consumption of those products. Such policies also lead to unfair competition between more responsible producers and countries, and less responsible producers and countries.
The Impacts of Unsustainable Livestock Farming and Soybean Production in Paraguay – A Case Study

April 2014
Livestock and soy production in Paraguay are the most important primary production sectors. Most of the land in the country is privately controlled and devoted to the production of these commodities. Hence, most of the negative environmental impacts derive from these productive activities. Control is exerted by a combination of oligarchic groups and transnational interests.
Livestock Farming, Communities, Biodiversity and Climate Change
October 2013
This briefing paper raises awareness of the negative impacts of rapidly expanding industrial livestock farming and large-scale cattle ranching on the world's forests and biodiversity. Industrial animal agriculture cuts across multiple sectors, affecting land use, water, food security, public health, and climate change. But too often these intersections are overlooked. It  focuses on the Global Social, Cultural, Ecological, and Ethical Impacts of an Unsustainable Industry – and the Alternatives that Exist.
Non-market-based Approaches to Reducing Deforestation and Forest Degradation
March 2013
Report based on the submission to the UNFCCC on alternatives to market-based approaches written in collaboration by members of the Global Forest Coalition, ICCA Consortium and Econexus.

The 'Do's and 'Don'ts' of Supporting Forest Conservation and Restoration Initiatives by Local Communities and Indigenous Peoples
April 2012

Drivers of Deforestation and Forest Degradation
February 2012

Submission by the GFC on methodological guidance for activities relating to reducing emissions from deforestation and forest degradation and the role of conservation, sustainable management, of forests and enhancement of forest carbon stock in developing countries.
Underlying Causes of Deforestation and Forest
Degradation, and Drivers of Forest Restoration
November 2010
Forests and the Biodiversity Convention
Independent Monitoring of the Implementation of the Expanded Programme of Work in:
Summary Forest and the Biodiversity Convention
IM Report Australia
IM Report Bangladesh
IM Report Brazil
IM Report Bulgaria
IM Report Cameroon
IM Report Canada
IM Report Costa Rica
IM Report Ecuador
IM Report Georgia
IM Report Germany
IM Report Indonesia
IM Report Kyrgyzstan
IM Report Mexico
IM Report Mozambique
IM Report Nepal
IM Report Netherlands
IM Report New Zealand
IM Report Panama
Im Report Paraguay
IM Report Russia
IM Report Samoa
IM Report Uganda