Archive for the 'Indigenous Peoples' Category
Share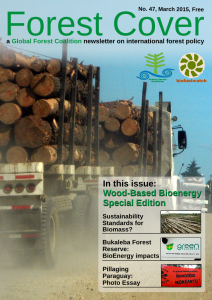 Welcome to a brand new edition of Forest Cover, the Global Forest Coalition newsletter that provides a space for Southern and Northern environmental justice activists to present their views on international forest-related policies. We were happy to co-produce this special edition, which focuses on the impacts of wood-based bioenergy on forests and forest peoples, with our active member group Biofuelwatch. Download the print version to read on about bioenergy, forests, a summary of the international strategy meeting, a photo essay on impacts of unsustainable livestock farming and on wood-based bioenergy and a case on the Bukaleba Forest Reserve.
You can download the print version below or read the articles individually online. For future editions, you can subscribe to our newsletter by writing to gfc@globalforestcoalition.org
Download the print version (high resolution PDF) (low resolution PDF)
Share
Global Forest Coalition and Brighter Green have just released a new Report, "Meat from a Landscape Under Threat: Testimonies of the Impacts of Unsustainable Livestock and Soybean Production in Paraguay."
Written by Dr. Miguel Lovera, this updated report on the social and environmental impacts of unsustainable livestock production focus on those testimonies presented at the workshop. The seminar, organized on November 28 and 29 of 2014 by the Global Forest Coalition together with national organizations in Paraguay, was entitled "Threats to Community Conservation in Paraguay and International Strategy Meeting on the Impacts of Unsustainable Livestock and Feed Production." Attended by at least 60 representatives from affected communities, social movements, and organizations from 20 countries, it also brought together peasants, indigenous peoples, farmworkers, campaigners and academics from different areas of Paraguay. The seminar featured several presentations by community and NGO representatives from Paraguay, which demonstrated the extent of the impacts of the fast-expanding cattle ranching and soybean export business in the country. These are more than just their stories, these are vivid examples of the impacts directly lived by communities.
Share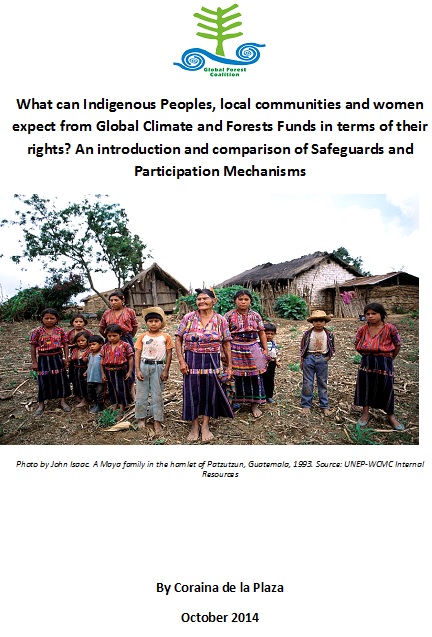 We are happy to announce the launch of a new briefing paper by the Global Forest Coalition entitled: What can Indigenous Peoples, local communities and women expect from Global Climate and Forests Funds in terms of their rights? An introduction and comparison of Safeguards and Participation Mechanisms 
As a result of the regime on 'Reducing Emissions from Deforestation and forest Degradation and enhancing forest carbon stocks' (REDD+) adopted by the UN Framework Convention on Climate Change, several relatively new global funds or financial windows have been established to finance forest-related initiatives from a climate perspective. Read more »