Archive for the 'Indigenous Peoples' Category
Share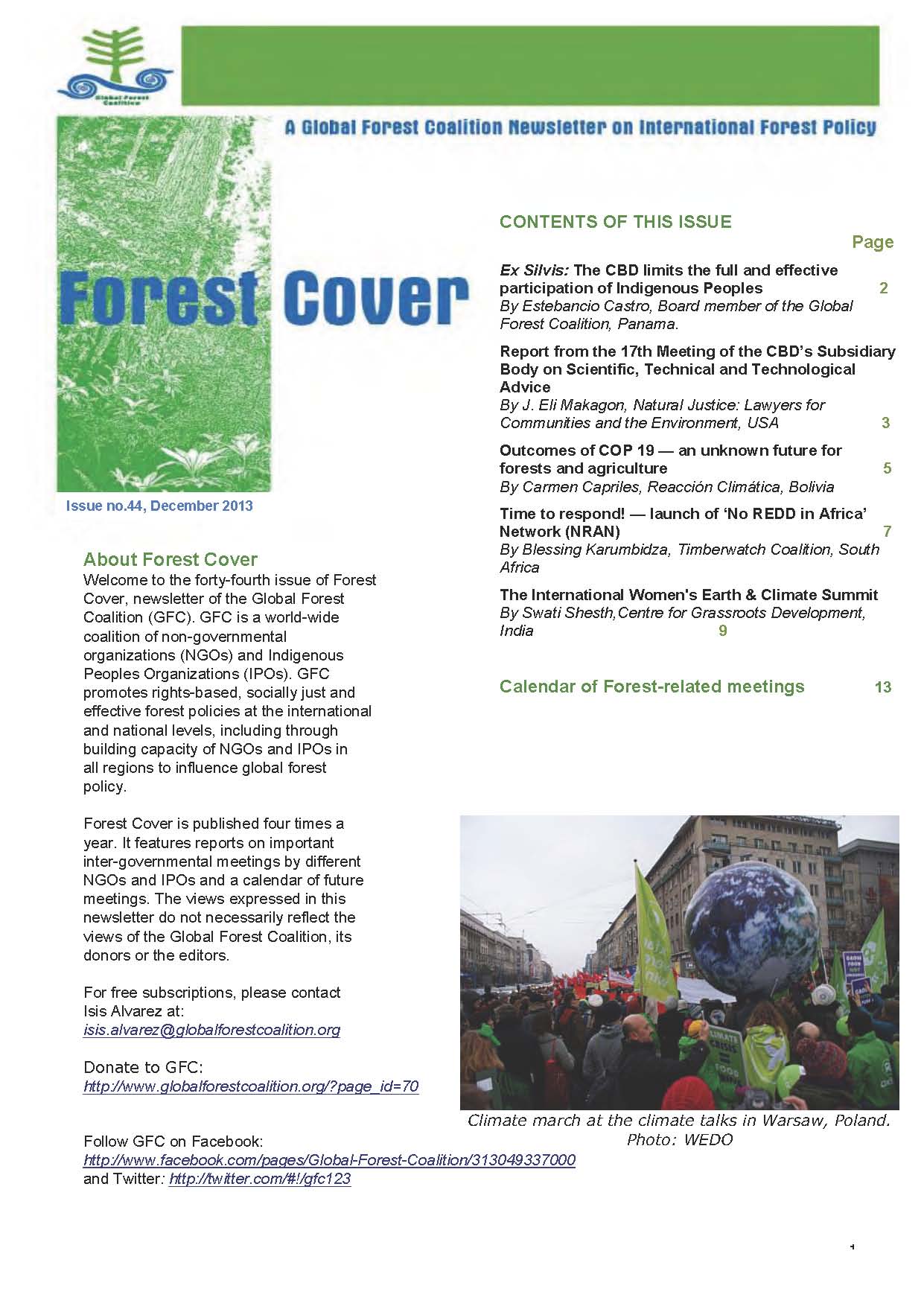 The year 2013 is almost to a close, a year that was marked by many challenges to the rights of forest peoples and growing threats of green land grabbing, while key policy changes to address the drivers of forest loss continue to be postponed. But we also saw growing recognition in 2013 that respecting the rights, needs and role of Indigenous Peoples, local communities and women forms the cornerstone for effective, socially just forest conservation and restoration policies.  As a worldwide coalition of groups from 40 different countries we would like to thank our members, allies and supporters for their passion and hard work for forests and forest peoples' rights the past year. 
We are pleased to announce that the last Forest Cover of 2013 is now online in English and Spanish.
This issue includes reports from Indigenous and non-Indigenous campaigners from Panama, USA, Bolivia, South Africa and India on the latest meetings of the Convention on Biodiversity, the climate negotiations, and gatherings of activists on REDD+ in Africa and women and climate change.
Share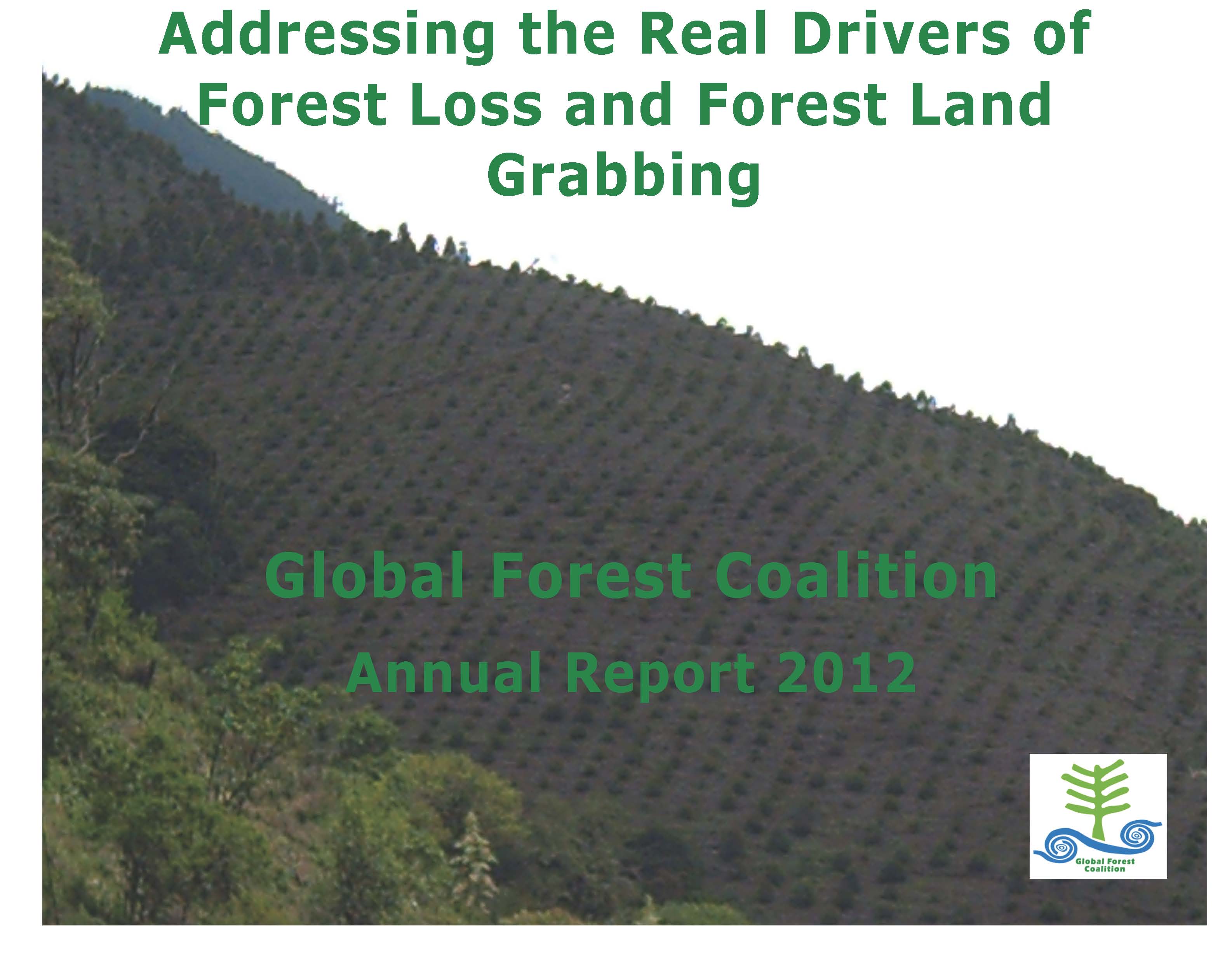 The Global Forest Coalition proudly presents its 2012 annual report. You will find a complete summary of our activities during 2012, read about our victories, our shortcomings and a lot more… Please enjoy it!
For inquiries please contact us via GFC@globalforestcoalition.org
Share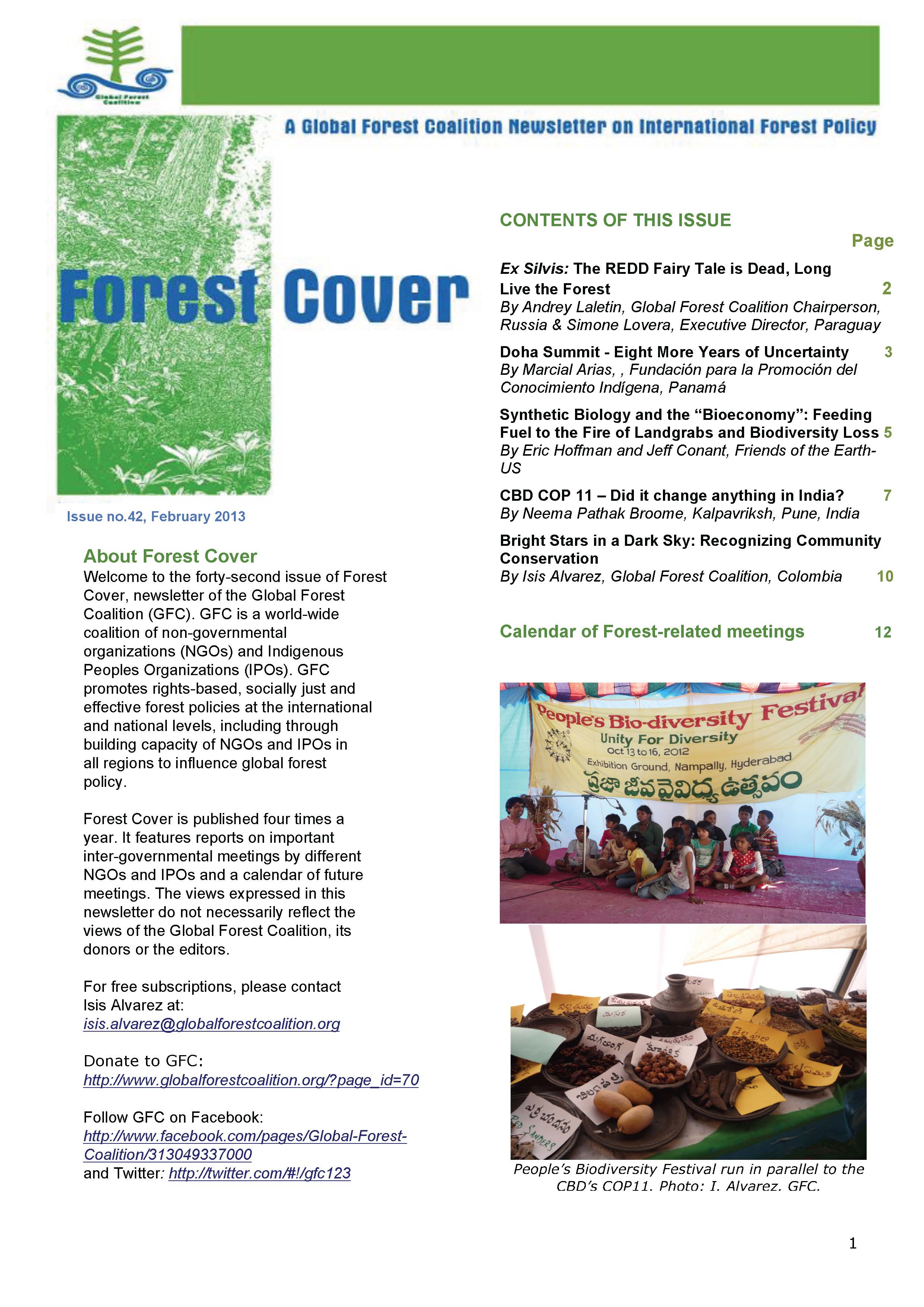 We present the 42nd version of the Global Forest Coalition's newsletter in intergovernmental forest-related policy processes: Forest Cover no.42. In the editorial you can read about REDD+ developments and other fairy tales in Doha during COP18, followed by an analysis of the COP18 main happenings written by our Latin American Indigenous Focal Point; you will also find an article on the dangerous Bieconomy's synthetic biology proposal which depicts some of its potential social and environmental impacts which were not fully addressed during the last Conference of the Parties to the Convention on Biological Diversity (COP11) in Hyderabad, India. Also a representative from a local Indian grassroots NGO makes an analysis of what COP11 meant for the host country. Finally, an article depicting the importance of recognizing Indigenous Peoples and Local Community Conserved Areas and Territories (ICCAs) and its important outcomes during COP11. Enjoy your reading!