Archive for the 'Forests' Category
Share

New York, US -  On 21 September, the International Day of Action against Monoculture Tree Plantations [1], organizations, forest dependent communities, and Indigenous Peoples from around the globe will denounce industrial tree plantations due to their devastating social and ecological impacts. 
Global Justice Ecology Project, Global Forest Coalition, Campaign to STOP Genetically Engineered Trees, and Biofuelwatch are joining the International Day of Action against industrial tree plantations by demanding an immediate ban on the release of all genetically engineered (GE) trees, including outdoor field trials.
Read more »
Share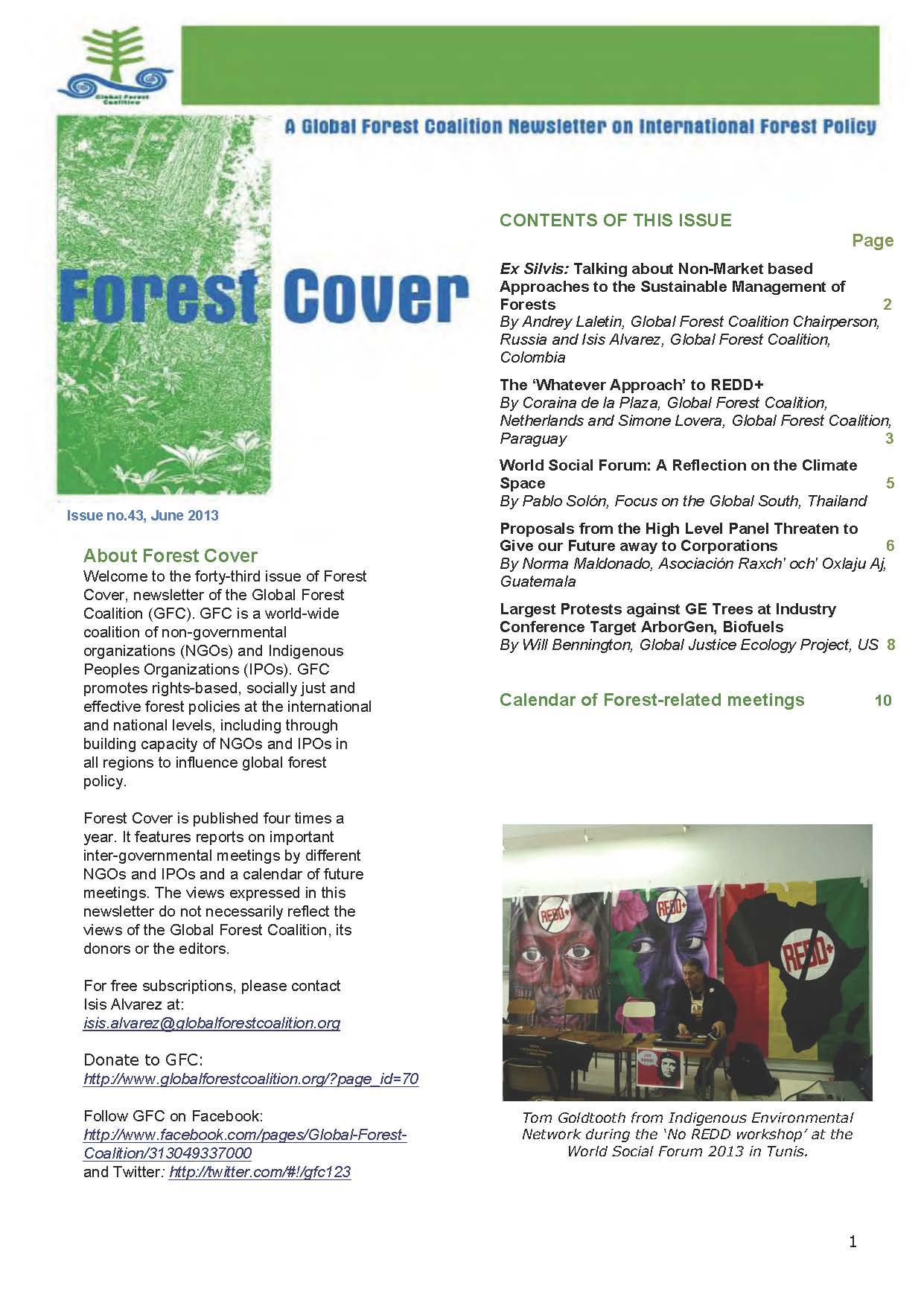 In this new issue of the Global Forest Coalition's newsletter in intergovernmental forest-related policy processes: the editorial addresses the main happenings during the last United Nations Forum on Forests were market based approaches gained new ground; followed by an article that gives an overview of what the last climate negotiations in Bonn were about providing a critical view on what seems to be coming next; the next article deals with the 'Cilmate Space', an important space given to civil society, indigenous peoples and other organizations who have been actively involved in climate change issues during the last World Social Forum held in Tunis. Former Ambassador of Bolivia to the UN, Pablo Solón, makes a reflection on what this space meant for the different struggles occuring in our days. The following report written by a Guatemalan activist, sums up what the post2015 and Sustainable Development Goals processes emerging from Rio+20 have meant for civil society including a deep analysis on why the way these processes are currently proposed are not likely to give any of the expected results. The last article is based on the happenings during the last GE trees biotech Conference held in Asheville, North Carolina where GE trees proposals are increasingly meeting with public opposition.
Forest Cover is also available in Spanish
Share
Eleven International NGO´s file complaint to UN Human Rights Council about Stora Enso's land acquisitions. UN Global Compact requires Stora Enso to respond to allegations by 11 April.
Human rights violations in connection to Stora Enso's eucalyptus plantations and planned cardboard factory in Guangxi have prompted a group of international and Finnish NGO's to instigate a complaint to the United Nations. The complaint to the UN Human Rights Council, filed under the 1503 procedure today, is endorsed by Friends of the Earth International, Global Forest Coalition, World Rainforest Movement and eight other networks and organisations. The complaint has also been signed by the director of Red Forest Hotel, the documentary film which documented human rights violations linked to Stora Enso operations in Guangxi. Read more »